New York Times bestselling author Chelsea Cain is back this week with the sixth installment of her gripping saga about Detective Archie Sheridan and his neverending obsession with serial killer Gretchen Lowell. Let Me Go, as with its predecessors, takes Portland, Oregon as its backdrop and makes the city and the surrounding area (Lake Oswego, for instance) as resonant as any of the main characters in the story.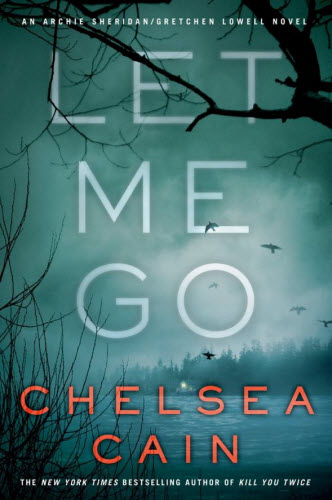 If you haven't read any of the Archie Sheridan books (the first, Heartsick, was published in 2007), and you enjoy white-knuckle thrillers, then you're in for some good times. You can get yourself up to speed with all the prior volumes to Let Me Go (they're fun and quick reads) and then tuck into the newest, out Tuesday August 13th from Minotaur Books.
For those that are familiar with the most diabolical female serial killer in fiction, we last heard from Gretchen Lowell exactly a year ago when she was finally behind bars and playing psychological games with Archie regarding a current case (Kill You Twice). That one ended with her at large once again in a dizzying plot twist that left readers breathless.
As Let Me Go opens, it's both Halloween Weekend and Archie's birthday. Obviously the combination of these auspicious occasions primes us for Gretchen's return to Archie's life, which has at this point reached some modicum of normalcy, though not for long.
The characters we've come to enjoy from past books are also here: Archie's dour partner Henry, drug kingpin Jack Reynolds and his lawyer son Leo, the punked out Portlandia-perfect Susan Ward (no longer reporting for the local paper), Susan's mom Bliss in all her old-hippie glory, and of course the stunningly beautiful serial killer Gretchen - this time in a Halloween costume, of all things.
Much of the action here takes place at a druglord's mansion on the grounds of an island on Lake Oswego. There is plenty of murder and mayhem, terror, and Halloween fun here to keep readers entertained. It's not for the squeamish (none of Cain's book are); this one also has more than its share of wild and crazy sex scenes as well.
Let Me Go also reveals a side of Gretchen that we very rarely see and I won't spoil the surprise for you; you'll have to read the book to see what I'm talking about. The calendar might read August, but it's never too early to start thinking about Halloween. Trick or treat!
Popular in the Community