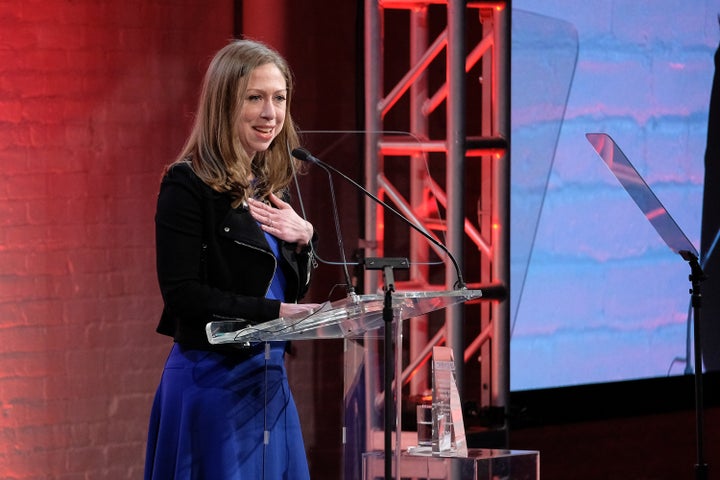 Chelsea Clinton has put rumors to rest and confirmed that she won't run for public office ― not now, at least.
Shortly after the 2016 election, unconfirmed reports said that Clinton may run for a New York congressional seat. The former first daughter did not address the rumors in recent months, instead focusing on her role as an activist and leader of the Clinton Foundation.
In an interview with Variety released on Wednesday, she made it very clear that she had no immediate plans to follow in the footsteps of her parents, former President Bill Clinton and 2016 Democratic presidential candidate Hillary Clinton.
"I really am constantly surprised by the stories of me running for, fill in the blank—Congress, Senate, City Council, the presidency," Clinton told the magazine. "I really find this all rather hysterical, because I've been asked this question a lot throughout my life, and the answer has never changed."
She said she thinks people wanting to run for office should ask themselves if they have a vision and could do a better job.
But she added, "If someone steps down or something changes, I'll then ask and answer those questions at that time. But right now, no, I'm not running for public office."
Clinton announced this month that she had written a children's book called She Persisted. The picture book, which hits shelves May 30, tells the story of 13 American women who achieved their dreams by overcoming crushing political and societal hurdles.
The title refers to Senate Majority Leader Mitch McConnell (R-Ky.) inadvertently creating a rallying cry for women after he silenced Sen. Elizabeth Warren (D-Mass.) when the senate was considering the nomination of Attorney General Jeff Sessions.
"She was warned. She was given an explanation," he said. "Nevertheless, she persisted."
Head over to Variety to read the full interview.
You can support the ACLU right away. Text POWER to 20222 to give $10 to the ACLU. The ACLU will call you to explain other actions you can take to help. Visit www.hmgf.org/t for terms. #StandForRights2017
Popular in the Community