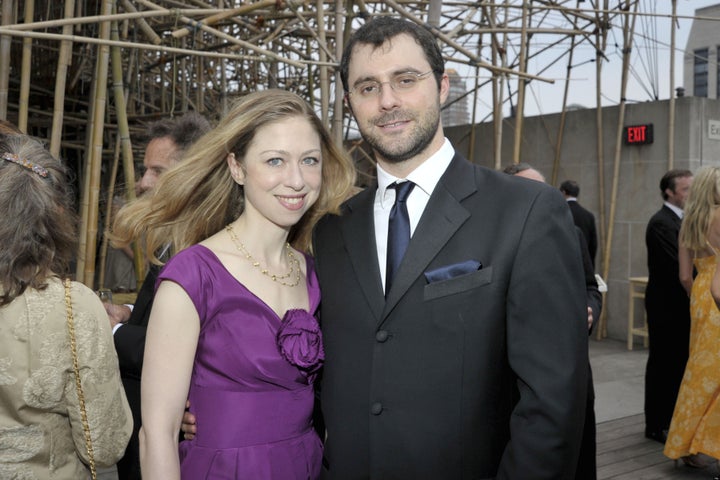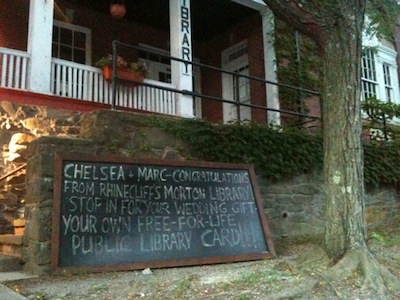 Chelsea Clinton is so definitely getting married in Rhinebeck this weekend. All the signs point to it -- like the one two miles down the road from Astor Courts (the presumed wedding locale), which reads: "Chelsea and Marc -- congratulations from Rhinecliff's Morton Memorial Library! Stop in for your wedding gift -- your own free-for-life library card!!!"
What better way for the happy couple to become card-carrying members of the "un-Hamptons?" And in this era when sub-literate slogans and mindless mantras have dumbed down our political discourse, it's a timely reminder that a century or so ago, Republican Vice President Levi P. Morton valued literacy so much that he chose to honor the memory of his daughter Lena, who died tragically young, by erecting the Morton Memorial Library. (Excuse me, the Morton Memorial Library and Community House -- apparently he valued community, too -- must have been a closet socialist.)
I happen to be the proud owner of a Morton Memorial Library card myself, because our humble Hudson Valley hovel is across the street from the library, and a quick bike ride to Astor Courts, where I've been many times.
So, how does a scruffy activist with soil-encrusted fingernails get to set foot in such a swanky setting? Well, "Dutchess County" may have the ring of royalty, but really, most folks in this neck of the woods -- including Astor Courts owner Kathy Hammer, who painstakingly restored the historic Stanford White pavillion -- are actually pretty down-to-earth. No red carpet for the glitterati, here; just greener pastures for the literati. Give us the life of the mind over the mindless life, any day.
Kathy frequently hosts fundraisers for Democratic candidates and graciously opens the doors of Astor Courts to artists, writers, activists, scholars, architects, students, and others who share her appreciation for this architectural gem and her passion for progressive causes.
As she told the New York Times in a 2008 article about the restoration of Astor Courts aptly titled "A Fixer Upper to End Them All," "We are using it the way it was intended, as a social gathering place."
Chelsea Clinton's wedding won't be the first time Kathy has played host to hundreds: In 2006, she threw a fundraiser for 400 Planned Parenthood supporters, and during the 2008 election season, she invited 350 neighbors to a screening of Pete Seeger's documentary, The Power of Song in Astor Courts' cavernous indoor clay tennis court.
Kathy has also become a champion of local and sustainable agriculture. Back in 1904, Astor Courts "was part of a gentleman's working farm," sending produce and meat down to the Waldorf-Astoria hotel. One of Kathy's goals is to revive Astor Courts' agricultural heritage and promote our local Hudson Valley Farmers.
I should think she must be thrilled that Chelsea and Marc are rumored to be sourcing the food for their wedding from some of our fabulous local farmers. And I'd love to give them a shout-out, too, if only I were allowed.
But all I can say is that Chelsea's choice to make the menu mostly vegan, including the wedding cake, is maybe the best PR break an advocate for a plant-based diet could ask for. And the inclusion of pastured beef will do wonders to spread the grass-fed gospel.
I can, at least, share a few of my favorite things about Astor Courts:
1. The indoor swimming pool, reportedly the first-ever indoor swimming pool in the U.S. With its arched, robin's egg blue ceiling and giant windows overlooking the surrounding woodlands, it blows Hearst Castle's indoor pool out of the water.
2. The natural light that floods Astor Courts. Stanford White designed it to let in so much natural daylight that you barely need to flip a switch all day. There's an enormous skylight in the entrance hall which Kathy rescued from ruin and restored to its original glory.
3. The photographs. Astor Courts' walls display an extraordinary collection of early 20th-century American photography that would be the envy of any museum.
4. Brooke Astor's awesome library. The legendary philanthropist and socialite revered the written word, just as Levi P. Morton did.
I hope Chelsea and Marc share that passion, too, and will accept our hamlet's humble gift of a lifetime library card. I've got a couple of suggestions for how they can put it to good use:
For Marc, I recommend Woody Tasch's Inquiries into the Nature of Slow Money: Investing as if Food, Farms, and Fertility Mattered, because it's high time we put unfettered capitalism out to pasture, and Woody shows the way.
For Chelsea, who may be craving a mental health break after all the hoopla and hype, I suggest Maya Rodale's just published, perfectly timed A Groom of One's Own?
Like Chelsea, Maya belongs to a legendary American family -- she's the great granddaughter of J.I. Rodale, pioneer of the U.S. organic farming and gardening movement, whose motto was "Healthy Soil = Healthy Food = Healthy People."
Maya is Rodale's director of communications, but when she's not promoting sustainable agriculture, puttering in the family garden or whipping up wholesome comfort food with her mother, Maria, she's writing ripping yarns about the winding, wayward path of true love.
In real life, Maya's walking down the aisle soon with her own dashing world-traveller and tech genius, Tony Haile. Here's wishing both these couples a happy, healthy future filled with delicious, fresh, locally grown veggies!

Popular in the Community