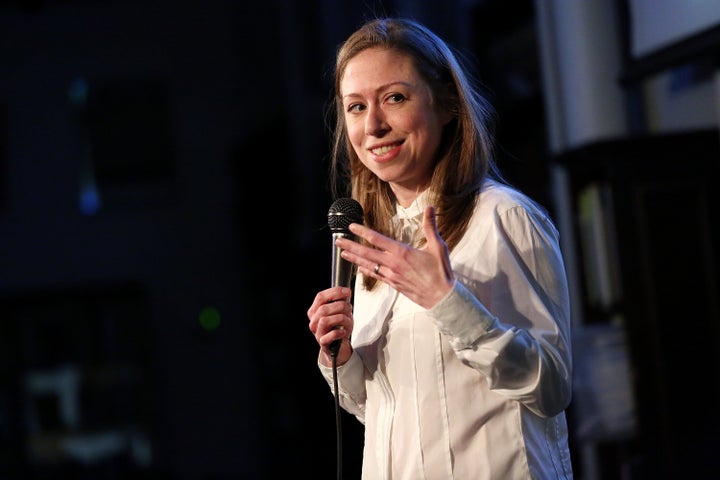 Chelsea Clinton's latest essay dives into the privilege we don't always talk about when it comes to breastfeeding and menstruation.
In an article for Well+Good, the advocate and author who campaigned for her mom, Hillary Clinton, during her run for president, wrote about the importance of speaking openly about breastfeeding and pumping as well as menstruation. The mom of two is on a mission to end the taboo surrounding these topics and ensure women have the resources they need to manage them.
Clinton wrote that she's "very lucky" she has been able to afford a breast pump and have control of her pumping schedule. Over the years, she has at times felt milk leaking from her breasts and was grateful it was soaked up by disposable pads. Other times, she has also found herself nursing in airport and train bathrooms and in some public places because there were no other options. In 2015, she spoke to E! News about her somewhat difficult experience with breastfeeding.
"It also just took lots of, like ... it's swallowing my pride and being comfortable with pumping in airport bathrooms and kind of wherever I needed to get it done," she said.
Clinton shared her breastfeeding experiences to point out that many mothers around the world don't have access to pumps, disposable pads and flexible schedules. On top of this lack of resources, many women face the pressure of being judged for feeding their child in public.
"All of these challenges, coupled with the cultural stigma around breastfeeding (or pumping) in public, often lead women to choose to feed supplementary formulas or to stop breastfeeding their children altogether ― even when they want to continue breastfeeding," she wrote.
She stressed that breastfeeding "is not the right answer for everyone." She simply wants women to feel encouraged to make the "best choices" for their families and to have the ability to follow through with them.
Like breastfeeding, menstruation holds a certain stigma in our culture. Clinton noted the hush-hush attitude associated with periods and pointed out that pads and tampons are treated as luxury items instead of necessities.
"Remember how awkward you felt in school each time you carried a tampon or pad to the bathroom?" she wrote. "Did you haul your whole backpack into the stall with you, like I did? For many girls and women around the world, there are no safe, sanitary stalls to use, and no pads or tampons."
Clinton, who is working on a children's book titled She Persisted, hopes that expanding the conversation around breastfeeding, pumping and menstruation will generate more encouragement for women and mothers.
"Too often, in too many places, we don't support girls and women who are menstruating and mothers who are breastfeeding," she wrote.