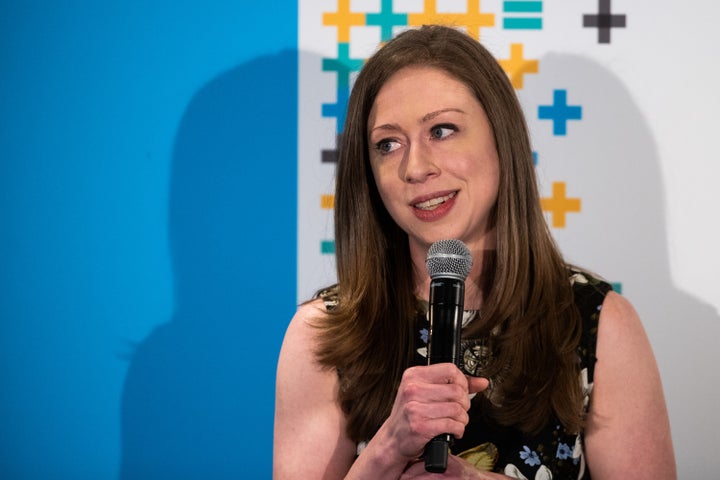 The former first daughter responded to a collage of the tabloid's Hillary covers claiming the former candidate had at various points somehow gained 103 pounds, was battling lung cancer, had six months to live, failed a secret FBI lie detector and had blackmailed the federal agency ― among many other tales invented to disparage her reputation ahead of the election.
"I'd missed the lung cancer cover, the stroke story, the one about my mom's hitman (possibly my missing alien sibling?!) and goodness, I think all of them actually," Clinton wrote on Twitter.
"As always, thankful for my mom's enduring health, grace, grit & goodness," she added.
According to Politico, the National Enquirer put Hillary Clinton or Donald Trump on more than 20 of its covers during the 2016 presidential campaign, doling out consistently favorable coverage to the latter both then and now.
The tabloid's bias is exceedingly clear: National Enquirer chief David Pecker is a known friend of now-President Trump.
Pecker demonstrated his loyalty when his company, American Media Inc., reportedly bought and spiked a story from a model who says she had an affair with Trump, a somewhat common practice known as "catch and kill." Trump once publicly opined that the tabloid should've received a Pulitzer Prize.
Yet on Thursday, the Wall Street Journal reported that Pecker may plan to turn on Trump since he had been granted immunity by federal prosecutors investigating payments made to two women during Trump's campaign. Trump's former personal attorney Michael Cohen had pleaded guilty on Tuesday to eight counts, including two possible campaign finance violations related to the payments.
According to The Associated Press, Pecker maintains a safe full of documents pertaining to hush money payments and other stories that would be damaging to Trump if they got out.