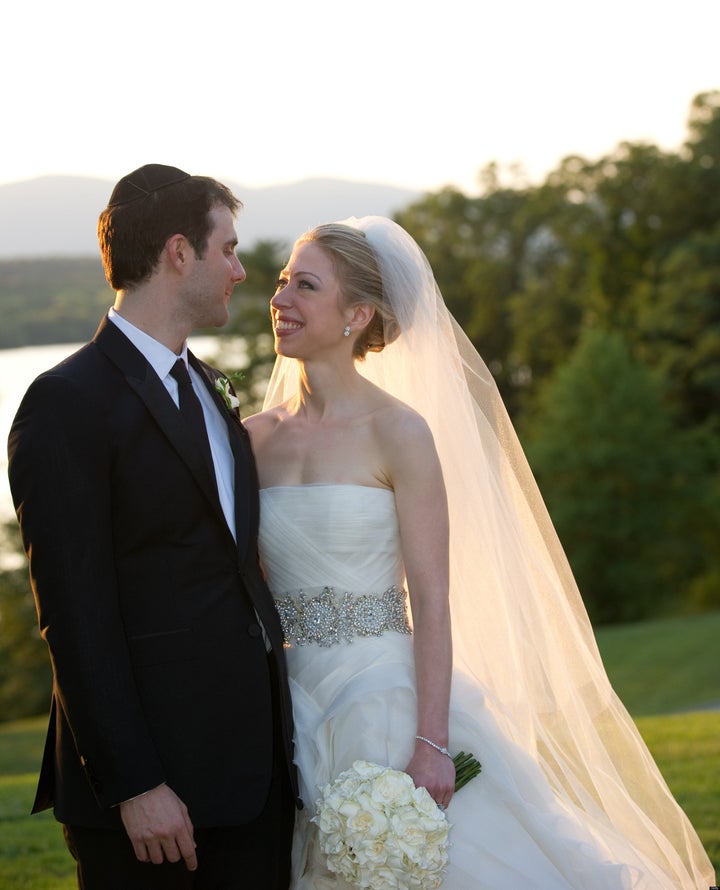 After weeks of speculation, Chelsea Clinton's wedding to Marc Mezvinsky is over. But the wedding ceremony is just the beginning of an interfaith couple's life together. When the big-day hubbub dies down and the honeymoon ends, what comes next?
Couples with differing religious backgrounds (Clinton was raised Methodist, Mezvinsky Jewish) are often confronted with difficult, though reconcilable, decisions about how to engage in religious life. Some issues spring eternal -- holidays, life cycle celebrations, and religious practices, to name a few. As with so many relationship issues, respect and communication are key to ironing out religious differences.
Within the Jewish community, interfaith marriage can be controversial. Some view intermarriage negatively, feeling that it causes people to leave the Jewish community; others see it as an opportunity to enhance the community's vitality and growth. With an estimated 50 percent of Jews marrying outside the faith, attitudes toward intermarriage are becoming more welcoming than in the past, but many couples still face thorny issues and complicated choices while navigating how to honor their faiths and traditions.
A number of potentially vexing questions present themselves: Will the couple practice one religion? Participate in both? What about the children? The fundamental decision of how to celebrate within the home will affect nearly every other religious aspect of an interfaith couple's life together. Some, of course, decide not to participate in religious life at all; others navigate participation in two religious traditions, and still other couples choose one religious identity for their family while still honoring the other parent's traditions.
Interfaith couples may wrestle with family loyalty, fearing that relatives won't accept their decisions -- not just to marry outside the faith but in dealing with further-reaching decisions, too. Holiday celebrations can cause particular consternation, representing visible evidence of religious differences. The "December Dilemma," for example, can force difficult choices about everything from home decor (Christmas tree, menorah, both, neither?) to worship services (Christmas eve at church or Chanukah candle-lighting at home?).
But experiencing holidays and the life cycle together can prove deeply meaningful, too. Mezvinsky, for example, is one of 11 children, which may mean a lot of life-cycle events for the couple to attend. Jewish birth ceremonies, coming-of-age ceremonies, weddings and funerals -- all involve rituals and customs that may prove unfamiliar or uncomfortable to partners who are not Jewish; the same, of course, is true of life-cycle events in any faith. But with experience and explanations, celebrating these significant milestones can add value and understanding to the couple's life together.
Marion Usher, a leading expert on interfaith issues in the Washington, DC area, wrote in a piece for InterfaithFamily.com, "[I]nterfaith couples and families want three things from the Jewish community: acceptance, respect for both religious backgrounds, and information. These couples are tired of being excluded and want to be part of the ongoing communal process."
The Clinton-Mezvinsky is over, but the most interesting part is yet to come: It will be fascinating to see how the newlyweds incorporate their differing religious traditions into their life together. As so many others are proving, the struggles intermarried couples face can be great -- but the rewards can be greater.
Popular in the Community