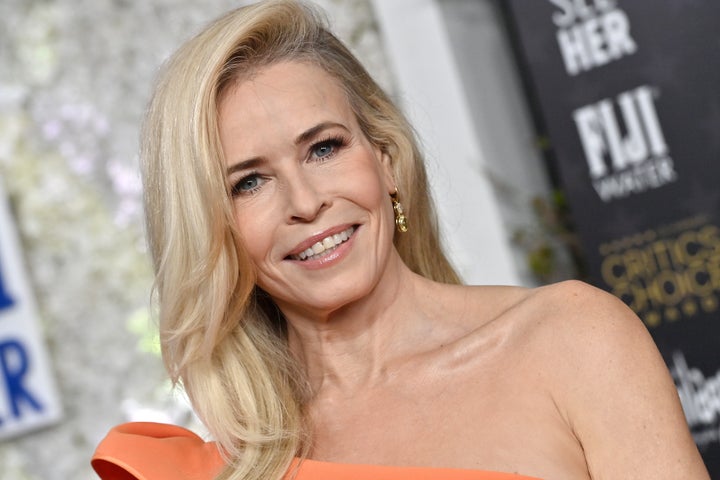 Chelsea Handler said she knew it was time to call it quits with her ex-boyfriend after having a secret tryst with another woman.
The comedian, who used to date former NBC executive Ted Harbert, spilled the beans about having a threesome with their unnamed female masseuse during an interview with Andy Cohen on SiriusXM Wednesday.
Handler dove into the story after Cohen asked her if she had ever dated a woman, to which she responded: "I've slept with a woman, but I haven't dated a woman."
"I was very turned on by this woman," the 48-year-old stand-up star told Cohen of the massage therapist, whom she admitted she hooked up with "several times" on the side without Harbert.
Handler said the love affair caused her to have an epiphany about her relationship with Harbert.
She said she "knew it was time to break up with the guy" when she realized she was more interested in the masseuse than Harbert, which ultimately led to the couple parting ways.
Handler confessed that she never told Harbert that she was sleeping with the masseuse sans him, adding with a chuckle: "I mean, hopefully, he's listening now. His name is Ted Harbert. He's in Portugal, though. He might not have access to this. ... He and his wife are building a house in Portugal."
Keeping the topic on threesomes, Cohen then asked Handler if she'd ever "gift your man a three-way?"
"Absolutely," she quickly responded. "It's fun. Absolutely."
However, she clarified that she wouldn't be down to have a threesome with two men.
"I mean, I don't want to get double-teamed by a guy," she continued, "but I like another girl in the situation. You know, she can do all the stuff that I'm too fucking lazy to do."
The former "Chelsea Lately" host began dating Harbert in 2006 before ending the relationship in 2010. The now 67-year-old tied the knot with Lisa Medrano a year later.
Back in 2012, Handler opened up about why she thought her relationship with Harbert didn't last.
"I would come home from work, and Ted would be like, 'Do you want to watch your show?' and I'd be like, 'No, I just came from my show. That's the last thing I'd want to do,'" she told Marie Claire. "That was the reason it didn't work out, ultimately. I think."
Popular in the Community