The fiery force of nature that is Chelsea Handler is on an unstoppable path toward super stardom. As if being a celebrated comic, bestselling author (Are You There Vodka, It's Me Chelsea, Chelsea Chelsea Bang Bang) and emotional springboard for the career of some of today's hottest up-and-coming comedians weren't enough, the outspoken E! late-night talk show host is currently generating major buzz by moving her Chelsea Lately lair into a new studio.
The multi-million-dollar makeover, set in the showbiz remains of what was once The Tonight Show With Conan O'Brien on the Universal lot, is part of a reported $25-million deal to extend Handler's hit chat fest through 2014.
Beyond that, late-night's only female talk show host has inked a new lucrative book deal -- 50 Shades of Chartreuse: This Time It's Personal, a play off of E L James' frothy "Fifty Shades of Grey," hits bookshelves next October.
But it's the big studio move that has Handler jazzed at the moment. The huge unveil happens the week of Oct. 15 with gal-pal Jennifer Aniston as Handler's first guest. But the estrogen parade continues all week -- Christina Aguilera and Miley Cyrus are scheduled to appear along with a bevy of surprises and other surprise guests.
I caught up with Handler to chat up the big re-lo and to learn more about what fans can expect from her in her new digs. But along the way, La Lately opened up about other soul-stirring matters. Dive in ...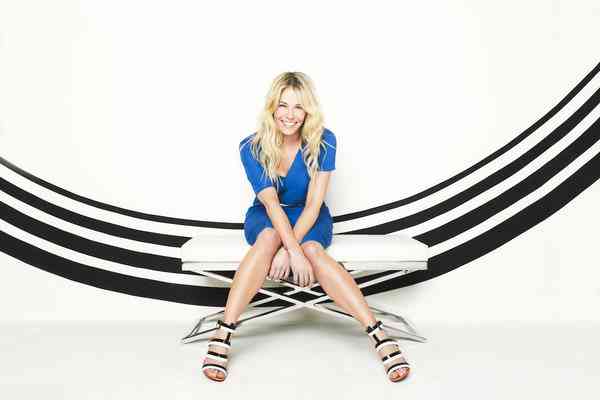 Photo: Courtesy E! Network
Q: Why now? Why the new studio? What prompted all this?
A: When Comcast merged with NBC, they had access to that studio. They had the space and they thought with the success of the show and the way we have been on for almost a thousand episodes and holding our own ... that I should be up there with the big boys, where people can perform. We're changing the graphics for the show and the music. We're stepping it up a big notch. And it's a testament to the success of the show. The studio looks amazing, so it's going to be a big, big step up in the right direction. I'm excited. I'm rejuvenated, re-invigorated and everything that starts with a "re" ...
What can we expect to see?
It will be more chic. The first week we have Jennifer Aniston. We have Fergie, Miley Cyrus and Christina Aguilera. And a bunch of surprises; things that we have been taping. Some really funny stuff. And it's all going to air the first few weeks. We're going to have live performance pieces and 250 people in our audience instead of 75. It's a step in the right direction. It will be awesome for the show. I don't have to walk downstairs, take a shower and then walk by all the audience members waiting in line while I have to go to the bathroom.
Jennifer is the first guest?
And somebody else on the first show, which will be very surprising, and I cannot reveal that.
It will be still be a half-hour romp but is there, or has there been, any talk of the show extending a full hour?
We may do a full hour for the actual thousandth episode. [About a month from now.] We are deciding about that. We can test it and see about an hour-long show later on, down the road. It's a discussion.
And what are you and the whacky crew going to do to christen the set?
Everybody who's coming on during the first week will "christen" the set. And all of the surprise guests will be doing the same thing. I am not going to the set until the day I have to work.
Yes. I'm not going to see it. I've designed it. I've worked on it. I just want to walk in on it on the day we are supposed to go.
Sounds like a conscious decision on your part.
Yeah. It's millions of dollars on the stage. I mean, it's a really big statement to me. It makes me realize that I have a late-night show. I never considered it anything like the others. People are always comparing me to the guys. And ... now they can. I am going to be one of the "guys." I'm here to stay.
That's a good thing. People dig you. You're funny. And you're putting out good vibes into the world, so... are you surprised by where you are sitting now?
I am. In more ways than one. I'm really happy and in a really good space. It's a great time. I sold four shows [in early October], and this year, for different comedians, which is my favorite thing in the world to do. I have two books that I am publishing for two other comedians and then we have four other shows for E! that we are developing for other comedians. So, as long as I can keep creating jobs, I feel like I am doing something worthwhile, at least, even though the show is completely silly. It's a job.
You're obviously a big supporter of comedians. You see their work and tend to stand behind the ones you really like. Was that a conscious decision you made once you started getting very successful -- helping people out?
Well, I've always wanted to help my family out. I always thought: I've got to become rich and famous so I can buy everyone a house. Once I got that taken care of, I really wanted to help people. I love to help people; anybody -- my friends, anyone. It's just good to do the right thing. On the show, where we're talking nonsense all of the time, I think people can tell that I try to do the right thing. I don't "try." I do it -- when it comes to friendship and family and things like that. So, I think all that is happening now is just a testament to hard work and just being good to other people. It's really hard to get a comedian to pay attention to anyone but themselves. [Laughs] So I am trying to keep helping people pay attention to more than themselves.
Nice. So, what is the trick to staying balanced? You have so much that you juggle and you're creative, and you have another book coming out next year, which sounds great -- a take off on Fifty Shades of Grey ... That's a lot of stuff.
Just being in a good headspace. You know? I drink. But I don't drink a ton. I smoke a cigarette. I don't smoke more than one. I like to be in control of what I am thinking. I like to be in control of my creativity. I like to have my mental acuity and have what I need to be able to do a show every day and make it professional. I want to be able to ask the questions that people aren't really asking, even if they are ridiculous; even if it's making fun of Will Ferrell for being bad in bed. I want to just have fun and be silly. I want to laugh -- at people, at all the nonsense. It's a good time at night to do that and I want to give that to people. I want to give some of the best I've got.
What's one of the most interesting things you've been learning about yourself--should I say it?-lately?
I'm moody. Depends on what you are working on ... things tend to get into a grind, and these last few weeks in the studio -- moving, packing, packing Chuy... Our office, literally, looks like it's been plundered. It looks like a fraternity house. We've been there for five years and now we've been climbing over boxes. The writers, myself. I mean, if we had to tape one more show - -I had to change four times in a day -- I was about to punch somebody. We all needed a break. One of my writers, Brad, said... 'moving the studio -- it would have been easier to just start a new show.'
One last thing: What's some of the best advice you've been given about life?
Hmm. Best advice about life? I read something somewhere, and this is going to sound very very surprising coming from me, but it said -- it's a Viktor Frankl quote -- "Stop asking what you are expecting out of life; start asking what life is expecting out of you." That's pretty much where I am now.
I haven't asked the most important question yet. How does Chuy feel about the move?
I haven't spoken to him because he can't speak English!
PHOTO GALLERY
CHATTER Boxing
Calling all HuffPost superfans!
Sign up for membership to become a founding member and help shape HuffPost's next chapter