Fox News correspondent Greg Palkot referred to Chelsea Manning twice on Thursday by the name the convicted government leaker and transgender activist used prior to her gender confirmation.
Palkot deadnamed Chelsea Manning while reporting on the arrest of the controversial founder of Wikileaks, Julian Assange, and Manning's involvement with his charges. 
Manning, who earlier served seven years of a 35-year sentence for sending classified documents to WikiLeaks, was sentenced to an indefinite time behind bars last month after refusing to testify about the document leak before a grand jury.
Assange on Thursday was expelled from the Ecuadorian Embassy in London, where he'd been living for almost seven years, and was immediately convicted of breaching bail in an old Swedish rape case. He also was held on an extradition warrant from the U.S., which has charged him with conspiring with Manning, a former military intelligence analyst, to hack a government computer.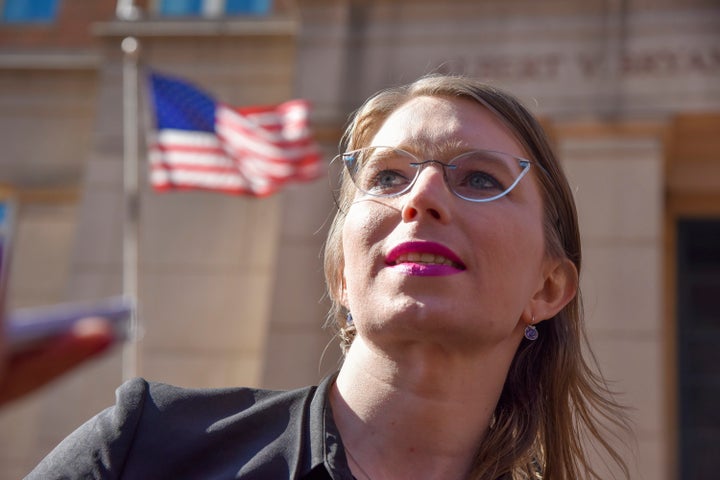 Deadnaming is problematic because it can feel invalidating and disrespectful to the person it's being done to, according to Pink News. 
"Essentially, it highlights that they're not supported in their transition process, whether it's before, during or after," says the publication, which stresses that many people don't realize the "depth of emotion" linked to a trans person's identity.
Twitter banned deadnaming in 2018.
"We prohibit targeting individuals with repeated slurs, tropes or other content that intends to dehumanize, degrade or reinforce negative or harmful stereotypes about a protected category. This includes targeted misgendering or deadnaming of transgender individuals," Twitter said in a revised iteration of its hateful conduct policy.
As Parker Molloy wrote in The New York Times, Twitter's move "represented a recognition that our identity is an accepted fact and that to suggest otherwise is a slur."
To make sure you never deadname a trans person, ask the person what they would like to be called, refer to them by their new name even when they're not nearby, and correct others who deadname. 
Calling all HuffPost superfans!
Sign up for membership to become a founding member and help shape HuffPost's next chapter