In August 2013, Manning was sentenced to 35 years at the United States Disciplinary Barracks at Ft. Leavenworth, Kansas, for handing thousands of sensitive government documents related to America's wars in Iraq and Afghanistan to WikiLeaks. Her supporters argue the documents shed light on wrongdoing by U.S. armed forces and helped end the war in Iraq.
Now, one of Manning's lawyers, ACLU attorney Chase Strangio, said his client could be put in solitary indefinitely.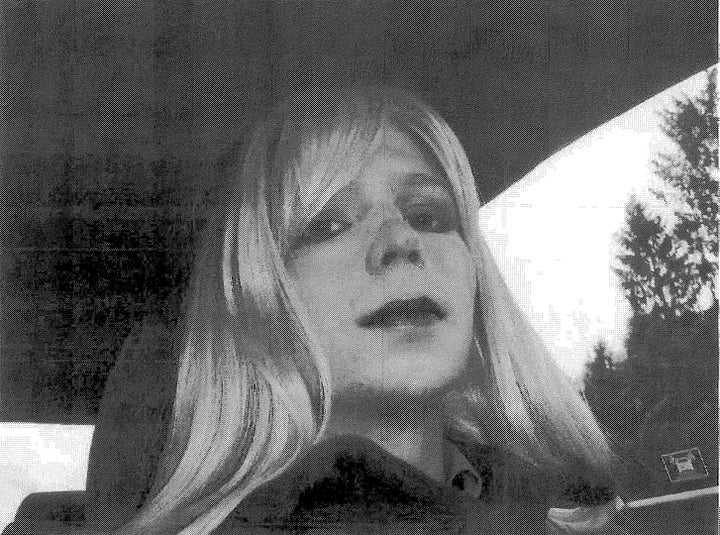 "This kind of action has the potential to chill Chelsea's speech and silence her altogether," Strangio wrote in a statement to The Huffington Post. "We are hopeful that the prison will respond by dismissing these charges and ensuring that she is not unfairly targeted based on her activism, her identity, or her pending lawsuit."
Neither BuzzFeed, which reported the charges, nor Strangio has actually seen the charging document used to justify solitary confinement. But the ACLU said the pre-charging documents confirm the accusations. Manning read the charging document over the phone to Christina DiPasquale, associate vice president of media relations with FitzGibbon Media, who got the information to Strangio, BuzzFeed reports.
According to the document Manning read over the phone, she faces charges for acting in a "contemptuous manner by being disrespectful" to a corrections officer who confronted her about allegedly sweeping food on the floor during dinner on July 2. Manning asked for her lawyer when the guard tried to talk to her about her actions, triggering the disrespect charge, she told DiPasquale.
Then, on July 9, corrections officers allegedly found a tube of expired toothpaste in Manning's cell, which earned her a "medicine misuse" charge.
Guards also allegedly found the Vanity Fair issue, an issue of Cosmopolitan featuring an interview with Manning, and copies of The Advocate and Out Magazine. That reading material sparked a "prohibited property charge."
The document Manning read to DiPasquale noted that these charges could carry a sentence of indefinite solitary confinement. Manning has a hearing on the charges scheduled for August 18, according to BuzzFeed.
The charges against Manning help illustrate that solitary confinement isn't always used on the most violent or out of control inmates, as many opponents of the practice point out. Instead, inmates are often put in solitary for nonviolent infractions or for political activism.
With support from DiPasquale, the Internet freedom nonprofit Fight for the Future has started an online petition that details the charges against Manning, based on the charge sheet read to DiPasquale, BuzzFeed reports.
The petition questions whether Manning was put in isolation to stifle her free speech.
"Chelsea has been very active while in prison, speaking out through her twitter account about issues of government transparency, transgender rights, and the prison system," the petition says. "She's been writing a regular column for The Guardian, and even wrote a bill to reform the Espionage Act and protect journalism. These absurd charges against Chelsea, and the outrageous threat of indefinite solitary confinement, are clearly an attempt to silence Chelsea's important voice and cut her off from the outside world."
DiPasquale did not immediately return a request for comment.
UPDATE: Army spokeswoman Tatjana Christian sent this statement to HuffPost:
Inmate Manning received a disciplinary report for alleged rules violations.

The case has been processed and is currently pending a Disciplinary and
Adjustment Board. Upon its completion, Manning will be informed
of the outcome. Discipline and adjustment boards are a common practice in
correctional systems to hold prisoners accountable to facility rules and
adjudicate alleged violations within an administrative process. The Army
remains committed to a fair and equitable process in the adjudication of
administrative matters for all of its Soldiers.
CORRECTION: A previous version of this story incorrectly indicated that Manning was already in solitary confinement. The story has also been updated to include a statement from ACLU attorney Chase Strangio.