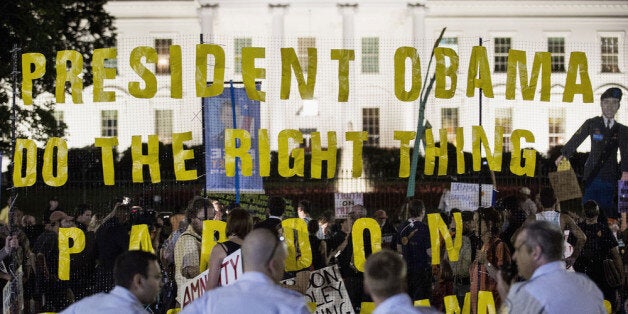 WASHINGTON -- As the one-year anniversary of WikiLeaks source Chelsea Manning's trial approaches, her lawyers are plotting a challenge to her 35-year sentence and six convictions under the Espionage Act.
Manning's new appellate lawyers face a trial record thousands of pages long and stiff odds under the military justice system. They are also fighting another battle: maintaining public interest in an appeals process that could take years.
"We have a very long road to go and an uphill battle. This appeal will take a long time," defense lawyer Nancy Hollander said on Sunday. "We will stay with this case until there are no more courts and nowhere else to go on behalf of Chelsea."
The process began Monday, when Maj. General Jeffrey S. Buchanan denied Manning's request for clemency. Manning has also applied for a presidential pardon, but her legal efforts will largely shift now to the Army Court of Criminal Appeals. Her fate could ultimately wind up in the hands of the U.S. Supreme Court.
Hollander and another lawyer at her Albuquerque, N.M.-based firm, Vincent Ward, said they are still in the beginning stages of shaping their appeal. They must first review the massive, years-long record from Manning's court-martial.
But in an appearance at a Georgetown University panel and in interviews with The Huffington Post, the lawyers made it clear that they intend to address head-on one of the most controversial aspects of the case -- Manning's convictions under the "draconian" Espionage Act.
"It has to stop if we're to have any freedom of speech," said Hollander of convictions under the act. "We cannot prosecute people who tell us what our government is doing."
First passed in 1917, the Espionage Act was typically used to prosecute people accused of spying for foreign intelligence services. But it has taken on new prominence under the administration of President Barack Obama, which has repeatedly used it to prosecute national security journalists' sources.
Military judge Col. Denise Lind prevented Manning from raising evidence of her motive during the first phase of the trial on the merits of the charges against her. Prosecutors only had to prove that she intended the leaks to be made public, not that she intended to harm the United States.
"The judge said no intent was needed. When I went to Criminal Law 101, that was one of the key elements of every crime, was criminal intent," said Ward. "So rather bizarrely, [for] this very important charge, espionage ... you don't have to prove criminal intent."
Out of the 20 charges Manning was convicted on, the Espionage Act convictions drew the most ire from national organizations like the American Civil Liberties Union. But Manning's appeal could ultimately turn on other matters more specific to her case: whether her constitutional right to a speedy trial was violated, or whether the conditions she endured before her trial, like solitary confinement, were too harsh.
Manning's appeals lawyers, who replace trial attorney David Coombs, were announced last month. Hollander, a former president of the National Association of Criminal Defense Lawyers, is well known for her work with clients in high-profile national security cases, like nuclear scientist Wen Ho Lee and detainees at Guantanamo. Ward is a member of Hollander's practice who began his career as a Navy judge advocate general before going on to serve as former New Mexico Gov. Bill Richardson's chief counsel.
As the lawyers' appeals wind their way through the courts, their client will be leading what Emma Cape, a campaign organizer for the Chelsea Manning Support Network, called an "isolated" life in the military prison at Fort Leavenworth, Kan.
Manning has applied to legally change her first name from Bradley to Chelsea. Hours after she was convicted, in August 2013, she said she wished to be known as Chelsea and receive hormone therapy. Supporters worried that she could endure the kind of abuse transgender prisoners are frequently subjected to in civilian institutions.
"She has not been harassed in prison. We're very happy to hear that," Cape said on Sunday.
Cape said Manning has subscribed to newspapers like The Washington Post and The New York Times, takes an active role in her legal strategy and is planning on enrolling in college in the fall to study law and political science.
"But that being said, she does feel very isolated. She feels like there's nobody she can talk to at the prison about her gender dysphoria," said Cape, who speaks with Manning by phone twice a week.
The military still forbids transgender persons from serving openly, and so far has refused to provide Manning with the hormone therapy that is readily available in civilian federal prisons. She is in the process of exhausting her administrative appeals within the military prison system for treatment, as prelude to a possible lawsuit.
Cape acknowledged that public interest in the case has lagged. She believes that once the appeals start, interest "will pick up considerably, especially since these appeals are going to be dealing with some bigger picture issues touching [Manning's] case like freedom of information and government secrecy."
Calling all HuffPost superfans!
Sign up for membership to become a founding member and help shape HuffPost's next chapter