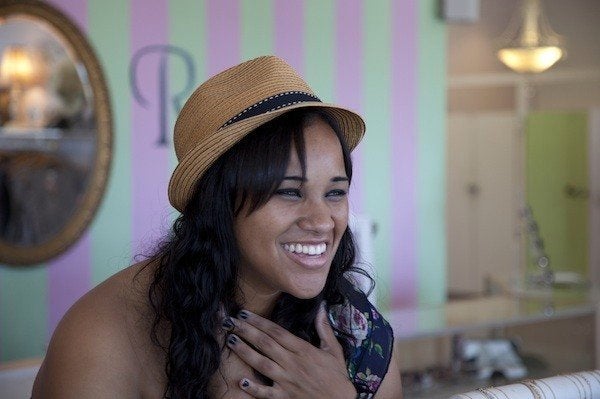 Meet Chelsea Settles. You can call her a new kind of MTV heroine, or you can call her Chelsea -- just your average 23-year-old small-town girl, who's obsessed with Kim Kardashian and has dreams of moving to Los Angeles and making it in the fashion industry. She's also the subject of MTV's new docu-series, "Chelsea Settles." But, for the sake of reality television drama, there is a slight catch. Chelsea weighs 324 pounds.
The six-episode reality series, which premieres Tuesday at 11 p.m., follows Chelsea as she moves from Uniontown, Pa., a tiny town outside of Pittsburgh, to Los Angeles to follow her dreams. But it wasn't an easy decision.
In the pilot episode, Chelsea nearly quits filming entirely after she gets verbally harassed about her weight. It's an emotional scene for Chelsea, who says she had never been bullied before. "I wish someone would have told me that the early twenties would suck this much, but no one let me know," Settles jokingly told The Huffington Post. "I would have taken my time growing up."
But Chelsea wasn't going to let that criticism get in the way of achieving her dreams of living a happier -- and healthier -- life. HuffPost caught up with Chelsea to talk about her decision to film her weight-loss journey, her Hollywood expectations and her love for Kim Kardashian.
How did you get involved with the show?
I saw it on the MTV website. They said that they were looking for a girl to follow her on her weight-loss journey. So I pretty much had to pay someone at my school to help me with the casting tape. And my grandma, I remember her telling me, 'You're always trying to do something, and it's just a waste of money ... blah blah blah.' I just love the fact that I get to shove this in her face all day long [laughs].
And what about Los Angeles? Why did you want to move to L.A.?
It's always been a dream of mine, probably stemming from the time I was 13. I would research L.A. constantly and find out where all of the landmarks were and where all of the celebrities hang out. I would research different neighborhoods and look at houses online. I knew way too much [laughs]. But I did all of that because I thought it would always be a dream -- I didn't think that it would ever become a reality because I was too afraid. I was afraid to take the plunge because of my weight and lack of confidence, so I would fantasize about what I wanted my life to be but never took the steps to get there.
So did L.A. meet your expectations?
I feel like I'm still adjusting, but I love it here. Everything is very different. The people in L.A. are much more relaxed and easy-going than I thought. It's nothing like 'The OC' or 'The Hills.' It really is just a normal city.
There's a scene in the pilot where you get dressed up to go meet your cousin at a club and the bouncer won't let you in and then some kids call you fat and other nasty names. You said that you had never been bullied before, so what did that feel like?
My weight has always been an issue with me, and I'm my own worst enemy, my own bully. I'm really hard on myself, but all of my peers and the people I've grown up with in my town, they've never had a problem with it. They've never called me out on my weight or said anything. I would give people pieces of myself, but never the whole me. That's how I protected myself. I would just internalize all of my fears. I was afraid that I was going to get hurt if I did let people in. In that moment, when someone called me fat while filming, that was the first time someone said that to myself. I've always known I was fat, but I never heard anyone else say it. I was ready to throw in the towel at that point.
What was your lowest moment?
It was before I even went through the casting. I was dealing with a lot of issues, my mom was really sick at the time, and I would just lose myself in my head. I wanted something more, but I just didn't believe in myself at all. I was just about to graduate with a degree in fashion merchandising and marketing, and the only thing I could think of was, that I was going to work retail in a store for the rest of my life. I really thought I was going to live and die in my town. I didn't see anything else for me there.
What I really love about the show is that it's not a typical weight-loss show. It's more about getting healthy -- physically and mentally -- and not necessarily about the number on the scale, right?
Yeah, but it took a while to get to that point. I would always obsess over a number, a goal and what the scale would say and the size of my shirt or my pants. But now, it's totally different. It's so important to be healthy. It's important for everyone to be healthy, regardless of size. I'm just so focused on who I am as a person. I'm learning to love myself and love what I see in the mirror. It's not realistic to go through life and fixate on working out all day and all night. It takes time to do it the right way. It took time to get up to 324 pounds, and it will take time to get it all off.
So you don't have a number in your head, an ideal weight?
No, honestly, it's just when I look in the mirror and say, 'Okay, I feel good.' And of course, it's all about being at a healthy weight too. That's my goal. I want to be healthy.
One of the other touching aspects of the show is the relationship you have with your mother, who has some serious health issues. Did you feel guilty for leaving her?
Absolutely. I never wanted her to think that I was abandoning her or that I didn't appreciate her for everything that she's done for me. I just felt trapped, and I needed a change, and she understood.
I have to say, I love that your idol is Kim Kardashian.
Oh my god, I love her! I've had her wedding marked on my calendar for weeks. You have no idea.
What is it about Kim that you love?
She is everything. She just walks into a room with so much confidence and people are just drawn to her. I am obsessed. I love the whole Kardashian family. I love Khloe as well, but Kim just does it for me. I have a total girl crush on her. It's been like that for years. I used to carry around her picture in my pocket for inspiration. In the beginning of all of this, I wanted to lose weight to be a mini Kim Kardashian, but that just didn't happen. But that's okay because now I'm just learning to love Chelsea. That's what the show is about.
If I ever met Kim Kardashian, I would die. I would probably turn around and run away. Seriously, I would die. I wish I was kidding [laughs]. I wish Kris Jenner would adopt me. I mean, I love my mom and I love my family, but I just was born to be in that family. If I could just be baby Mason for the day, that would be amazing.
Popular in the Community