In order to minimize the time and energy we have to spend thinking about such an unpleasant task, we usually resort to whatever is convenient and easy (read: Victoria's Secret and J.Crew). Who cares that four other women at the beach will probably have the same suit? The old standbys are trusty and reliable.
But what if there was another way?
In an effort to save our summer from the same old monotony, we decided to consult an expert -- a women who lives in bathing suits 24/7 and puts as much care into her bikini purchases as we do with our clothing buys.
Meet Chelsea Yamase -- a 25 year-old model, jewelry-maker and hiking tour guide on the island of Kauai in Hawaii. She's somewhat of an Instagram celebrity (with roughly 20,000 followers), due to her amazingly active lifestyle and a devotion to bikinis that can only be described as semi-religious.
Her most important criteria for a suit? Soft materials and functionality. Other than that, she always looks out for big trends of the season, and this year it's all about intricacy and attention to detail. Cut-outs, crocheting, and multiple straps are replacing the standard triangle tops and unique touches like crop tops and high-waisted bottoms are the new norm: "They're like mini art pieces," Yamase said.
Check out some of her go-to brands below and get inspired to try something new this year.
Issa de' mar With sexy cut-outs and an awesome variety of fits and styles, you can create the perfect mix & match for your body type.
Acacia Swimwear Looking for something truly unique? Acacia suits always offer new styles and unexpected details.
Wonderland If you're looking for more coverage -- or if you just don't want to shave! -- you have to try surf leggings. These colorful, waterproof, multi-functional leggings will forever change your beach style.
San Lorenzo Bikinis Looking for endless styles and more affordable prices? San Lorenzo has you covered.
Mary Grace Swim With reversible options, super soft fabrics and really vibrant colors and prints, Mary Grace Swim is a sophisticated and modern choice. Bonus: their full-coverage options strike the perfect balance between modesty and sexy!
Want more? Yamase recommends Mikoh for their innovations and more modest cuts, Rove Swimwear for their exemplary attention to detail, and Seea's surf suits and booty shorts for the perfect mix of fashion and function.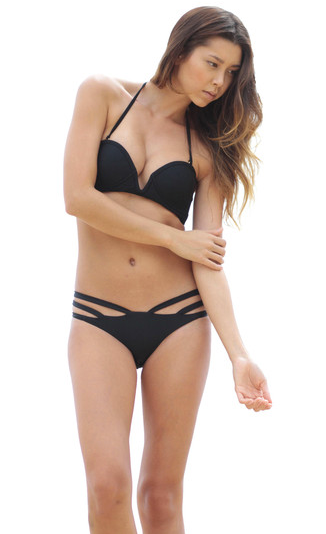 Shake Up Your Bikini Style!