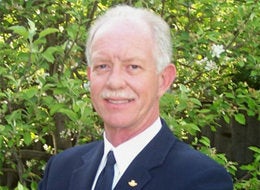 Chesley Sullenberger, known as "Sully," the pilot of the US Airways plane that crashed into the Hudson River is being hailed as a hero for successfully landing the plane without any major injuries or fatalities. His full name is Chesley B. Sully Sullenberger, and his resume can be found at that link.
A former Air Force fighter pilot, "Sully" was lauded by New York City mayor Mike Bloomberg, who hailed Sullenberger's actions as "masterful," reports The Daily Telegraph:
But he heaped praise on the plane's captain, pilot Chesley B. Sullenberger - a 29-year veteran known as "Sully" to his colleagues - for landing the plane flat on the water and avoiding nearby Manhattan.

Mayor Bloomberg said he had spoken to Mr Sullenberger at length, and said he did a "masterful job".
Sullenberger searched the plane before exiting the plane, reports ABCNews.com:
The hero of Flight 1549, pilot Chesley B. Sullenberger III, walked the aisle of the downed US Airways jet twice looking for passengers before exiting the plane he safely ditched in the Hudson River, saving the lives of more than 150 people onboard.
The successful landing on water was a rarity, reports the NY Daily News:
It appeared to be the first time in 45 years that a major aircraft crash-landed in the water - and every passenger on board made it out alive.
For the first time in 50 years of commercial jet flight, the pilots of US Airways Flight 1549 successfully executed one of the most technically challenging maneuvers, landing a jetliner on water without fatalities.
CNN spoke to Sullenberger's wife, Lori, who was stunned by her husband's ordeal:
Sullenberger's wife told CNN she spoke to her husband and is reeling from the incident.

"I was stunned. I hadn't been watching the news. I've heard Sully say to people, 'It's rare for an airline pilot to have an incident in their career,' " Lori Sullenberger said.

"When he called me he said, 'There's been an accident.' At first I thought it was something minor, but then he told me the circumstances and my body started shaking and I rushed to get our daughters out of school."
Here is Sully's bio, as it appears on the homepage of his company, Safety Reliability Methods, Inc.
Chesley B. "Sully" Sullenberger, III is a captain for a major U.S. airline with over 40 years of flying experience. A former U.S. Air Force (USAF) fighter pilot, he has served as an instructor and Air Line Pilots Association (ALPA) safety chairman, accident investigator and national technical committee member. He has participated in several USAF and National Transportation Safety Board (NTSB) accident investigations. His ALPA safety work led to the development of a Federal Aviation Administration (FAA) Advisory Circular. Working with National Aeronautics and Space Administration (NASA) scientists, he coauthored a paper on error inducing contexts in aviation. He was instrumental in the development and implementation of the Crew Resource Management (CRM) course used at his airline and has taught the course to hundreds of his colleagues. Sully is a graduate of the U.S. Air Force Academy (B.S.), Purdue University (M.S.) and the University of Northern Colorado (M.A.). He was a speaker on two panels at the High Reliability Organizations (HRO) 2007 International Conference in Deauville, France May 29-31, 2007. He has just been named a Visiting Scholar at the University of California, Berkeley.
Fellow pilots were not surprised at Sullenberger's decisive action under intense pressure, reports the Wall Street Journal:
Rick Kurner, another US Airways pilot, says he has flown with Capt. Sullenberger for 23 years. "He's always been an unbelievable professional," says Mr. Kurner, a first officer.

Mr. Kurner says when he heard it was Capt. Sullenberger who was flying the plane that landed safely in the Hudson, he wasn't at all surprised. "He held his cool. 'Where am I going to go? City? City? River.'"
Sullenberger has collaborated with UC Berkeley air-safety researchers, reports the Contra-Costa Times:
Chesley "Sully" Sullenberger was the right person to help passengers survive a crisis, said Karlene Roberts, a friend and UC Berkeley professor who co-directs the school's Center for Catastrophic Risk Management, which researches ways to avoid airline tragedies.

"I can imagine him being sufficiently in charge to get those people out," Roberts said. "He's got that kind of personality, which is to his credit."
Related
Popular in the Community