Almost two years after going public about being a lesbian, breaking a barrier as the first commercial country music star to come out, Chely Wright says the experience has been "everything one might imagine" and "by and large it's been really positive." But she's also received death threats and hate mail, some from fans who just couldn't accept it. And Wright has witnessed the stone cold silence of so many other country music stars, many of whom she considers her friends but realizes don't have the courage to speak out.
"Many of them I know have a personal feeling about gays and lesbians because I've received support from them privately," she said on my radio program on SiriusXM OutQ, a week after she cut the ribbon at the LikeMe Lighthouse, an LGBT Center she founded in her hometown, Kansas City. "The minute I came out I received several beautiful emails of support from my friends. Now, most of them did not say any word publicly in support of me."
Wright could only name three who in fact spoke out in support.
"The only ones who supported me publicly are Mary Chapin Carpenter, Leann Rimes and SHeDAISY," she said.
Some of her friends among country stars -- though "not all of them" -- did reach out to her privately, but they were apparently fearful of coming out publicly in support.
"Privately -- Faith Hill, Trisha Yearwood and Naomi Judd. Now, there are a lot of people who make country records, and I know all of them," she explained, emphasizing that no one else supported her, publicly or privately, obviously including male country stars.
"I think some of the artists really have a fundamental belief that there's something wrong with me," Wright opined. "But I think most of the artists don't want their fans to know that they're supportive of me because they don't want to lose a record sale. Because, look, there's a reason I'm the first artist to come out in commercial country music. I don't want to be a hypocrite here, but I am a bit of a hypocrite. I hid for 17 years. I'm a hider just as well as anyone else is, whether they're a straight person who's hidden their support of the LGBT community or a gay person who's hiding in country music. There's a reason we hide in country music. Because we know who buys our records by and large. It's a christian conservative fan base who doesn't approve or thinks we're going to hell. You know, I receive a lot of letters from people who say, 'I won't support that sick behavior.' it's not pretty."
But the high points of coming out have been well worth the lows, Wright explained, sometimes with emotions welling up.
"It's amazing and everything I prayed and hoped it would be," Wright, who also got married last year, said. "It's not lost on me that it's a blessing. I had a gal hand-write a letter to me that was ten pages long, and the ink was smeared and I wondered if maybe she cried when she wrote the letter. And I said, 'Do you not have a computer? Why did you hand-write this?' And she said, 'I was afraid my mom would search my computer.' And she said, 'I was thinking of taking my life the night I wrote this letter and I think you saved my life.' That's pretty powerful stuff. It's just a blessing."
Wright is also excited about the LikeMe Lighthouse, where Alan Cumming, MSNBC's Thomas Roberts, "Queer as Folk's" Hal Sparks and other celebrities were on hand for last week's opening.
"What it means for Kansas City and the heartland is that it can really create a sense of connectivity," she said. "Kansas City has a really robust LGBT community. It deserves a place like the Lighthouse. It's right there on Main Street, where people can go. It's bright and open and beautiful. This is not a back door dark place, back alley place with no windows. It's not a bar. It's not a seedy place. It's a beautiful lighthouse. It's gorgeous. It means everything."
Listen to the interview here:
Take a look at other country stars and their stance on LGBT issues below:
Before You Go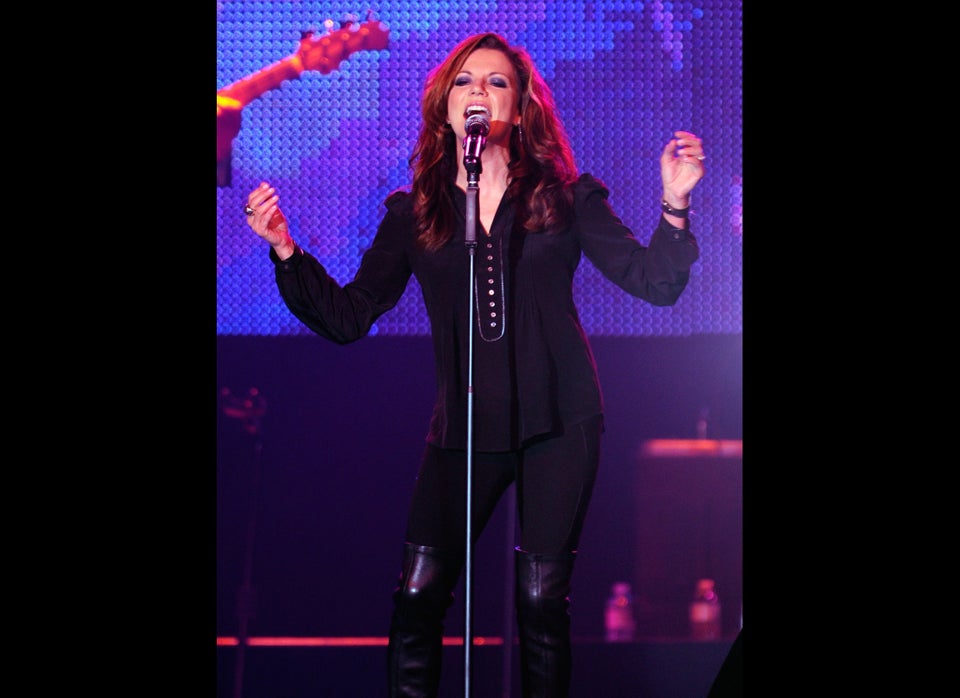 Country Music And The LGBT Community
Popular in the Community