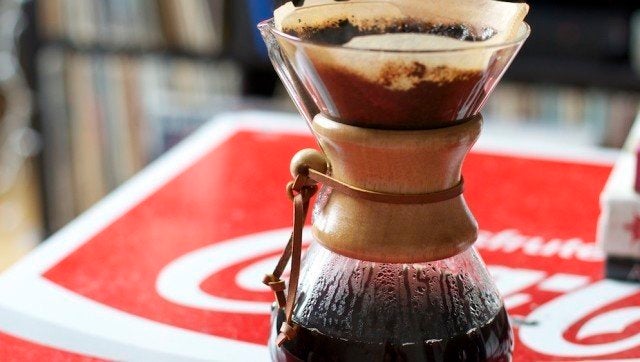 The obsessive home-brewing of excellent coffee is a particularly nerdy rabbit hole I've been falling down for quite some time. In just a few short years, I've traveled from an era in which I didn't drink coffee to a time when the morning ritual of either drinking it, making it, or both is absolutely non-negotiable.
Two weeks ago, things progressed further -- I bought my husband a Chemex Coffeemaker for his birthday. The Chemex is a gorgeous carafe and brewing vessel in one, made of non-porous borosilicate glass -- which means it's easy to keep clean and very strong. This design is so widely recognized as a thing of beauty, that it is on permanent display in New York's Museum of Modern Art. That's right. My new coffeemaker is a work of art.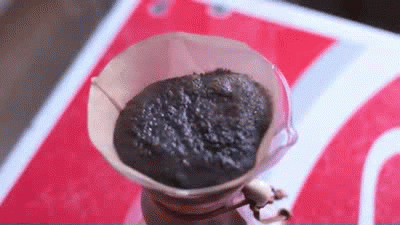 I have to confess that as a frequent worshipper at the church of the French press, I had my doubts about how exponentially better this pour-over marvel could make our coffee. The process of making coffee in the Chemex is less spectacularly complicated than I had assumed, and I will confess, it makes one hell of a cup of coffee. Because you are pouring hot water over the grounds, coffee from a Chemex can never be over-brewed. This gorgeous video from Sprouted Kitchen will show you exactly how it's done.
Confession time: so far, we have neither weighed our coffee, nor tested the specific temperature of the water before brewing (fellow coffee nerds, please do not throw things at me) -- the coffee has still been delicious, almost flawless, every time.
One of the things I love most about the Chemex is that it feels so clean every single time. Anyone who has ever used a traditional drip-brewer knows that you can never get all the nooks and crannies of the machine clean. Even with a French press, the mesh collects microscopic coffee grounds on each use. With a Chemex, you lift the grounds out with the filter, so they never even touch the carafe, which makes it an absolute breeze to clean.
The larger versions of the Chemex can get pretty expensive, but we opted for the six-cup version, which is under $40 and seems to produce just the right amount for each of us to enjoy two big cups. Fellow coffee nerds, care to follow me down the rabbit hole?