White House press secretary Sean Spicer on Tuesday suggested that as bad as Adolf Hitler was, at least he never used chemical weapons, unlike Syrian President Bashar Assad. It was a strange and unfortunate comparison, not least because a) Hitler definitely did use chemical weapons in the Nazis' notorious gas chambers, and b) some number of Jewish refugees almost certainly died in those chambers during World War II after being turned away by the United States ― much the same way the U.S. is turning its back on Syrian refugees today.
The German dictator did, in fact, use gas chambers to exterminate millions of Jews and other people during the Holocaust. Thousands of them might have found refuge in the United States, had President Franklin Roosevelt's administration not deemed them a threat to national security.
In 1939, almost 1,000 refugees, nearly all of them Jewish, were literally denied entry to the U.S. when they approached Miami aboard a German ship called the St. Louis. More than 200 of them later died in the Holocaust. Meanwhile, a bill that would have allowed the U.S. to take in 20,000 Jewish refugee children never made it through Congress. It wasn't until after the Holocaust ended that the U.S. started to view the assistance of Jewish refugees as a moral obligation.
The decision to shoo away Jewish and Syrian refugees alike stems from the "America first" mentality. It was a slogan drummed up to oppose U.S. entry to World War II, created by the leading anti-Semites of the time. President Donald Trump's electoral campaign revived it, using it to summarize his aim of putting the interests of Americans before those of anyone else.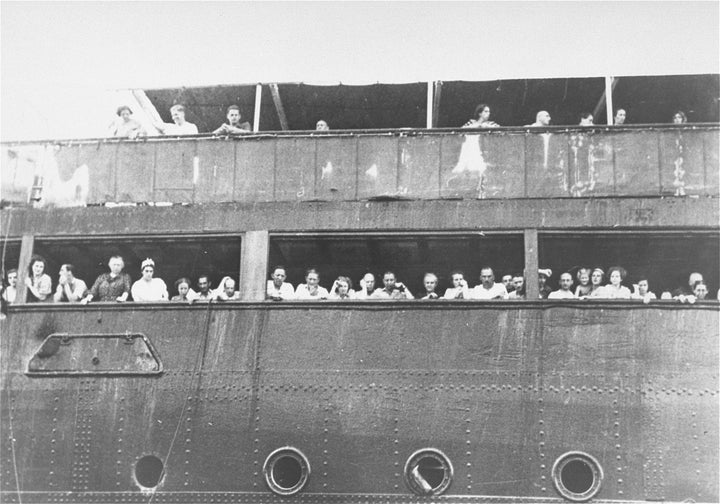 Trump has perpetuated poisonous rhetoric about Syrian refugees ― the very people whose plight he said just last week moved him to strike a Syrian air base. 
After calling for a Muslim ban during his campaign, Trump and his administration have twice attempted to prevent Syrian refugees from seeking safe haven in the United States. Both travel bans have been partially overturned in federal court, and refugee resettlement has resumed, at least for the moment.
But thousands who are still in danger may have to wait months or years before the U.S. accepts their applications.
The United States has historically been the No. 1 resettlement country in the world. But legal resettlement accounts for only a tiny fraction of the total number of refugees worldwide, which is higher than it's been at any time since World War II. About 65 million people are displaced today, 21 million of whom are refugees living in foreign countries, according to the United Nations. 
Calling all HuffPost superfans!
Sign up for membership to become a founding member and help shape HuffPost's next chapter
BEFORE YOU GO
PHOTO GALLERY
U.S. Strikes Targets In Syria