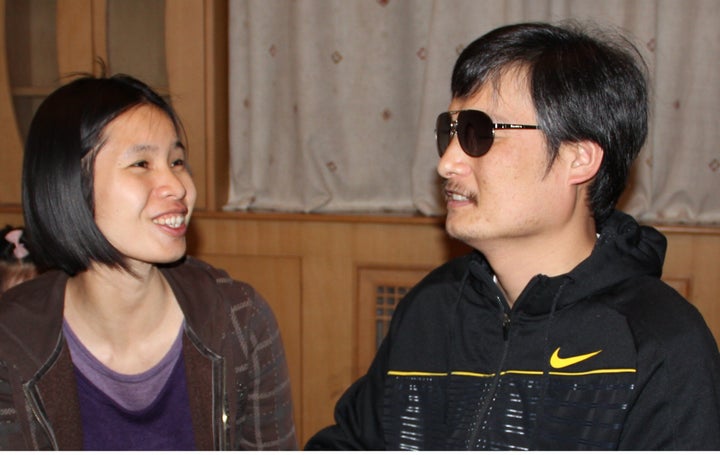 By Chris Buckley and Paul Eckert
BEIJING/WASHINGTON, May 3 (Reuters) - President Barack Obama came under pressure on Thursday to ensure the safety of blind Chinese dissident Chen Guangcheng who briefly took refuge in the American embassy and whose later desperate pleas for asylum from a Beijing hospital bed threaten to fan U.S.-China tensions.
Chen, a self-taught legal activist, left the U.S. Embassy on Wednesday shortly before U.S. Secretary of State Hillary of Clinton arrived in Beijing for talks aimed at improving economic and strategic relations between the two superpowers.
But within hours, Chen changed his mind about a deal that U.S. officials had said would allow him to relocate with his family and pursue his studies at a university. In phone calls to friends and reporters, he has said he fears for his life.
U.S. officials defended their handling of the case, but Republicans and Chen's supporters were critical, saying the White House must ensure Chen's safety. He had spent six days in the U.S. embassy after a dramatic escape from house arrest in a village in rural Shandong province on April 22.
Republican presidential candidate Mitt Romney said if the reports were accurate, the U.S. embassy "failed to put in place the kind of verifiable measures that would ensure the safety of Mr Chen and his family.
"If these reports are true, this is a dark day for freedom, and it's a day of shame of the Obama administration," Romney said during an event in Virginia on Thursday as he campaigns for the November election.
Bob Fu, the president of Texas-based religious and human rights group ChinaAid, told reporters in Washington he had spoken to Chen the previous night and he was weeping and asking for help to bring him and his family to the United States.
Representative Ileana Ros-Lehtinen, chairwoman of the House of Representatives Foreign Affairs Committee, said: "It should have been obvious to U.S. officials all along that there is no way to guarantee Mr Chen's safety so long as he is within reach of the Chinese police state."
"The Administration must support Mr Chen's freedom to choose where he and his family can live in safety," the Florida Republican said in a statement.
Some rights activists were also critical. "We have learned that when people come to the United States embassy they are not in fact 100 percent safe," said Reggie Littlejohn, president of the advocacy group Women's Rights Without Frontiers.
"They can be turned over to the Chinese authorities from whom they were attempting to escape," she told a news conference in Washington.
Fu of ChinaAid said Chen had told him that while he was at the embassy, U.S. officials conveyed a message that if he didn't leave that day his family would be returned to the village where his family had lived "in hell" for years. Fu quoted Chen as saying: "I felt great pressure to leave."
Fu said Chen faced a "One way street," adding: "He has to make a choice that day that if he didn't walk out that day he will lose his family."

Chen, 40, is a legal activist who campaigned against forced abortions under China's "one-child" policy.
U.S. officials say Chen left the embassy of his own free will and was taken for treatment at a Beijing hospital because he wanted to be reunited with his wife and children. They said he wanted to remain in China and never asked for asylum.
"He knew the stark choices in front of him," U.S. Ambassador Locke told reporters in Beijing on Thursday. "He knew and was very aware that he might have to spend many, many years in the embassy. But he was prepared to do that ...
"And he was fully aware of and talked about what might happen to his family if he stayed in the embassy and they stayed in the village in Shandong province."
"He made it very, very clear from the very, very beginning that he wanted to stay in China, that he wanted to be part of the struggle to improve the human rights within China," Locke said.
China's Foreign Ministry declined to comment on Chen's request to leave the country and repeated its criticism of the way the United States had handled the issue as "unacceptable". China has demanded an apology from the United States.
Clinton and Treasury Secretary Timothy Geithner were scheduled to hold further talks in Beijing on Friday. Washington had hoped the talks would secure more cooperation from China on trade and international flashpoints such as North Korea, Iran and Syria.
Chen told Reuters on Thursday from hospital, where he was being treated for a broken foot, that he had changed his mind after speaking to his wife, who spoke of recent threats made against his family.
"I feel very unsafe. My rights and safety cannot be assured here," he said. "I hope the U.S. will help me leave immediately. I want to go there for medical treatment."
A pack of camera crews and reporters was waiting outside the hospital, kept away from the entrance by police.

John Bolton, a former U.N. ambassador under President George W. Bush and now an informal adviser to the Romney campaign, told Fox News the situation was "a train wreck in process."
White House spokesman Jay Carney said the administration was aware that Chen and his wife had had a change of heart and that State Department officials were in discussions with Chen, his wife, and Chinese officials.
Carney pushed back against critics who have suggested that U.S. diplomats, seeking to defuse the situation with Beijing, had pressured Chen into his original decision to stay in China. He said Chen never sought political asylum while in the embassy.
"And at every opportunity he expressed his desire to stay in China, reunify with this family, continue his education and work for reform in his country. All of our diplomacy was directed at putting him in the best possible position to achieve his objectives," Carney said. "There was no pressure of any kind placed on him by U.S. officials."
The Chen case came at an tricky time for both nations: Obama is anxious to portray an image of strength in his dealing with foreign countries as he prepares for the election and China is engaged in a leadership change later this year.
The carefully choreographed power transition in Beijing has already been jarred by the downfall of ambitious senior Communist Party official Bo Xilai after he was caught up in a scandal linked to the apparent murder of a British businessman.
At the bilateral talks on Thursday, Clinton urged China to protect human rights but made no specific mention of Chen, whom she had spoken to on Wednesday after he left the embassy.
Chinese President Hu Jintao made no mention of the Chen case in his remarks but stressed that the two nations needed trust.
"It is impossible for China and the United States to see eye-to-eye on every issue, but both sides must know how to respect each other," he said.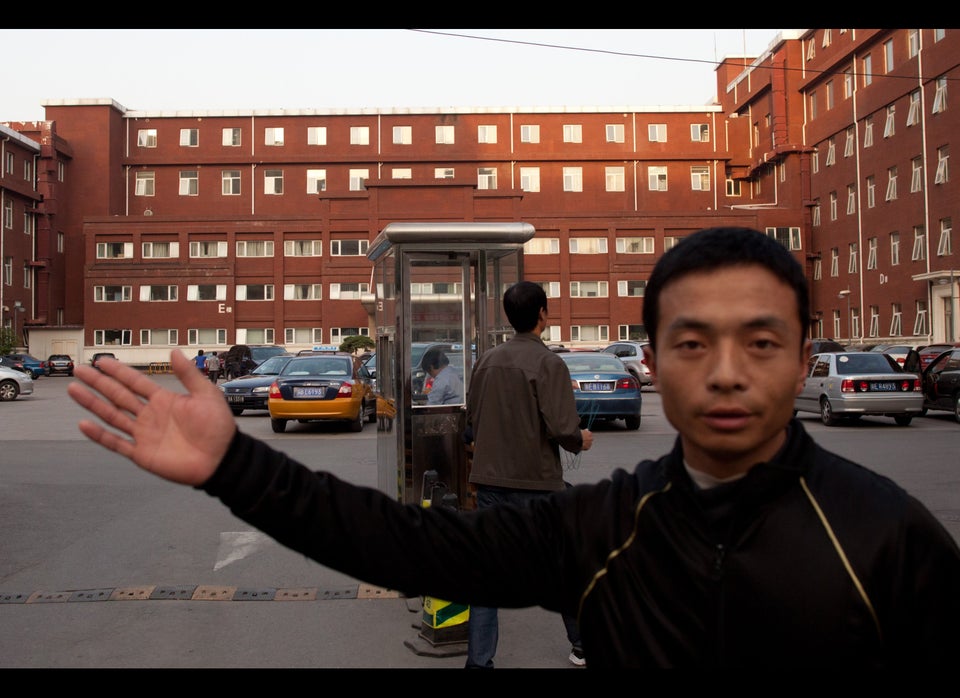 Chen Guangcheng
Popular in the Community