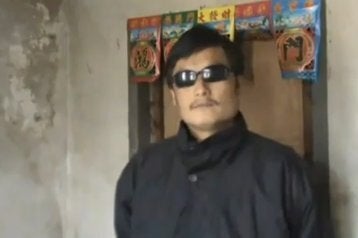 A high-profile, blind Chinese grassroots lawyer and his wife were severely beaten after secretly filming a video documenting their house arrest, the Guardian is reporting. (Scroll down for video)
In the amateur video, released online by a U.S.-based campaign group, Chen Guangcheng -- a self-taught legal advocate for women who had forced abortions and sterilizations -- and his wife Yuan Weijing describe the experience of being smuggled out of his family's village, and how the couple and their children were being held at home since Chen's release from prison five months ago. The video is hi "I've come out of a small jail and entered a bigger one," the 39-year-old Chen says in the clip, according to the BBC. Though their exact whereabouts are not unknown, the family is reportedly being monitored at all times, and devices have been placed in nearby homes to interfere with their cell phone signals.
The Telegraph cites Human Rights Defenders, an NGO, as saying that an "inside source" had confirmed to them that Chen and his wife had been beaten senseless in punishment after authorities learned of the video's existence. "They cannot move from bed, and they have not been allowed to go to hospital," said a statement.
Bob Fu of advocacy group ChinaAid, which has offices in Texas, made an impassioned plea for Chen's release. "Chen Guangcheng is a hero to many people around the world, a peaceful advocate for human rights and a defender of society's most vulnerable, its women and children," he said. The video is the first news of the Chinese advocate's whereabouts in five months.
Watch a segment of the secretly-shot video here:
Related
Popular in the Community