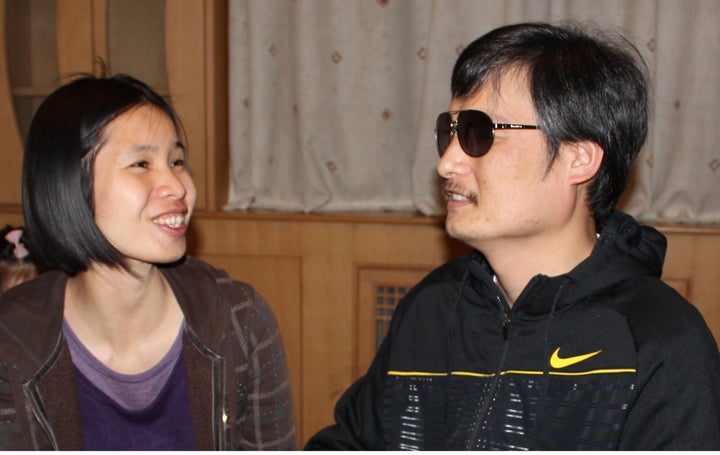 BEIJING, April 30 (Reuters) - Chinese dissident Chen Guangcheng's escape from house arrest to U.S. diplomatic protection was a "miracle" of planning and endurance but the blind activist hopes to stay in China and campaign for reform, one of his key helpers said on Monday.
Chen's supporters say he is now under U.S. diplomatic protection in Beijing after escaping 19 months of stifling informal detention in his rural home, his future the subject of fraught secret talks between China and the United States.
"Chen Guangcheng's escape was a miracle, hard to believe unless you heard him tell the story himself," said Guo Yushan,a Beijing-based researcher and rights advocate who has campaigned for Chen and helped bring him to Beijing after his escape.
He was speaking in his first long interview since he was released from days of police questioning after Chen's escape became public.
"He had to climb over eight walls and over a dozen barriers by himself, tripping and falling hundreds of times for 19 hours until he crossed a stream and finally escaped from his village," said Guo, citing Chen's account of how he fled his home Dongshigu Village in Shandong province in eastern China.
"His whole body was cut and bruised from all his climbing and tripping. His right foot strained so he could barely stand," said Guo. "By the end, he could only crawl for a long stretch, so when I saw him he looked in a really sorry state."
But Chen's ultimate plan was not to seek refuge in America or any other country, said Guo.
"He was adamant that he would not apply for political asylum with any country," said Guo. "He certainly wants to stay in China, and demand redress for the years of illegal persecution in Shandong and continue his efforts for Chinese society."
Guo said he did not want to discuss what help Chen might have received from relatives and villagers in rural Shandong, but he feared they would endure the worst of officials' humiliated anger over the escape.
Chen's wife, Yuan Weijing, cannot be contacted, added Guo.
"Now we're most worried about his family's safety, that once the officials found he had gone, they'll settle scores with them," he said.
Already, Chen's tale has become part of China's dissident folklore: a blind man defeating the Goliath of ruling Communist Party controls, echoing the man who stood down an army tank near Tiananmen Square after the crackdown in 1989.
Chen, a self-schooled legal advocate who campaigned against forced abortions used to implement family planning goals, was locked in extra-legal confinement in his village home in Shandong since September 2010, when he was released from jail on charges he rejected as spurious.
"He spent over two months staying inside his room for two reasons - to work out the patterns of his guards, and to get the guards lulled into the idea that he, Chen Guangcheng, was not coming out or trying to leave," said Guo, whose glasses and goatie suggest his intellectual background.
"He seized a brief moment to jump the first wall in about five seconds, and then came the second, third, fourth," said Guo. "It took nineteen hours for him to finally get out."
Village officials and guards were so numbed into assuming that Chen was confined to his bed that they did not discover his escape until he was gone, said Guo.
After learning through contacts that Chen had escaped, Guo sped in a car to get him and take him and another supporter, He Peirong, on the 600 km (370 miles) journey back to Beijing.
"The situation is complicated now, so I don't want to confirm where he is now," said Guo. "His own personal choice is certainly not to leave China." (Reporting by Chris Buckley)
Calling all HuffPost superfans!
Sign up for membership to become a founding member and help shape HuffPost's next chapter
BEFORE YOU GO