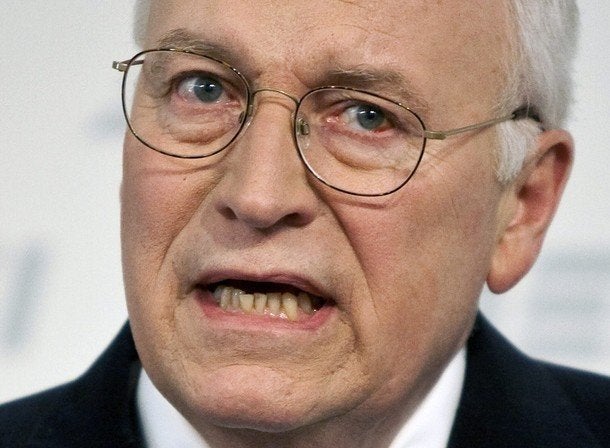 Dick Cheney left little on the table during a taped interview Fox News Sunday, accusing the Obama White House pursuing an "intensely partisan" investigation into the use of torture under the Bush administration.
Calling the "enhanced interrogation techniques" used on terrorist suspects "absolutely essential," the former vice president deemed any decision to launch an probe into the possible illegal use of these EITs an "outrageous political act" and a "direct slap at the CIA."
"We had a track record now of eight years of defending the nation against any further mass casualty attacks from al Qaeda. The approach of the Obama administration should be to come to those people who were involved in that policy and say, 'How did you do it? What were the keys to keeping this country safe over that period of time?'" Cheney said.
"Instead, they're out there now threatening to disbar the lawyers who gave us the legal opinions -- threatening contrary to what the president originally said. They're going to go out and investigate the CIA personnel who carried out those investigations."
Saying the move to launch an investigation "offends the hell out of me," Cheney accused Obama of succumbing to the political pressure of his progressive base.
"We had a president of the United States, President Obama, tell us a few months ago there wouldn't be an investigation," said Cheney. "Now, they get a little heat from the left wing of the Democratic Party and they are reversing course on that."
Asked to respond to this charge in the past, the Obama White House has noted that, unlike the Bush administration, it does not put political pressure on the Department of Justice. The decision to pursue an investigation into the authorization of torture -- which will be preliminary in nature and narrow in scope -- was made by Attorney General Eric Holder alone.
"The president is the chief law enforcement officer in the administration," Cheney said. "He is now saying, well, this isn't anything he's got to do with. He's up vacationing in Martha's Vineyard and his attorney general is going back and doing something the president said some months ago he wouldn't do."
In the interview with Fox News Sunday, which was taped on Friday, Cheney insisted that newly released documents from the CIA proved that the use of torture on terrorist suspects were instrumental in preventing future attacks (a claim that the documents actually say is difficult to make).
The former vice president largely skirted questions about what should be done with those CIA officers who clearly went over the legal boundaries in their use of EITs. He did, however, gleefully take swipes at Obama and the Democratic Party, calling them soft on national security.
"I have serious doubts about his policies," Cheney said, "serious doubts about the extent to which he understands and is prepared to do what needs to be done to defend the nation."