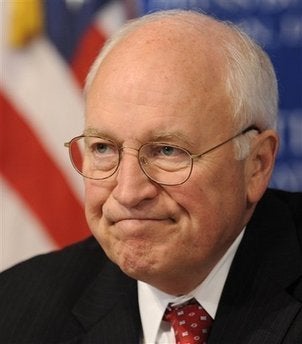 Dick Cheney rarely takes a position that places him at a more progressive tilt than President Obama. But on Monday, the former vice president did just that, saying that he supports gay marriage as long as it is deemed legal by state and not federal government.
Speaking at the National Press Club for the Gerald R. Ford Foundation journalism awards, Cheney was asked about recent rulings and legislative action in Iowa and elsewhere that allowed for gay couples to legally wed.
"I think that freedom means freedom for everyone," replied the former V.P. "As many of you know, one of my daughters is gay and it is something we have lived with for a long time in our family. I think people ought to be free to enter into any kind of union they wish. Any kind of arrangement they wish. The question of whether or not there ought to be a federal statute to protect this, I don't support. I do believe that the historically the way marriage has been regulated is at the state level. It has always been a state issue and I think that is the way it ought to be handled, on a state-by-state basis. ... But I don't have any problem with that. People ought to get a shot at that."
Cheney has made similar arguments in support of gay marriage in the past, including during the run-up to the 2004 election. But his current comments come at a moment when the Republican Party and conservative movement is increasingly split on the issue. Bush recount lawyer Ted Olsen and John McCain campaign manager Steve Schmidt have both argued in favor of gay marriage. The religious right, as expected, remains opposed.
Caught up in the debate is the Obama administration. The president has said he supports civil unions for gay couples but that he remains committed to marriage being between and man and woman. His press department has been completely quiet about the recent California Supreme Court case upholding a ban on gay marriage in the state -- something that, it seems, Cheney would object to in spirit if not law.
Support HuffPost
The Stakes Have Never Been Higher
Popular in the Community