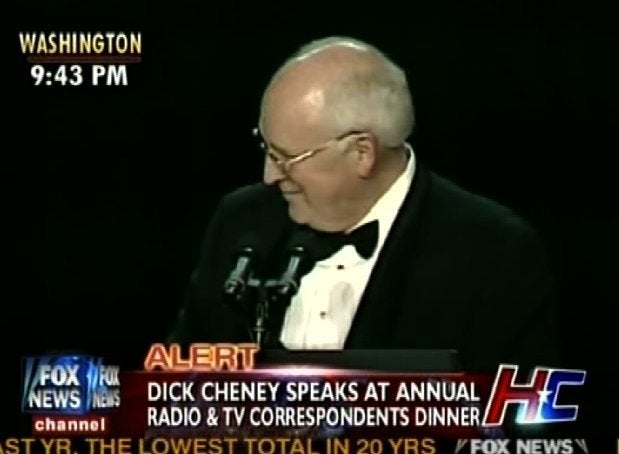 Vice President Dick Cheney paid a visit to the Radio & Television Correspondents' Dinner In Washington D.C. on Wednesday, and decided to let loose with a barrage of jokes about his demeanor (insert Darth Vader jokes), his relationship with the media, and the Pope's current voyage in America. Before introducing comedian Mo Rocca, the Vice President also weighed in on the 2008 elections, and some current mini-controversies.
On "Bittergate": "Obviously you're not the kind that look down on a bitter man who clings to his guns."
On Hillary's Bosnia Gaffe: "She made an honest mistake. She confused the Bosnia trip with the time I took her hunting."
On Mo Rocca And Keith Olbermann: "Mo used to host a TV show called 'Things I Hate About You.' I'm sure I've seen that program, only now it's called Countdown, with Keith Olbermann."
On 'Cousin Barack' And Rev. Wright: "Barack Obama and I have had our disagreements, and frankly I do wish he would keep these things in the family. For example, I keep telling him it's time to start thinking about a choice for Vice President. He says he'll find a running mate just as soon as he's got himself a new pastor. I guess my cousin Barack has sat through some mighty riveting sermons over the years. If he gets elected, you're not going to want to miss those Washington prayer breakfasts."
On The Pope, The Media And Al Gore: "I met with His Holiness this morning at the White House. So between that and this dinner with the media, it's been quite a day for me. I spent the morning with one infallible authority, and now I get to spend the evening with a thousand of them. I was glad to talk to the Pope. It's rare that I run into somebody who's heard more secrets than I have...I'm modest enough to realize that all of you would rather see the Pope standing here than me. But instead of the successor to St. Peter, you're stuck with me, the successor to St. Al."
Popular in the Community