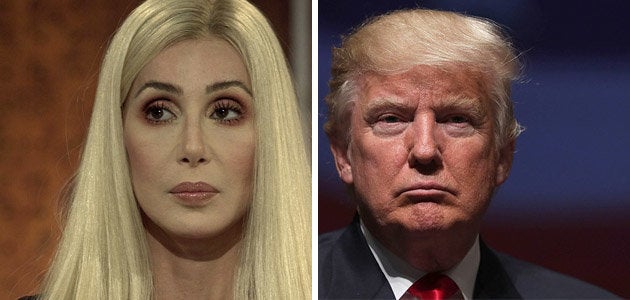 Do you believe in life after a possible Trump presidency?
The singer already said she's going to have to "leave the planet" if Trump wins the 2016 presidential election. Now, without mincing words, she's drawing comparisons between Trump's rise in popularity to Adolf Hitler's over half a century ago.
Cher says a Trump presidency would be like "GERMANY WAS IN THE 30's."
The scary thing is, she has a point.
Throughout the campaign, Trump has spread a message of hate and fear, and The Wrap even ran a story showing why Hitler comparisons might be accurate.
In the piece, a Holocaust survivor recalls how Hitler was considered "a bit of a clown" but gained traction for saying "what everyone thought, but didn't dare say out loud."
Here are just some of the Trump & Hitler comparisons that get passed around on social media:
The idea of a Trump presidency started out as laughable. Nobody's laughing now. Though, Cher implores everyone not to lose hope. And to pray.
Before You Go

Topless Protesters Crash Donald Trump's Polling Place
Popular in the Community