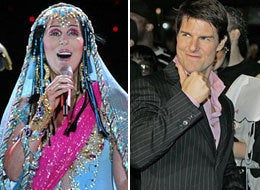 'Entertainment Tonight' sat down with Cher yesterday in Los Angeles in an interview to air Friday, February 8th.
Cher told ET about her relationship with Tom Cruise, "It was a long, long time ago and neither one of us ever talked about it and I don't know why. When we were together he was such a private person. He always has been until lately. He didn't mention it and I didn't mention it. I loved him though, he was amazing. Now it's hard for me to look at this person and this press. How many times can I watch him jumping up and down on Oprah's couch?"
On why they broke up, "It was after Risky Business and right before The Color of Money. I couldn't go to Chicago and that was kind of the straw that broke the camel's back."
She goes on to say she still feels close to ex-husband Sonny Bono, who passed away in 1998, "I always kind of feel him in a strange way. I've got these lights in my bedroom and they go on and off for no reason and I always think it's him trying to piss me off."
Popular in the Community