BRIDGEPORT, Conn. — Cherelle Baldwin was technically free.
But even though she was back outside, free to go anywhere she wanted, whenever she wanted, Baldwin said she felt trapped. On her first day out of prison, she went to Walmart for an eye exam to get new glasses. She ran into the jury forewoman from her trial. The woman pressed her into a bear hug, and said she deserved to be home. The optometrist got curious and started asking questions.
Later, at the supermarket, strangers approached Baldwin and welcomed her back. She wondered if they were judging her.
"Every time someone looks at me, I think, 'Do they know what happened?'" she said. "It makes me very fearful to be around people. I try not to go out in the public."
On May 18, 2013, Baldwin hit her ex-boyfriend Jeffrey Brown with her car, killing him. She told police he broke in, beat and strangled her in front of their 19-month-old son, and that a crash occurred in her driveway while she desperately tried to get away. Brown was pinned against a cement wall and died. Baldwin broke her leg. First responders discovered her on the ground in her nightgown, without shoes or glasses, crying out for her child.
Media coverage of the incident wasn't pretty. The New York Daily News described Baldwin as a "crazed woman" who crushed her lover to death in a "savage attack." The story didn't mention her telling police that Brown had tried to kill her. Or the slew of threatening texts he had sent her that morning. Or the protective order she had against him. Or that 10 days prior, he had been convicted of breach of the peace for an earlier domestic incident. Or that he was found grasping a belt, which she said he had used to whip and choke her.
"When I first heard my story on the news, I was like, 'That's not what happened,'" she said. "They make you sound crazy."
So she stays in, mostly at her mom's apartment in Bridgeport. It's a tiny two-bedroom that now houses three adults -- Cherelle, her mom and her brother, Bernard, who just graduated college. They take turns sleeping in the bedrooms, and someone, usually Bernard, takes the couch.
Struggling To Adjust
On a cold Saturday in April, Baldwin sat on that couch in her mom's living room, sipping from a bottle of water. Her son, Jeffrey, wearing an Adidas tracksuit, sat by her side, transfixed by a game he played on an iPhone.
Baldwin said she is grateful for her freedom, but she's also overwhelmed with anxiety.
"My nerves are bad," she said. "I feel like I haven't been here in awhile. It feels like a different planet."
She said she can't eat. Nerves. She drinks Ensure for nutrition. It's not too bad, she said, sort of like a milkshake.
Baldwin was diagnosed with post-traumatic stress disorder while in prison. From the accident, but also from surviving a violently abusive relationship. For the first three months after it happened, she said, she had vivid nightmares and would wake up covered in scratches. The prison doctors prescribed her anti-anxiety medicine.
It helped during the day, but when she slept, she relived May 18 -- the day she killed her ex-boyfriend -- over and over. At one point, she was put on suicide watch as she grieved the death of the man she had considered the love of her life, and pined for her toddler son.
She was only 21 when she was charged with murder, a crime that carries a sentence of up to 60 years in Connecticut. Her bail was set at $1 million, even though she hadn't been arrested before and had a young child.
Baldwin's mother, Cindy, called it a ransom.
"No one in Bridgeport has that kind of money," she said, shaking her head.
Bridgeport, an old industrial city, is plagued by poverty and crime. It sits just 30 miles north of Greenwich, a town whose $135,258 median household income is more than three times that of Bridgeport's. Her family openly wonders if Baldwin would have been charged with murder if she lived in Greenwich or Stamford, or if she was white and wealthy. "Not a chance," her mother said.
Baldwin's first trial, held in 2015, ended in a hung jury. So she had to spend another year behind bars waiting for her day in court.
During the trial in March, Baldwin shook uncontrollably, an involuntary jerking that was visible from the gallery seats. She testified that Brown had stalked her, beat her, choked her and made her life a living hell over the course of their relationship. The jury deliberated for two days.
When the jury forewoman began to read the verdict, Baldwin collapsed to the floor. Murder; not guilty. Intentional manslaughter; not guilty. Reckless manslaughter; not guilty. Manslaughter in the second degree; not guilty. Criminal negligent homicide; not guilty.
"My baby, my baby will have his mommy back," she moaned.
A court marshall passed a box of tissues to the jury.
Less than an hour later, Baldwin was released.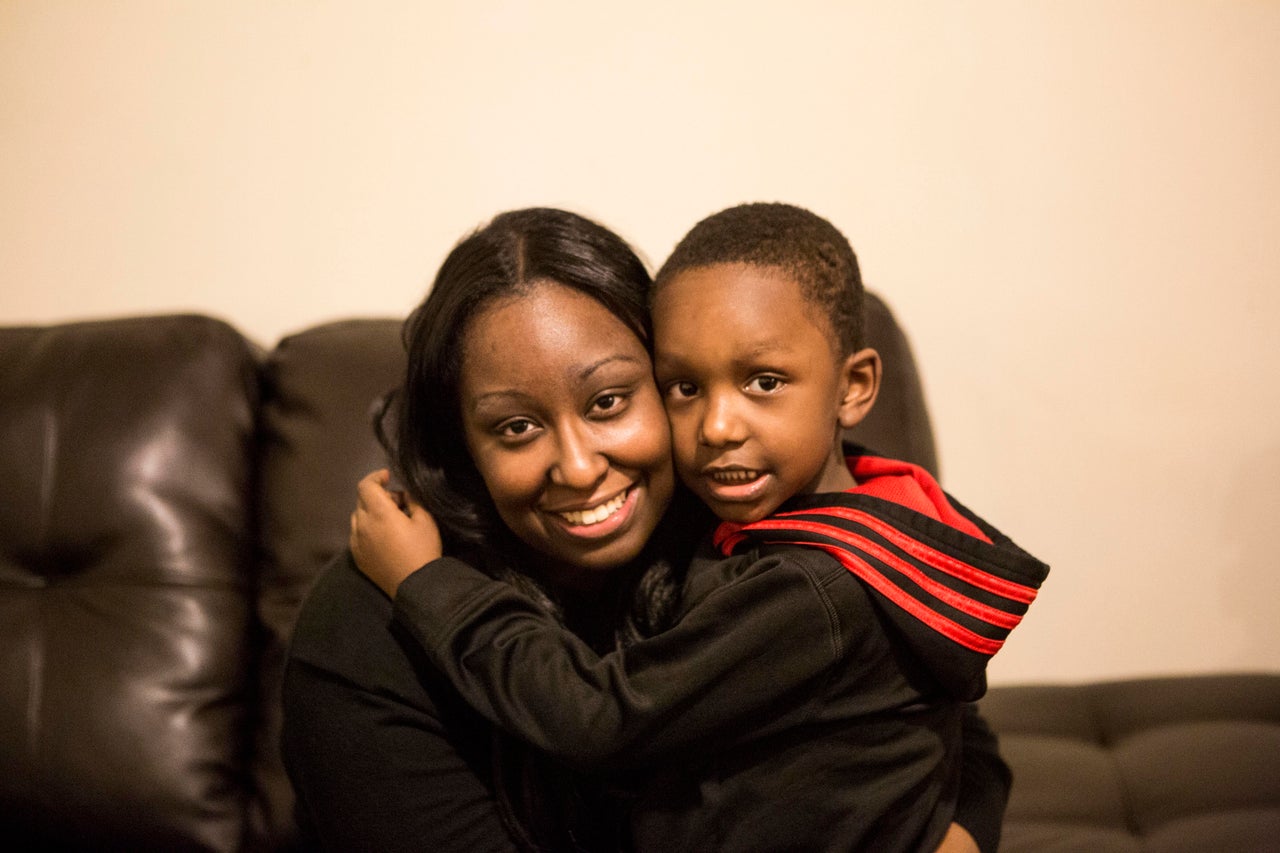 Rebuilding Broken Bonds
Jeffrey is now almost 5. Baldwin looked over at him and laughed. He wore headphones while gleefully singing off-key to a Justin Bieber song. He could barely talk when she left, and now he's downloading apps.
It's hard not to still think of him as a baby, and to realize he's a strong, spunky kid, she said. A few times when he was in the bath last week, she raced in, afraid he had drowned. She had last bathed him when he was a toddler who couldn't be left alone for an instant.
Time did not stand still for him, but it did for her. Baldwin doesn't remember turning 22, 23 or 24 while in prison, she said. In a way, she feels frozen at the age of 21.
Now that she's out of prison, her most important goal is rebuilding a strong relationship with her son after missing so many years of his life.
"That's time you can't get back," she said.
He was named after his father: Jeffrey Brown. Before she went to prison, there were times she fantasized about changing her son's name. Even the sound of her mother calling for him can make Baldwin feel anxious. But now she sees how much her son enjoys introducing himself. He says, "I'm Jeffrey Brown Junior!" He just learned how to write his name. It's his identity. So it stays.
Now, Baldwin has to file paperwork to regain custody. While she was incarcerated, her mom and Brown's mom were granted shared custody. It's just one thing on a long list of bureaucratic steps that she must take to get her life back on track.
She wants Jeffrey to continue having a relationship with Brown's family, even though it's emotionally complicated. She knows it's important to them, too: He's the only piece of their son that they have left.
"I want my son to be able to have both sides of his family still, even though he doesn't have his father anymore," she said.
Baldwin worries about how she will explain to him what happened to his father. What's the appropriate age? What if someone else tells him, or he finds out on Google? He already knows how to search his own name.
"I don't want him to be resentful toward me for anything that happened," she said.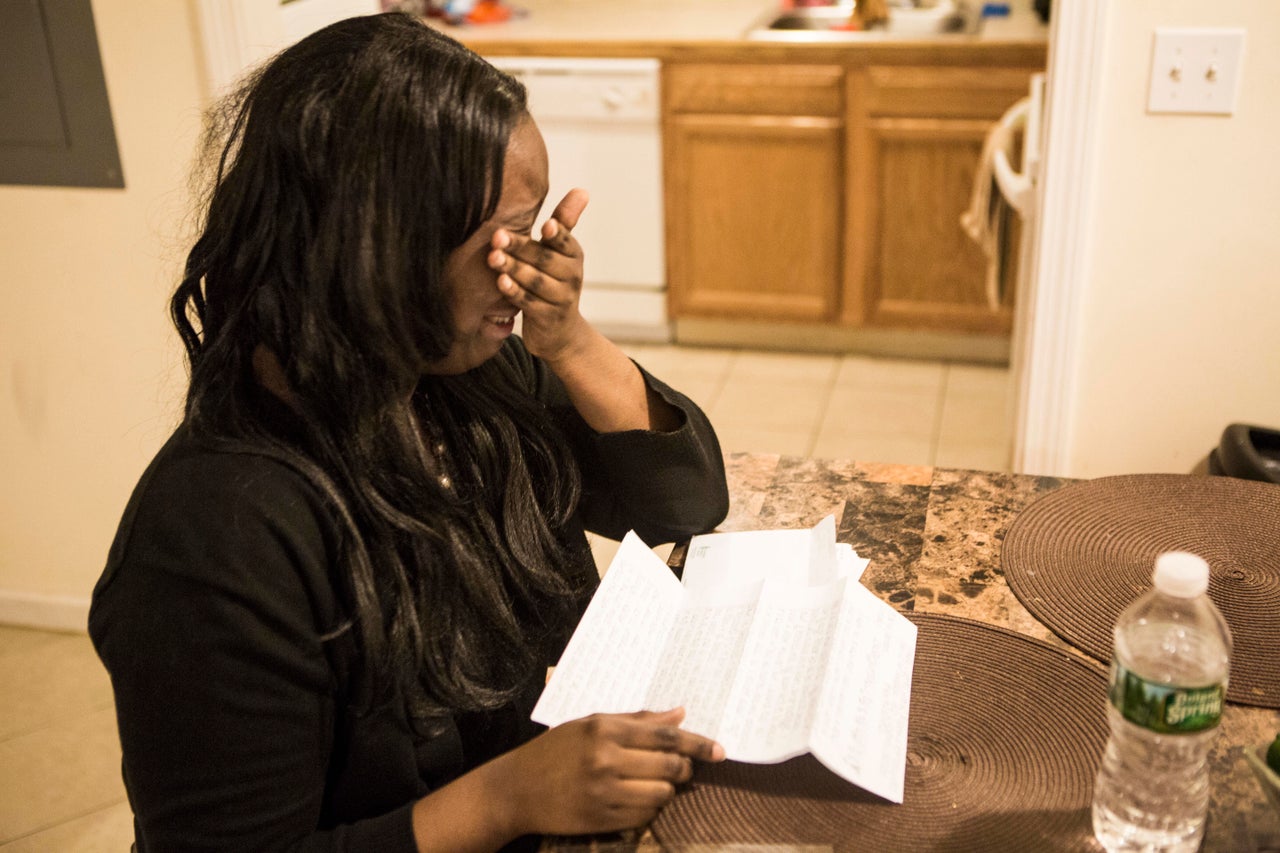 A Familiar Story In Prison
Her mom brought in the mail, and with it a letter from York Correctional Institution. Baldwin opened it eagerly. It's from her former cellmate, congratulating her on the acquittal. Tears flowed.
"I never got to say goodbye," she said.
In prison, she said, she met other women who were incarcerated for crimes related to domestic violence. They read Bible scriptures together. Some were in there for acts committed in self-defense, like her; others for crimes committed under the coercion of abusive partners.
"There are a lot of women incarcerated because of men," she said.
It's impossible to know how many women nationally are incarcerated for defending themselves against their abusers, as no government agency tracks it. But anecdotally, advocates say the problem is endemic across the country.
It's understood that the majority of incarcerated women were victims of domestic violence or sexual assault before being imprisoned. According to the Correctional Association of New York, about 75 percent of incarcerated women were physically abused during adulthood.
Prison can be doubly traumatizing for domestic violence survivors, who have already lived in a volatile and dangerous environment where they lacked control over their own lives.
Baldwin said that was true in her case. The correctional officers were mostly men, and they constantly yelled at the female inmates, she said, calling them derogatory names. Then there was the ever-present threat of violence. The lack of dignity and privacy. And no rights.
"To have someone control you, it's horrible," she said.
A New Career Path
Baldwin said she's is in the process of declaring bankruptcy because her credit was ruined when she went to prison. After she was arrested and abruptly incarcerated, all her bills went unpaid. Her student loans. Her car payments. Her credit cards. Her mom said the family is sinking in legal bills.
"My life changed in an instant," she said. "Friday, I'm at work. The next day, I'm in the hospital. When you date someone, you don't plan your life, two or three years later, to be on trial in their death."
In the future, she thinks she would like to help other domestic violence survivors. Maybe she'll become a motivational speaker, or an advocate.
"I would never have thought in a million years, when I was younger, that I would be a victim of domestic violence," she said.
If there's anything she can say or do to help other women avoid her fate, she wants to try.
"Sometimes, I honestly feel like I don't have my freedom back because of what I went through," she said. "Even though I'm out, my life will never be the same."
CORRECTION: A previous version of this story misstated the year Baldwin's first trial occurred.
______
Melissa Jeltsen covers domestic violence and other issues related to women's health, safety and security. Tips? Feedback? Send an email or follow her on Twitter.
______
Related stories:
Popular in the Community