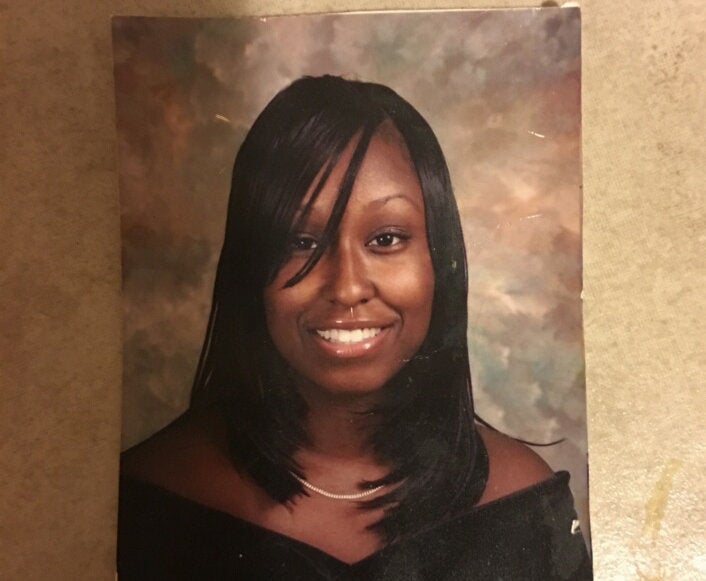 BRIDGEPORT, Conn. — As she awaited her day in court, held on $1 million bail, Cherelle Baldwin missed milestones. Her son's second birthday, then his third, then his fourth. His first day at preschool. Her younger brother's college graduation. Her father's 60th birthday. Funerals for two family members. She had to put her own dream, to become a registered nurse, on hold.
Baldwin, a slight black woman with shoulder-length hair and glasses, is now 24. When she was 21, police say, she killed her ex-boyfriend Jeffrey Brown, 24, by crushing him against a cinderblock wall with her car.
Baldwin is now standing trial in Bridgeport, Connecticut. She has pleaded not guilty to murder, which carries a sentence of 25 to 60 years in prison in the state.
Baldwin has said that Brown was an abusive ex who was trying to kill her when a tragic accident occurred. It is now up to her and her lawyer to convince a jury that she was acting in self-defense when she hit him with her car. Otherwise, she could spend the next few decades behind bars.
It is her second trial; the first ended with a hung jury.
Baldwin told police that on the morning of May 18, 2013, she was in bed with her 19-month-old son when Brown broke in and began strangling her with his leather belt. She managed to escape, she said, and ran outside. Brown followed. According to her report, she got in her car to flee, but he managed to get into the vehicle and tried to strangle her again. Then there was a crash.
When Bridgeport police arrived, they found Brown pinned between a garage wall and the car, and Baldwin immobilized on the ground with a broken leg. A firefighter reported that she was crying out for her baby, who had been left unattended inside the house, and drifting in and out of consciousness.
Brown died on the scene. Firefighters found a man's black leather belt under his body.
Baldwin told first responders she wasn't sure how Brown ended up in front of her car, but maintained that he was trying to kill her. Bridgeport police did not buy her story. In an affidavit, they wrote that her statements didn't match up with the physical evidence, and concluded that she had "ample time to consider the actions she took before the events that caused and led to the death of Jeffrey Brown."
Three weeks later, Baldwin was arrested and charged with murder. She attended the arraignment in a wheelchair. She had no prior arrests.
"We want to present this story in the context of domestic violence, and highlight the fact that this is part of an old, longstanding pattern of criminalizing black women for acts of self-defense," said Holly Krig, director of organizing for Moms United Against Violence and Incarceration.
She drew a parallel to the case of Marissa Alexander, a black mother in Florida originally sentenced to 20 years in prison for firing a warning shot at her estranged husband, who she said was abusive.
"It seems to me if a woman cannot defend herself from an act of violence, what is her legal option? Is a perfect victim one who does not survive?" Krig asked. "It's a no-win situation, particularly for black women."
Domestic violence advocates say that women who resort to force to protect themselves or their children are frequently given long prison sentences, regardless of their abuse history.
"If a woman cannot defend herself from an act of violence, what is her legal option? Is a perfect victim one who does not survive?"
"Most battered women who kill in self-defense end up in prison," Rita Smith, who at the time was the executive director of the National Coalition Against Domestic Violence, told The Daily Beast in 2013. "There is a well-documented bias against women [in these cases]."
It's hard to estimate how frequently this occurs, as no government agency tracks the number of women in prison for crimes committed against their abusers. In 2005, the New York State Department of Correctional Services found that 67 percent of women sent to prison that year for killing someone close to them had been abused by the victim of their crimes.
Yet, it is typically women who bear the brunt of fatal domestic violence. About three times more women than men are killed by intimate partners in the U.S. Black women face especially high rates of intimate partner homicide. In 2013, black women were murdered by men at a rate more than two and a half times higher than white women.
Cindy Long, Baldwin's mother, said her daughter became pregnant with Brown's son soon after they began dating. She was 19. Over the course of their two-and-a-half-year relationship, Long said, Brown became controlling and violent.
"I know she was very afraid of him," she said.
According to court documents, police responded to alleged altercations between Baldwin and Brown on at least two occasions. One incident took place a few months before Brown's death.
"No one should live in fear in their own home."
On Feb. 24, 2013, Baldwin told police that Brown had been throwing her clothes out of the house. When she tried to call 911, she said, he ripped her phone out of her hand and threw it to the ground.
He was arrested and the couple broke up, Long said.
On May 8, 2013, 10 days before he died, Brown was convicted of breach of the peace. That's when the abuse increased, according to Long.
She said Brown bombarded her daughter with threatening texts in the days and hours leading up to the fatal incident, and those texts are expected to be presented during the trial.
"She should have been able to live her life without him harassing her," she said. "Jeffrey wanted full control, and he couldn't have it anymore. Cherelle had moved on with her life."
She called the case a dismal waste of taxpayer money.
"Women of color should be able to protect themselves. There should be a right to self-defense," she said. "No one should live in fear in their own home."
Brown's family denied that their son had a history of domestic violence, and rejected the possibility that Baldwin was acting to protect herself from harm.
Greta Brown, Brown's mother, said it was more likely that Baldwin hit her son with a car because she was jealous about him dating someone else.
"I want justice for my son because he did not deserve to die like that," she said. "There was no abuse."
Brown's father, Jeffrey Hines, said someone must be held accountable for his son's death.
"In society, you don't murder someone because you are angry," he said.
Pamela Esposito, senior assistant state's attorney, declined to comment on the case.
Baldwin's lawyer, Miles Gerety, said Baldwin is expected to testify this week, and will tell the jury her side of the story. "We believe this was an act of self-defense," he said.
Melissa Jeltsen, a senior reporter who covers domestic violence, will be reporting from Cherelle Baldwin's trial in March. Tips? Feedback? Send an email or follow her on Twitter.
Support HuffPost
Every Voice Matters
Popular in the Community