On June 3, Cherie Alvis posted pictures to Facebook of her infant son -- a baby she'd placed for adoption 22 years ago. The mother from Lufkin, Tex., also included a picture of herself holding a sign that read "I am looking for my son. He was born June 3, 1991. He's 22 today. Birth name Joseph Edward Saenz."
According to KTRE, four days later, her son -- now a young man named Clark Alldridge -- wrote on Alvis' Facebook timeline, "Here I am, Mom."
On Saturday, they reunited for the first time.
(Story Continues Below)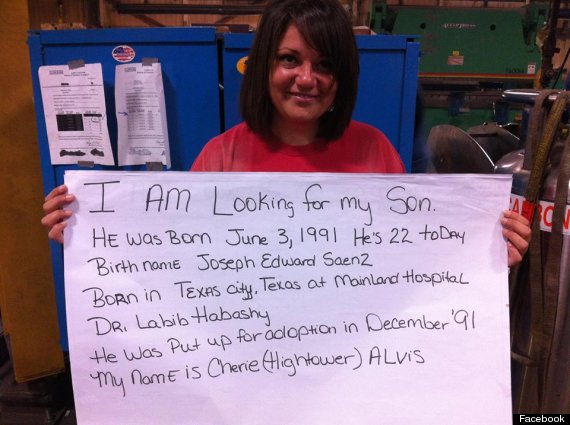 Alvis, who was 17 when she placed her son for adoption, told the station that a complete stranger, Sherry Riley, was the reason behind their reunion.
After seeing Alvis' Facebook post -- which had been widely shared -- Riley decided to help.
She looked up state records using the birthdate provided by Alvis and finally found Alldridge on Facebook. She then directed him to his mother's page.
The 22-year-old said he'd always known he was adopted and that he understood why Alvis did what she did.
On Sunday, Alvis posted more pictures to Facebook of the family reunion.
"Our family is complete," she wrote under one photograph of her and Alldrige. "I am so glad he's home. I can't stop staring at him."
Check out the images of their reunion below.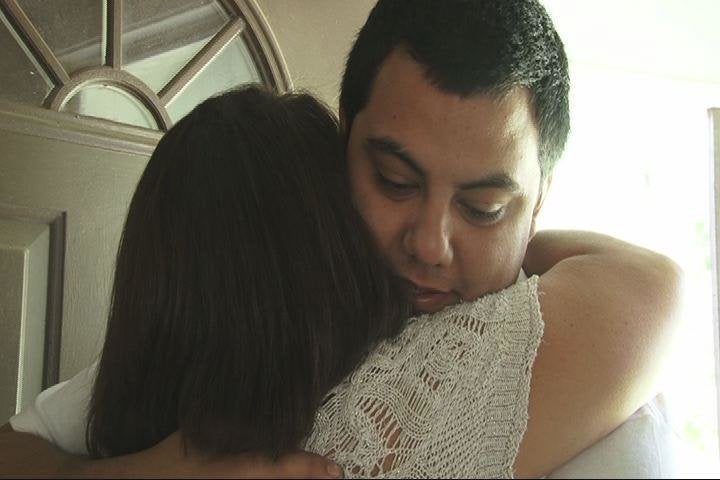 Facebook Unites Mother & Son