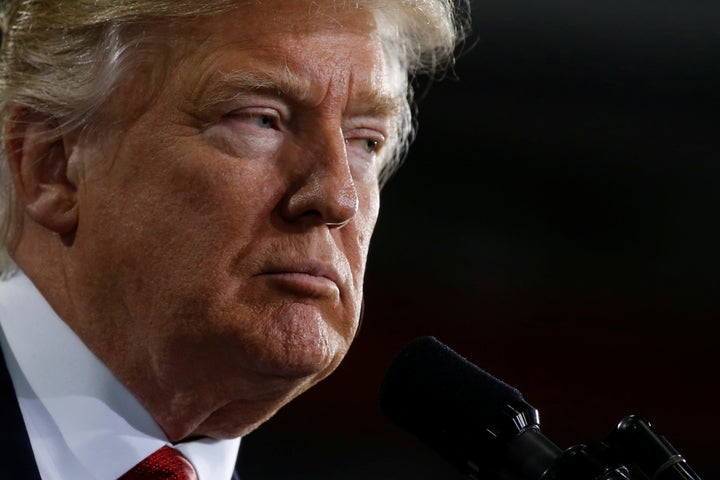 WASHINGTON ― President Donald Trump saluted and laid a wreath at the tomb of President Andrew Jackson in Nashville, Tennessee, on Wednesday. But Trump's honoring of the former president ― part of a pattern he has displayed ― is troubling to descendants of the Cherokee people, who were violently removed from their land by Jackson's policies.
Jackson was "an extremely dangerous man, and a destructive man, to not just Cherokee people, but Native people in general," said Betsy Richards, an activist and citizen of the Cherokee Nation. Aligning with a president famous for "referring to us as savages" and "saying it's a privilege for us to be removed off our lands," said Richards, is "very much in line with how Trump is messaging a lot of his reactions to people of color."
During the visit to Jackson's mansion, Trump favorably compared himself to the former president. "What a great visit. Inspirational visit, I have to tell you. I'm a fan," he said.
The president has also hung Jackson's portrait in the Oval Office, and his White House chief strategist, Steve Bannon, has compared Trump's movement to "Jackson's populism."
On the surface, it's not hard to see why Jackson appeals to Trump and his supporters. Like Trump, Jackson was a nimble press manipulator who won over white working-class voters, then stacked his government with loyalists, according to Steve Inskeep, a host of NPR's "Morning Edition" and author of Jacksonland: President Andrew Jackson, Cherokee Chief John Ross, and a Great American Land Grab.
"It was during the revolution that Jackson first confronted and defied an arrogant elite. Does that sound familiar?" Trump said on Wednesday.
But that populism did not necessarily extend to non-white Americans. As major general, Jackson forced the Creek nation to sign a treaty giving the U.S. more than 20 million acres of land. The treaty freed up real estate for white settlers, who built cotton plantations and practiced slavery, according to Inskeep ― with profitable results for slave owners, including Jackson himself. Later, as president, Jackson spearheaded the displacement of Native Americans from their land through the Indian Removal Act of 1830, which allowed Jackson and his followers "to persuade, bribe and threaten tribes into signing removal treaties and leaving the Southeast," according to the U.S. Office of the Historian.
The Cherokee Nation sought to use the U.S. legal system to resist Georgia laws that stripped them of their rights. But in one case where the Supreme Court affirmed Cherokee sovereignty, Jackson defied the ruling. The U.S. government ultimately forced the Cherokee to migrate west to what is now Oklahoma, an exodus remembered as the "Trail of Tears" that left 4,000 Cherokee dead from hunger, disease and other factors.
Trump is not the first U.S. president to express admiration for Jackson, despite his violent history. President Ronald Reagan visited Jackson's home in 1982 and praised him, according to The New York Times. But Jackson's popularity has nosedived in recent years, and last year the U.S. Treasury secretary proposed kicking him off the $20 bill and replacing him with the abolitionist Harriet Tubman.
Trump's recent lionizing and mythologizing of Jackson is "highly troubling," said Candessa Tehee, former executive director of the Cherokee Heritage Center in Oklahoma. Jackson "represented the worst of humanity," Tehee said. "He thought, 'Well, if this is what we want, we can take it, and it doesn't matter how we treat indigenous people, it doesn't matter what their rights are.'"
She also said the parallels between Jackson and Trump ― who has also shown a disdain for the judiciary, and who has a long history of clashing with Native Americans over the casino industry ― are "fairly startling."
Mary Kathryn Nagle, an attorney and citizen of the Cherokee Nation whose ancestors repeatedly met with Jackson, told The Huffington Post that when she was growing up, her grandmother taught her that the Supreme Court was sacred ― because at a time when the "legislative branch and the executive branches of the government were trying to exterminate our people," the court "recognized our right to exist."
Jackson is "certainly not someone that I hold in incredibly high regard," Nagle said. But if Trump "is taking the time honor Andrew Jackson, he also needs to takes the time to honor our tribal nation, because we survived Andrew Jackson."
CORRECTION: An earlier version, based on a White House travel press pool report, wrongly described Trump's visit to Andrew Jackson's childhood home. The Hermitage was Jackson's mansion, where he lived as an adult.
Sign up for the HuffPost Must Reads newsletter. Each Sunday, we will bring you the best original reporting, long form writing and breaking news from The Huffington Post and around the web, plus behind-the-scenes looks at how it's all made. Click here to sign up!
Popular in the Community