These cherry cheesecake cupcakes are perfectly sweet, creamy, and tart. Try these at your next gathering for cheesecake you can eat with your hands!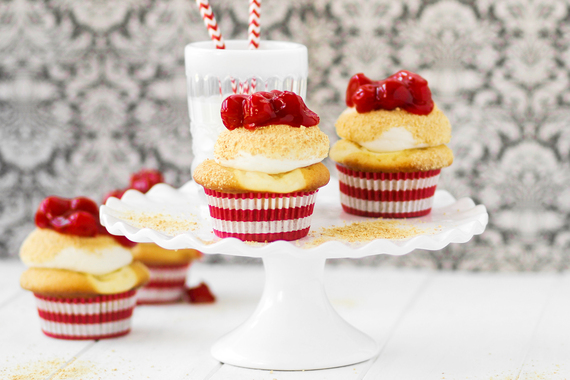 What is it about us that makes us try to "recruit" people into whatever new thing we are in to?
I had to stop hanging out with people who are hardcore exercisers. Because look – I don't care if it's Crossfit or marathon running or yoga or that thing where it's like ballet – I am just not an exercise person. There are no tricks that will make me LIKE exercising, unless there's a trick where you exercise by eating cupcakes and watching Dr. Phil.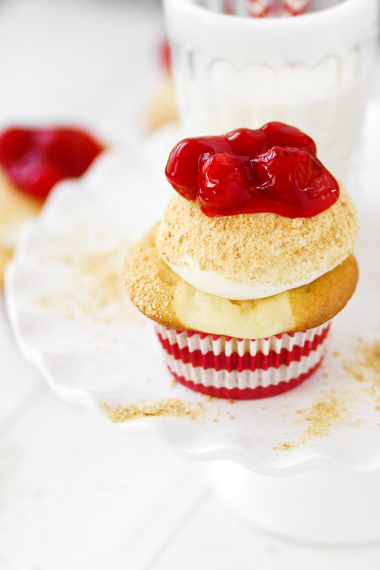 But no. Exercisers never want to believe that. They are convinced that if you try this program or that class then your life will be forever changed and you guys can all hang out like happy skinny people with low body fat and cute water bottles and lots of sports bras.
I actually do like sports bras. It's like the only part of sports that I enjoy. And the stadium nachos, but that's obvious. Don't we all?
I'd like to claim that I'm above such behavior, but I'm not. Not when it comes to cheesecake. I LOVE cheesecake – any and all. So when I meet people who do NOT like cheesecake, I feel obligated to convert them. Like I'm a member of some weird cheesecake cult, I start trying to think of ways to sneak cheesecake into their bodies.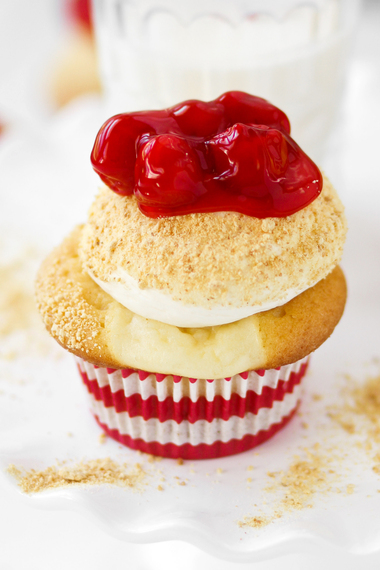 I'll start with something simple and subtle – maybe a cheesecake frosting. "Oh…did you like that?" I'll ask. "It has cream cheese in it. I bet you'd like cheesecake, it's basically the same thing."
I'll gradually work my way up – maybe a cheesecake swirl in a fudgy brownie, a cream cheese filling in a cake…and then boom. I'm sitting on their chest forcing huge spoonfuls of cheesecake down their throat screaming, "TRY IT!! YOU'LL LIKE IT!!"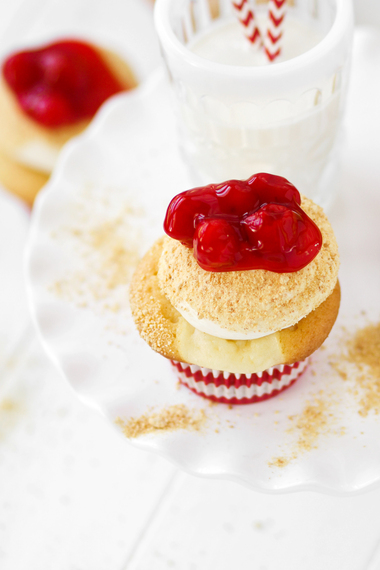 If there IS, by any chance, a non-cheesecake lover in your life, try these cupcakes. They are subtle, but creamy and SO good. The sweet yellow cupcakes have a swirl of cheesecake filling baked into them, and then are topped with a sweet cheesecake frosting. These are some of the best cupcakes I've had in quite some time!!
Kristan is known for her candy creations and hilarity on
. We know where her true genius is, though: fanciful fanatical
and
creations!