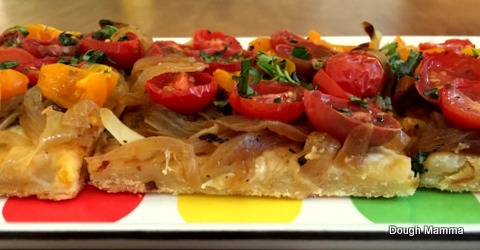 I'm embarrassed to admit I don't particularly care for tomatoes. I'm rather picky about them in fact. I've always requested tomato-free sandwiches and hamburgers. If my meal happens to arrive with one of those little culprits, it's like an affront to my soul. Here I am waiting for a bacon cheeseburger with crispy lettuce and they want to throw a wet slice of tomato in the bun, no thank you! The texture simply doesn't appeal to me. Though I can appreciate their earthy sunburst flavors, I generally prefer my tomatoes in other forms such as: ketchup, marinara and soup. I will however make an exception for cherry tomatoes. Their size, the way they pop in your mouth and their savory-citrus flavor, make them far more appealing.
This tomato tart is easy to make. I used a pie crust as my base but feel free to substitute frozen puff pastry, creating a lighter crust and less work for the chef. You will also notice I didn't bake my pie crust long enough, I happened to have had a mean case of the "hangrys" and decided to sacrifice perfection for satisfying my appetite. I recommend will power and waiting until your crust (puff pastry too) is golden brown. If you don't live in California or Florida, most likely your tomato season is maxing out by the end of the week. Get your tomatoes now as they will be the most flavorful before next summer arrives.
Enjoy!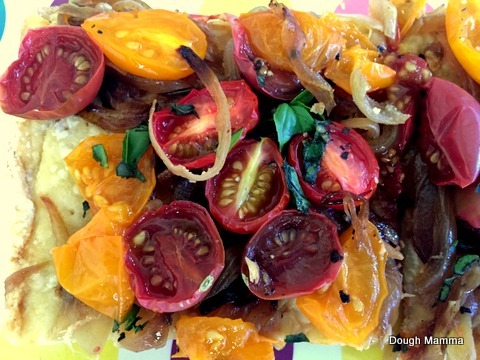 Title: Cherry Tomato and Caramelized Onion Tart
Author: Doughmamma
Prep time: 35 mins
Bake time: 35 mins
Serving: 12 appetizer or side
Notes: High Altitude Adjustments: Set oven to 375 F and bake for about 30 minutes total or until crust is golden brown. You can substitute frozen puff pastry or frozen pre-made pie crust, just follow the package directions for temperature and time.
Ingredients
1 pie dough (enough for a 9-inch pie)
4 Vidalia onions, sliced thin, 1/8 of an inch
4 Tbsp of butter plus 1 Tbsp of canola oil
1 egg whisked with 1 Tbsp of milk
3 Tbsp of ground cornflakes
2 pints of cherry tomatoes, mixed colors look best
3/4 tsp of salt
1 small bunch of basil, about 1/4 cup, chiffonade
Salt and pepper to taste
* optional balsamic vinegar syrup
Instructions
Preheat your oven to 350 F.
Slice your tomatoes in half. Take a clean kitchen towel and lay on the counter. Place tomatoes face down to drain. Take a clean cookie sheet and press gently on the tomatoes to release excess liquid. Flip them over, salt them with 3/4 tsp of salt and allow them to air dry on the towel while preparing other ingredients.
Take a large cast iron skillet and melt your butter and oil over medium-medium-high heat. Cook for about 15 minutes or until light golden brown, stirring occasionally throughout.
On a lightly floured surface, roll out your pie dough into a rectangular shape. Carefully transfer onto a non-stick jelly roll pan or cookie sheet. Poke holes all over dough with a fork. With a pastry brush, take your egg and milk mixture and lightly layer on top of the pie dough. Prebake for about 10 minutes.
Remove from heat and sprinkle the cornflake crumbs evenly over dough. Top with onions and place tomatoes in a single layer facing up. Salt and pepper to taste. Bake for about 35 minutes or until crust is a medium golden brown.
Top with basil and drizzle with balsamic syrup. Serve hot.
Related