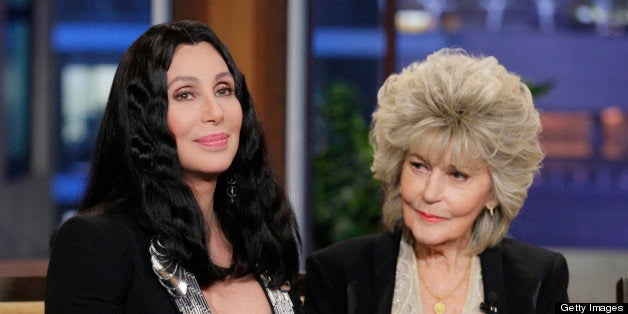 Cher's Mom, Georgia Holt, hits the Billboard charts for the first time in her life this week, but that doesn't mean the 86-year-old has recorded any new tunes.
"Honky Tonk Woman," which landed at No. 13 on Billboard's Heatseeker Albums chart, was recorded in 1980. The album features covers and original music (and, of course, Cher). Holt reportedly moved 1,000 units of the record, enough to also earn the 43rd position on the Top Country Albums chart.
But why now? The music was recorded in 1980, but was left forgotten in Holt's garage. There, the sessions -- which featured members of Elvis Presley's band -- remained, until they were recently discovered. Cher told Jay Leno that she took the files to her musical director, who gussied up the tracks.
The 10-song album was buoyed by Holt and Cher's appearances on "The Tonight Show," "Good Morning America" and "Ellen." As for Cher herself, fans were pleased to find out that she "just finished" her own CD, which has been a long time coming. Her last record, "Living Proof," debuted at No. 9 on the Billboard chart in 2001.
She also died recently, if Twitter is to be believed. When Margaret Thatcher passed away, a number of Twitter users began using the hashtag #NowThatchersDead, which some very concerned fans read as #NowThatChersDead. (Some even thought "Desperate Housewives" star Teri Hatcher had died; see below)
Popular in the Community