Cheryl Clarke's new poetry collection is By My Precise Haircut (The Word Works Press, 2016). By My Precise Haircut is the winner of the Hilary Tham Capital Competition, judged by Kimiko Hahn. Clarke is the author of Narratives: poems in the tradition of black women (1982), Living As A Lesbian (1986), Humid Pitch (1989), Experimental Love (1993), the critical study, After Mecca: Women Poets and the Black Arts Movement (Rutgers Press, 2005), and The Days of Good Looks: Prose and Poetry 1980-2005 (Carroll and Graf, 2006).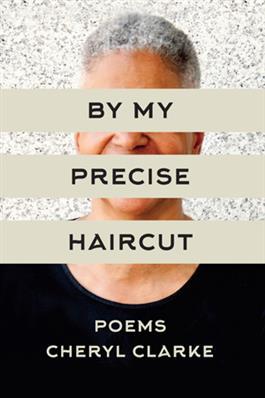 This interview is the second part of a wide-ranging conversation with Clarke. The first part is available here.

Julie R Enszer: One of the things that I think is underappreciated in your work is your attention to form. In By My Precise Haircut, your formal attentions operate in the formation of your lines and stanzas, but also in your general orientation to the world of poetry. Can you talk about form in your work?
Cheryl Clarke: I decided that I would make my pitch for "form" in Living as a Lesbian. That was the point at which I was working with form. Reeling from the influence of Brooks, Hayden, and the Harlem Renaissance poets, I dove into form. I am not so interested in it these days. But I think, as I have always thought, that it is a device to be used and is useful. As a poet, I sometimes need form to organize my impressions. Nothing like a little sonnet or villanelle or tanka or haiku or even ghazal. I will think a while before I go as far as a sestina or pantoum or epic again.
JRE: Your villanelle, "what goes around comes around or the proof is in the pudding" (Living As a Lesbian) and the pantoum, "Committed Sex," (Experimental Love) and the sestina, "Ella Takes Up the Slack" (Humid Pitch) all demonstrate your proficiency with and mastery of form. They also show how these traditional poetic forms can bring meaning to lesbian and queer concerns.
CC: Yes. I would say more the latter than the former. What my poems demonstrate is the accessibility of forms. If I can write forms, nearly anyone can. "Proficiency" and "mastery" may be stretches of language and imagination for my renderings.
I look to Hughes, Brooks, Clifton, Whitman, Ginsburg, and even Hacker for tutelage. Yes, we do bend our forms to lesbian and queer concerns. As we should.
JRE: Another powerful aspect of your poetry that is underexamined . . .
CC: It isn't "underexamined", my poetry is not examined at all! I could use the feedback.
JRE: True, critical exegesis of your work is sorely lacking. (Are any scholars listening?) Your work counters some theorizing about poetry that emerges from the women's liberation movement and lesbian-feminism as primarily confessional. Do you think of your work as confessional? Or is it more documentary?
CC: A question about form (of sorts) again.
I am certain my poetry uses both filters--documentary (realism? autobiography?) and confessional (libidinal longings). But are they the only categories for me to lump my work into--"confessional" and/or "documentary." I suppose I would have to ask you what you mean by those two categories. Are they the only screens? I have been trained to be suspicious of categories and schools of writing. Yet, I relish notions that poets/poetry are confessional and/or documentary; or that my work fits into those boxes. I would say, over the course of my work as a poet, I have benefited from many screens of understanding to which might be added "confessional" and "documentary."
JRE: Narratives, of course, is all dedicated to stories about black women, and Humid Pitch also takes on the long-form narrative in poetry. Tell me about occupying and inhabiting those spaces.
CC: Humid Pitch is a continuation of Narratives. Everyone loves a good story, so I am told. We all have those stories we want to tell, those we don't want to tell, those we lie about, and those which are totally fiction. In Narratives, I told stories I wanted to tell, stories to honor the black women's culture that influenced my development. Calvin Hernton wrote about Narratives a long time ago in a Parnassus review and offered that, while my poems were not "artful," they offered a unique insight into the tradition of poetry by black women--i.e., lesbianism. I'll take the criticism. He also wrote a very important article on black women writers entitled "Black Women Writers and the Sexual Mountain" after Langston Hughes' 1926 article, "The Negro Artist and the Racial Mountain." Hernton took to task black men for their sexist dismissal of black women writers, like Barbara Smith and Alice Walker. He portrayed black women writers as hard-working and undaunted. I happened to have been mentioned in one of his catalogues of writers dotting the scene of black feminist writing.
JRE: As you look over your oeuvre to date--Narratives (Kitchen Table Press, 1983), Living as a Lesbian (Firebrand Books, 1986 and Sinister Wisdom/A Midsummer Night's Press, 2014), Humid Pitch (Firebrand Books, 1989), Experimental Love (Firebrand Books, 1993), and now By My Precise Haircut--what do you see as key concerns and obsessions in your work?
CC: I have "key concerns," no "obsessions." Of course, "blackness," in all its indefinable-ness is key, because of my identification as a black woman, my 1960's "upbringing," and my practice of blackness as homage to the richness of black culture and critique of white privilege and supremacy. Also blackness as a politics of resistance. Lesbianism is important--almost as sacred as blackness. But because I chose lesbianism, it is a more privileged identity, though I know we are an embattled people, and, sometimes, I fear an endangered people, i.e., let's record our contemporary history, our leadership, and our organizing genius, in terms of our work in the gay and lesbian movement and in terms of our own separatist efforts. You, Julie, made me realize the use of lesbian separatism as a tool, a strategy--like with the all-lesbian Conditions Collective. Yes, we used lesbian separatism as a strategy to get our work done. And I did not think of it that way until your brilliant article on Conditions ["'Fighting to Create and Maintain Our Own Black Women's Culture': Conditions Magazine, 1977-1990," in American Periodicals.] So much for a digression. Just writing poetry is a "key concern." When will I write is a question. My key concerns include the quotidian life of my communities. They include my feminism and black feminism, which are two different devotions: the former is a racially and culturally integrated struggle with white feminists, and the latter is that continuous struggle to define one's blackness through feminism and one's feminism through blackness, which are necessary. I am concerned about continuing to be a good writer, a memorable writer, someone who had something important and substantial to say about the politics we are living and the lives we are leading here and now. In fact, I may be searching for a passion now.
JRE: Literary citizenship has always figured large in your life as a writer. You led the editorial collective of Conditions. You have been active in a variety of organizations mentoring younger writers. You and your sister, novelist Breena Clarke, initiated the Hobart Festival of Women Writers. Can you talk about what literary citizenship means to you and how you practice it?
CC: "Literary citizenship." That terminology is interesting. I have been committed to "the literary" since my junior year in high school, meaning I have since then experienced literature as possibility, the possibility of radical consciousness. I have experienced literature as transformative. Witness the Black Arts Movement and the Women in Print Movement. "Literary citizenship"--I feel like having a button made up with that statement, because the literary has been so important to me in my life. Novels, especially, have been so important to me. "Literary Citizenship" means, I suppose, helping literature change the world for the better and heal the world and teach the world. When I was an editor for Conditions, it was my job to serve the audiences of women for whom relationships with women were "integral to their lives." Relationships with women are still integral to my life, and women writers are as well. So, it is out of that commitment to that community of writers and audiences that we created the Hobart Festival, though it was initially my sister, Breena Clarke's idea. She had attended the A Room of Her Own Foundation (AROHO) Retreats in New Mexico and thought we should try to have an event on the East Coast. My partner Barbara Balliet and I are longtime feminists and women's studies teachers and advocates. We bought one of the six bookstores in the Hobart Book Village in 2008, and by 2013, when we retired from Rutgers University, we felt a Women Writers Festival would be a hell of an idea to pull off. We also have a long-time programming background. We did a lot of programs together at Rutgers. We are also very committed to racial and cultural diversity. Breena and I put our writers networks together and were able to establish a sisterhood of writers willing to lend their good names to our first efforts in 2013. We are also committed to paying the writers we invite. "Literary citizenship" involves making literature reach outside the text to change perceptions of who writes and what they write and why and for whom. The women who have participated as Invited Writers have run the gamut in terms of genre. They are queer, straight, old, young, of color, white, national, local, Jewish. Just like the writers we invited to publish in Conditions. I take my tutelage from black feminism; 1980s lesbian feminist organizing; LGBT/Q education; and, thanks to you, Julie, for the recognition of it--the practice of lesbian separatist leadership. I say this last, because, in reading your article on Conditions, I realized that we deployed the strategy of lesbian separatism, i.e. the commitment to the "all-lesbian collective, enabled us to produce Conditions. The Festival is the "singular task." I guess we can call it "literary citizenship."
JRE: Yes, let's call it "literary citizenship" and celebrate your enormous contributions to our literary worlds. Stay tuned for Part III of this interview series.
Calling all HuffPost superfans!
Sign up for membership to become a founding member and help shape HuffPost's next chapter