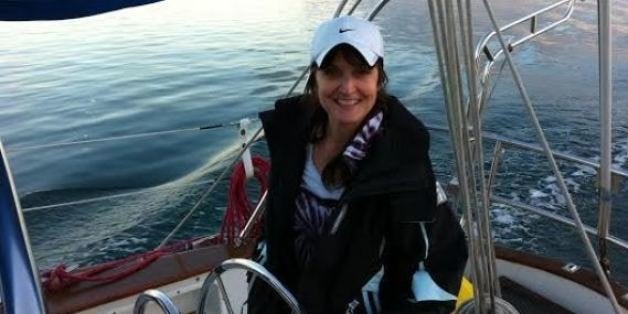 Cheryl Grant spent decades of her life working herself into the ground, thinking that overtime pay would bring her the security and fulfillment she craved. But it wasn't until four years ago, when she traded in her home for a 40-foot sailboat and substantially reduced her working hours, that the 57-year-old Seattle native discovered how beautiful a simple life can be.
When Grant looks back on her working life, she immediately recalls the "wolf at her door" that tormented her -- the constant fear that she might lose her sense of security. Divorced with two young daughters by the age of 30, Grant returned to school and began working as an occupational therapist. She was able to support her family single-handedly during her daughters' adolescence. But after the girls grew up and empty-nest syndrome set in, Grant decided it was time for a change.
"I was unhappy and unfulfilled, and I really didn't know much about myself," Grant told The Huffington Post.
About a decade ago, after her daughters went off on their own, Grant rented out the house she raised them in, took her English springer spaniel and moved into a condo in downtown Seattle. She began focusing entirely on her work, logging 60, 70 and sometimes 80 hours a week, making it a personal goal each year to earn more money than the year before. The more she made, the more she spent, but this new financial independence still left her feeling unsatisfied.
"I started looking at my lifestyle and thinking, 'This really isn't right,'" said Grant. "But then my dog got sick."
The dog, Boone, contracted an intestinal illness that no veterinarian was able to diagnose for nine months. When Grant left town for a few days, she had the dog stay with a co-worker. While she was away, she received pictures of the man's 5-year-old daughter and their family dog playing with Boone. Her co-worker also informed her that Boone's illness had disappeared almost instantly.
"I didn't have the heart to go back and pick him up," said Grant. "I remember sobbing and saying, I can't take him back and put him back in this condo where he's just sitting and waiting for me all day."
"The condo, for $3,000 a month, was the most expensive doghouse in Seattle, because I was never there," Grant continued. "I just slept there, got up and went to work. I didn't even eat there -- that's how much I was working and how completely detached I was from my life."
Grant ended up letting her co-worker keep Boone as a new member of his family. She took some time to reflect and realized that if her lifestyle was hurting her dog, it probably wasn't healthy for her either. In this moment of introspection, she decided it was time she became truly passionate about something beyond the walls of her office.
Grant first set foot on a sailboat as a teen, and loved it. Ever since those days, she would look out at the bay and think about how much she wanted to be on the boats rather than sitting on the shore. Now in her early 50s, Grant decided it was time she learned to sail for herself.
"I love sailing because it forces you to live in the present," said Grant. "You have to be in tune to the wind, the currents and the boat, and that leaves no room for your mind to be distracted by other things. It's been a key element for attaining happiness for me. I've always drifted between the past and how things should have been and the future and how I wanted to prepare for or control it. I've noticed that when I'm sailing, I'm completely relaxed and dealing with what each moment has to offer."
Grant took up sailing because she wanted to feel passionate about something, but she also wanted to share that passion with a special someone. She joined the online dating scene in search of a romantic prospect who could teach her how to sail and who might become a true companion. That's how she met her current boyfriend, a captain of a luxury yacht who taught her all she knows about sailing.
Grant enjoyed her time on the open water so much that she decided to turn her new hobby into a way of life: She wanted to live on a boat. Today Grant lives on a Valiant 40 bluewater sailboat and loves every minute of it. She sold her condo and most of her possessions, downsizing to fit her life into approximately 200 square feet. Grant says she found the process of lightening her load incredibly healing, giving her the physical space she needed to just be with herself. She keeps her boat as simple and technology-free as possible to maintain the new sense of freedom she's found.
"I understand why people don't think they could do it, because I didn't think I could do it," said Grant. "I was making over $100,000 a year and burning myself up. My life was literally living me -- I was not living it. I was a money-generating machine and that's all there is to it."
But eventually she realized that if she grew old and found herself tortured by what-might-have-been questions, then she wouldn't have lived her life fully.
"I would rather be old and go, 'Oh damn, that didn't work, but I'm glad I tried it!'" she said.
Grant has also made a point of sharing her new lifestyle with her grandchildren, teaching them the virtues of living with less. Her granddaughter Agatha, 3, has asked her where she'd be able to put all of her toys if she were to live on a boat too. Grant said she welcomed the opportunity to teach Agatha that happiness doesn't come from material things.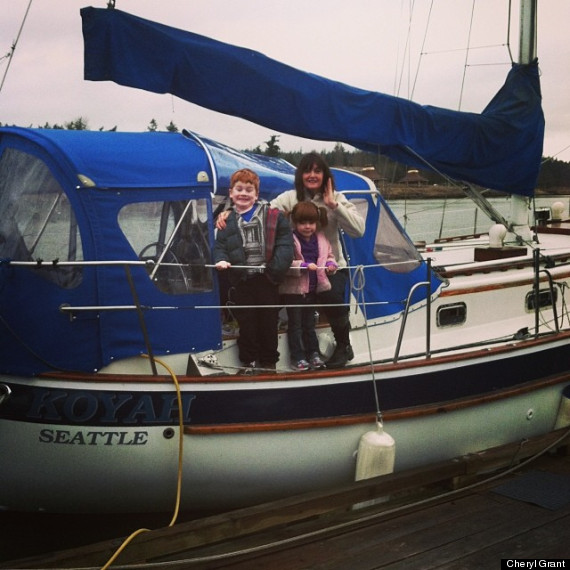 She also loves how sailing inspires her 6-year-old grandson, Henry. One winter day when they were out sailing in the snow, Henry stood at the front of the boat almost in a daze. He told Grant he felt like he was flying -- like Peter Pan going after Captain Hook. Grant smiled at her grandson and privately gave thanks that they were able to share this moment without a computer, smartphone or tablet in sight.
"The boat is a no-screen zone," she said, explaining that the kids can't bring electronics when they visit.
"There's a saying that sailors say: Hands and ropes can sail a boat," said Grant. "And that's what I really want to give Henry and Agatha. That's really all you need. The boat, the sails, your hands and knowledge."
When she's not taking sailing trips with her boyfriend or spending time with her grandchildren, Grant works as a traveling occupational therapist. She's still working for the same company from her landlubber days, but now she makes her own schedule and avoids overtime.
"I am happier and healthier with less in my life," said Grant. "I feel like I've been reborn."