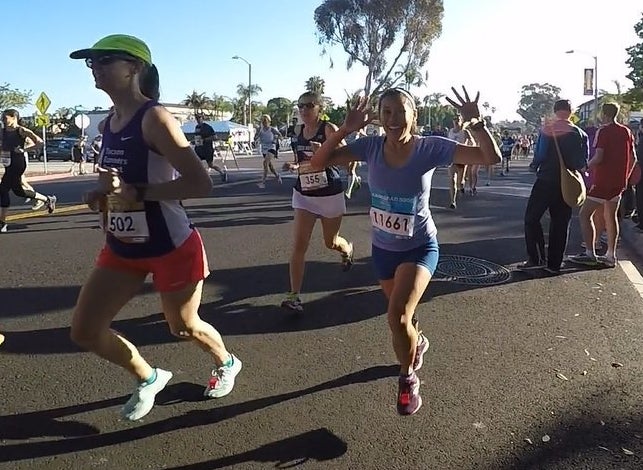 It was late 2006, and Cheryl Hile was sitting, fuming, in her neurologist's office.
Moments before, her doctor had tried to give her what was intended to be a helpful reality check ― explaining that it'd be prudent for her to temper her expectations of what her future would hold. Advising that Hile, an avid long-distance runner, should get used to the notion that she wouldn't be training for as many marathons from then on out.
"That really just pissed me off," Hile told The Huffington Post recently.
Hile had just been diagnosed with multiple sclerosis. But from that moment on, she set out to prove the doctor wrong. To show that she could still conquer those 26.2 miles whenever she liked.
Ten years later, and Hile has done just that. To date, she's completed 49 marathons ― 36 of which occurred after her diagnosis ― totaling 1,283.8 miles. That's 943 miles on a right foot that drags, on a right leg that won't quite cooperate, on a body that acts up whenever she gets too hot or too cold. That's the equivalent of running a third of the way across the U.S. ― and more than the coastline of her home state of California.
Far from letting her 2006 diagnosis and subsequent depression keep her away from the track, Hile learned how to use the fear she harbored as her inspiration to lace up every morning. She's used marathons as motivation to persevere through the pain, and her day-to-day ability to train as a continual litmus test for her health and happiness.
Now, she's facing her biggest race-related challenge yet. She wants to become the first person with multiple sclerosis to complete seven marathons on seven continents in just 12 months' time.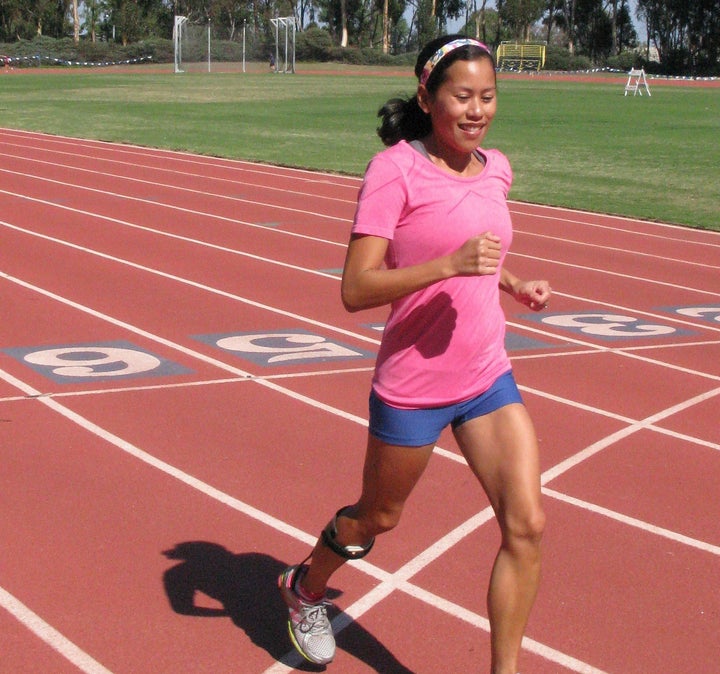 Hile first began running marathons in October 2000, seduced into the sport after witnessing the roller coaster of emotions her then-boyfriend, now-husband, spun through after a race.
She was hooked by the time she crossed her first finish line, and ran 12 more by the time she learned she had MS exactly six years later.
Since January of 2006, she had been experiencing what felt like "really painful electroshocks" in her right bicep. But given the physical exertion she put herself through on a regular basis, her doctor wrote off the pain as a pinched nerve or the like.
But the shocks became more painful ― until, occasionally, her arm would go entirely numb or get unbearably itchy. Hile was eventually given an MRI, at which point the doctors noticed lesions in her brain and spinal column, leading them to her ultimate diagnosis ― and her ensuing depression.
Ironically, it wasn't until her symptoms worsened and it became nearly impossible for her to run that she found a way to fight against her despair.
"I started feeling these odd sensations in my feet," Hile recalled. "It felt like there was gum stuck in my shoe all the time or it felt like my feet were on fire, and I started tripping and falling while running," 
She had developed a symptom called foot drop, which made it increasingly difficult for her to get enough lift on her right side to move at a quick, consistent pace.
It was then that her neurologist told her she should "lower her expectations."
"A mantra just formed in my head at that moment," she said. "'I'm going to prove you wrong. I'm going to do what I can to never give up.'"
And so she began to search for any means possible to keep running.
She connected with a specialist, who crafted a carbon fiber device that inserted into her right shoe, extended up the back of her leg and attached to her calf, thereby lifting her toes up to prevent those trips and falls.
The orthotic affected her gait, sure, but it also enabled her to get back into her running shoes and onto the track, leading Hile to realize to what extent her ability to run dictated her emotional state. Her head cleared and her depression lifted whenever she made her way onto a course, despite the physical toll even a 30-minute jog would take.
The same holds true all these years later, even as the disease continues to hamper her running. She may no longer be able to open a water bottle in the middle of a race or run without her husband by her side, but she's found that the process of signing up, lacing up, and lining up for a given 26.2-mile battle recharges her with the strength she needs to fight her disease, every time.
"Even on days when I'm fatigued or something my run doesn't go well, just the fact that I'm out there doing it, that elevates my mood and really, really helps me get through the day," Hile said.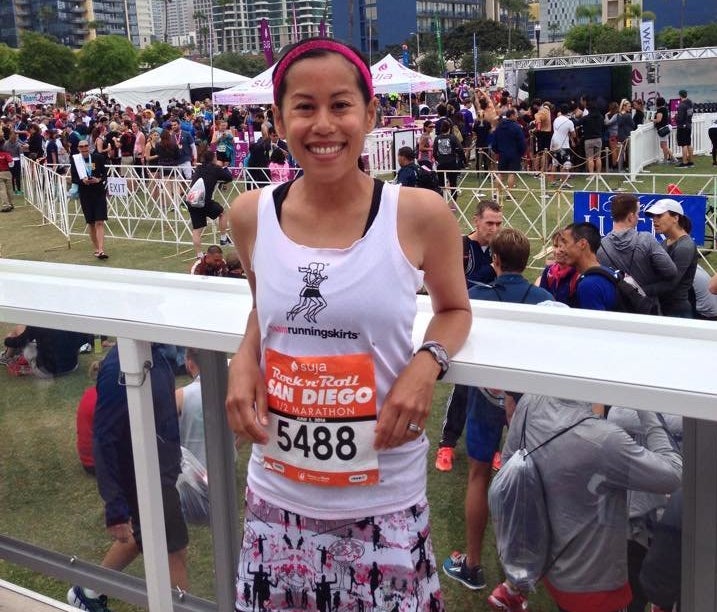 So that's why she has dedicated the next year of her life to the seven-continent challenge: both to raise dollars for the National MS Society and to shine a light on what she sees as humans' innate resilience in the face of insurmountable odds.
"[I want] people to say, 'Hey look, there's Cheryl, she's an ordinary person … so if she can do this, then I can definitely do this," Hile explained.
She'll start in Cape Town in September, before heading west to Buenos Aires, north to Honolulu, south to Antarctica, then stopping in quick succession in Tokyo, Vienna and Christchurch. Her January stop in Antarctica is the leg she's most excited ― and most anxious ― for. Her symptoms flare up in the cold, and last year the temperature for last year's race was a balmy minus 4 Fahrenheit with windchill.
But the Antarctica marathon's organizer has promised her that, even if it takes her eight hours, even if it takes her all day, everyone down at the race will do their damnedest to ensure she makes it to mile 26.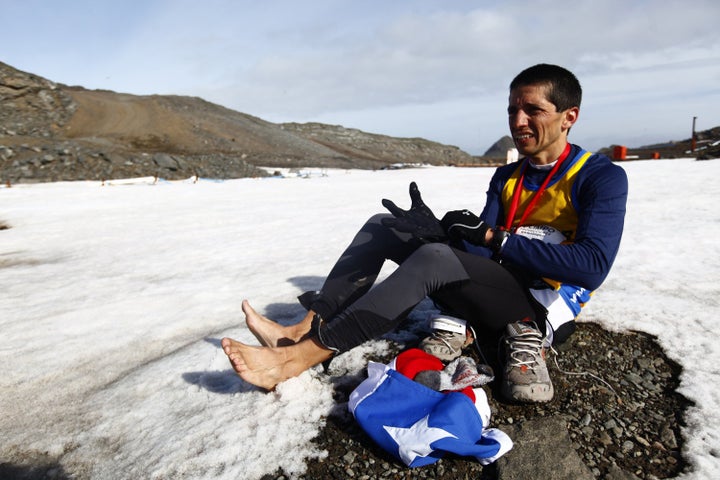 The 12-month globetrotting trek would take its physical toll on anyone, let alone someone with MS. But that's not what Hile's concentrating on.
Instead, she's thinking about that day in late 2006 when she was told she'd no longer be able to do what she loved. And at the point in these upcoming marathons when it gets the toughest ― around mile 20, when the adrenaline's gone and the pain level's high ― she says she knows exactly what she'll be repeating to herself over again to push herself to that finish line: I do what I can and I never give up. I do what I can and I never give up. I do what I can and I never give up. 
Calling all HuffPost superfans!
Sign up for membership to become a founding member and help shape HuffPost's next chapter
BEFORE YOU GO
PHOTO GALLERY
Inspiring Mantras For Self-Care