Ryan Croxton resurrected his family's oyster business in 2001 from the same muddy swath of Virginia river bottom his great-grandfather leased 102 years earlier. The slippery, jagged-shelled bivalves became so popular in the decades after the Civil War that a gold rush ensued in the Chesapeake Bay and its teeming estuaries, at times spurring violent rivalries that became known as "the oyster wars."
But the Rappahannock Oyster Co. ― the first iteration of it, at least ― died in 1991 with Croxton's grandfather. By the time Croxton and his paternal cousin, Travis, started growing oysters as a hobby on the family's old property, the oyster industry in the region had all but collapsed.
Overfishing over the last century badly hurt wild oyster populations. Diseases ravaged the remaining creatures in the 1950s. Runoff pollution from farms and sewage treatment plants tainted the waters with phosphorus and nitrogen. Bacteria and algae fed by the pollution blossomed into massive, toxic plumes that sucked up oxygen and blocked sunlight, stymying fish populations and thinning the marsh grasses that oysters cling to to keep from slipping into the soft, silty mud and dying.
Things started changing in the last several years as the effects of an Environmental Protection Agency cleanup that began in 1983 under President Ronald Reagan took effect. (President Barack Obama imposed even stricter targets in 2009). Levels of phosphorus and nitrogen, a third of which settled on the water from being wheezed by power plants into the air, fell. The water cleared. Grasses grew back in dense thickets, tightening the river bed with roots.  
By 2004, Croxton quit his day job and started cultivating oysters full time. At first, restaurants in the area, knowing how dirty the water had been, wouldn't buy his product, even though it was safe to eat. He shipped them to upscale eateries in New York. But as water quality improved over the past decade, local demand came roaring back. Croxton opened his fifth restaurant Thursday evening and plans to cut the ribbon on a sixth in September.
Now the program that saved the Chesapeake Bay oyster industry is in jeopardy. The budget President Donald Trump proposed Thursday would eliminate funding for the $73 million initiative, along with more than 50 other programs and 31 percent of the EPA's overall budget. Funding isn't the only thing on the chopping block. Trump vowed to boost economic growth by axing regulations, particularly environmental rules he blames for holding businesses back. Already, his administration has scrapped a rule protecting streams from coal mine pollution, tossed out a directive ordering oil and gas drillers to report methane emissions and overturned a regulation giving the EPA power to police fertilizer and manure runoff from farms, the chief contaminants in the Chesapeake Bay.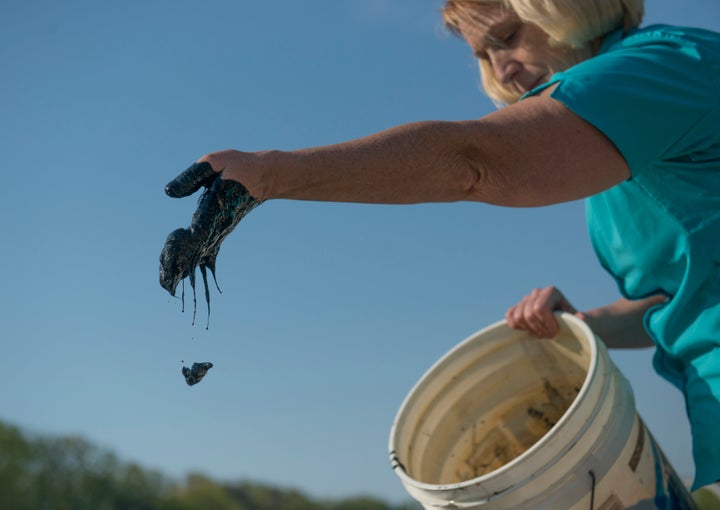 "Oysters are filter feeders," Croxton, 47, told The Huffington Post in a recent interview. "We can't operate without clean water and a good environment."
It wasn't long ago that another Republican eager to placate his party's populist wing took aim at cleanup efforts pursued by his Democratic predecessor. Weeks after taking office in January 2015, Maryland Gov. Larry Hogan blocked regulations aimed at limiting Eastern Shore poultry farmers' use of chicken manure on their fields. The phosphorus-rich fertilizer is a leading source of runoff in the Chesapeake Bay.  
A month later, the Hogan administration received a letter from the EPA warning that, if the state dropped new manure rules, it would need another policy to meet the agency's pollution limits. Maryland Democrats scrambled to pass bills that would have done just that. In response, Hogan made an about-face. He ordered an immediate ban that targeted fields oversaturated with manure, even though he gave other farmers more time to comply, local NPR station WYPR reported.
"We have listened to the agricultural and environmental communities to find a fair and balanced plan for limiting phosphorus," Hogan said in a statement at the time. "The enhanced Phosphorus Management Tool regulations … will protect water quality in the Chesapeake Bay while still supporting a vibrant agriculture industry in Maryland."
In a statement to The Huffington Post, the governor vowed he would "always fight to protect our state's most important natural asset."
"If any of these budget proposals ever become law, we will take a serious look at how to address them during our budget process next year," Amelia Chasse, the governor's spokeswoman, said. "Since taking office, Governor Hogan has invested more than $3 billion in efforts to protect and restore the Chesapeake Bay and will remain a fierce advocate going forward."
Conservationists, clean water advocates and oyster farmers hope Trump will have a similar change of heart. Or, at least, that Congress will withhold approval for any budget that doesn't include funding for the project. Republican lawmakers, some of whom already joined Democrats in opposing Trump's cuts to a similar cleanup effort in the Great Lakes, are expected to oppose the reductions.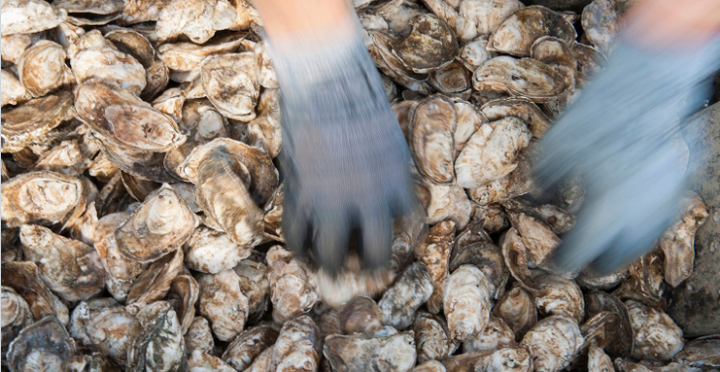 "This just makes no sense. We are in disbelief," said William C. Baker, president of the nonprofit Chesapeake Bay Foundation. "The EPA's role in this cleanup is nothing less than fundamental. It's not just important; it is critical." 
Oyster farmers emerged over the past decade as a force in Virginia and Maryland. In the Old Dominion State, farmers sold $16 million in oysters in 2015 alone, besting all other states on the East Coast, according to the Virginia Institute of Marine Science's 10th annual report on the state's aquaculture industry. Though smaller in Maryland, the industry has ballooned in the last eight years, said Jeffrey Brainard, a spokesman for the federally-funded Maryland Sea Grant, which is also earmarked for cuts.  
In just the last five years, farmers in the Chesapeake Bay region helped double sales of farmed oyster on the East Coast to $155 million per year, said Bob Rheault, executive director of the East Coast Shellfish Growers Association.
"We're literally an engine of job growth, especially in Chesapeake and especially for the watermen of that region who are up for the challenge," Rheault said. "These proposed cuts are just job killers."
"It's like, my God," he added, sighing loudly, "if we don't have clean water, we don't have customer confidence."
Uncertainty over the future of the EPA cleanup program has spooked some who left other jobs in recent years to join the booming industry. Johnny Shockley, 54, quit commercial fishing to build a sustainable oyster hatchery on Hooper's Island, the bayside archipelago where he grew, a third-generation waterman. Now the man The Washingtonian once called "the Chesapeake Bay's hope on the half shell" worries his small empire of sustainable oyster hatcheries could be imperiled.
"One of the reasons why folks were getting in and willing to change their lives and commit their livelihoods to these efforts is the support we've seen from the federal government in the last 25 to 30 years," Shockley said. "All of a sudden we've been threatened to see that all taken away."
This is an outrageous and unnecessary cut that violates a longstanding, bipartisan consensus that cleaning up the Chesapeake Bay is good for our region and good for our nation.

Kate Addleson, director of Sierra Club's Virginia chapter.
Shockley wants to see the Chesapeake Bay oyster industry return to its former glory but not its old ways. Back then, wild shellfish were plucked from the water with greedy abandon ― a tragedy of the commons.  
"We had billions of oysters in the bay when we hit the shores here back in the 1600s and quickly found them to be a strong economic force," he said. "We totally upset the ecology of our estuaries."
Now he and other farmers grow oysters in submerged cages, helping them to achieve specific sizes and shapes. And that's paying off.
"The heritage is really unique for the Chesapeake, and I've found that oysters coming from this part of the country have a lot of meat, compared to, say, oysters in northern Canada or New England," Julie Qiu, a Brooklyn-based oyster connoisseur who writes the blog In a Half Shell, told HuffPost. "There's this kind of mushroomy flavor in them that's pretty unique to the region."
She now ranks growers from the Chesapeake Bay among her favorites. One of them is Pleasure House Oysters, a boutique hatchery near Virginia Beach that harvests no more than 1,500 oysters by hand each week. Chris Ludford founded the company in 2010 when the population of blue crabs he once fished shrank.
"I was a refugee from the blue crab industry," Ludford said. "We hit an all-time low in the harvest of blue crabs and needed to give the resources a break."
Oysters are just one industry that could be harmed if the Chesapeake Bay cleanup effort is dismantled. The Virginia chapter of the Sierra Club, the 124-year-old environmental advocacy titan, slammed the White House for endangering an economic driver worth "over $1 trillion."
"This is an outrageous and unnecessary cut that violates a longstanding, bipartisan consensus that cleaning up the Chesapeake Bay is good for our region and good for our nation," Kate Addleson, director of the state chapter, said in a statement. "The progress being made toward protecting this critical resource for the region supports fisheries, oyster and crab populations, tourism and other industries ― really the whole ecosystem. All of these beneficiaries of the program would be at risk if this reckless cut was to go through."
Despite this, Croxton said he remains "hopelessly optimistic." He said his three children's futures remain his foremost concern, and if business goes downhill, he'll consider his options. But for now, he'll wait it out.

"Even if this one administration is going to create a hiccup, I hope it'll be a four-year hiccup and we'll get back on track. It took us much longer than four years to create this situation. It'll take longer than four years to get out of it. I'm not going to be completely discouraged by a four-year slack."
CORRECTION: An earlier version of this article misspelled Croxton's last name. 
Calling all HuffPost superfans!
Sign up for membership to become a founding member and help shape HuffPost's next chapter
BEFORE YOU GO
PHOTO GALLERY
What You Can Do Right Now To Stop Donald Trump's Dangerous Climate Agenda