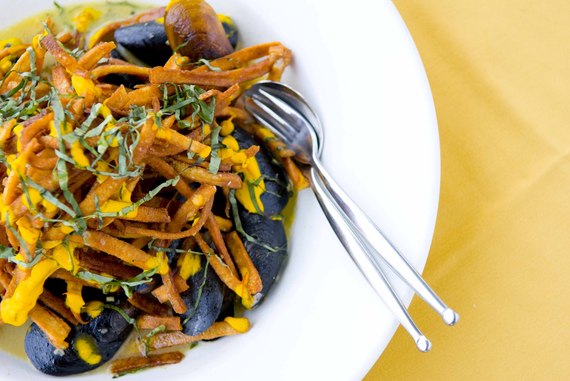 The seventh annual Restaurant Week In Talbot County on Maryland's Eastern Shore will take place beginning April 4 and running through April 9. People from around the Mid-Atlantic -- and as far away as New York -- flock to area restaurants each year to take advantage of the promotional prices during this special event with two-course lunches going for $20.16 and three-course dinners for $35.16.
Talbot County has become an East Coast foodie mecca thanks to the abundance of well-regarded restaurants and talented chefs who have flourished in the area over the past decade or so. Located near the Chesapeake Bay, Talbot County is known for its impeccable seafood, like blue crabs, oysters and rockfish. But there's more to this region that simply seafood. It has a reputation for being culinarily innovative. This year, more than 25 restaurants in the historic towns of St. Michaels, Easton, Oxford and Tilghman Island will participate in Restaurant Week. Here are a few:
In the historic town of Easton:
Bartlett Pear: Chef Jordan Lloyd, formerly of Per Se in NY, helms the kitchen, which delivers un-self-conscious farm-to-table-driven menu with dishes like locally raised duck breast paired with celery root and pine nut brittle and a plate of inn-cured prosciutto and local cheese.
Out of The Fire: The wood-burning oven here makes even the simplest pizza sing. Plus, owner Amy Haines is committed to local organic produce, serving up twists on classics like kale Caesar salad and farro spiked with butternut squash and topped with pumpkins seeds and pomegranate.
Peacock Lounge: The elegant restaurant housed in an historic mansion that Michelin Travel guide called "exquisite" upholds the tradition of fine dining with dishes like seared salmon on artichoke barigole and lobster risotto and a beef filet with caramelized shallot butter.
In the waterfront town of Oxford:
Oxford Inn: Set within a charming historic building in the heart of the small waterfront town of Oxford, this restaurant, is consistently rated in Zagat as one of the region's best. Chef Lisa MacDougal serves stylish comfort food like an elevated steak frites and flounder with crab imperial.
Robert Morris Inn: A local favorite, this kitchen is presided over by Mark Salter, formerly of the Inn At Perry Cabin. Dine on spring pea and mint soup, salmon with spring vegetables and (local) oyster Rockefeller on the outdoor patio or inside the charming 18th century dining room.
The buzzy town of St. Michaels:
Stars Restaurant: This waterfront dining haven housed within the hotel Perry Cabin by Belmond is one of the treasures of the East Coast. Fresh dishes like crab crakes topped with aioli and salmon lightly dressed in soy make dining here a treat.
Awful Arthur's Seafood Company: Downtown St. Michaels, this restaurant is a magnet for locals with a downright perfect fish 'n chips and addictive blackened tuna bites. Take a seat on the front porch or back patio for freshly shucked oysters.
Harrison Chesapeake House; One of the Eastern Shore's oldest family owned establishments, it offers downhome dining on a postcard-perfect waterfront on Tilghman Island. The menu includes shrimp bisque and spinach-stuffed rockfish.