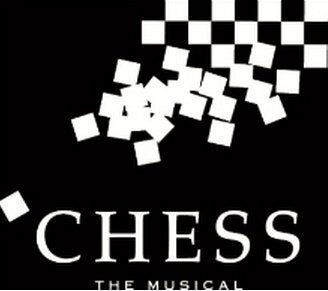 Not many musicals with Broadway runs of under two months end up getting starry concert performances. But then, Benny Andersson, Tim Rice and Björn Ulvaeus' Chess is no ordinary musical. Its debut as a concept album in 1984 catapulted the show and a couple of songs in particular (the driving dance tune "One Night in Bangkok" and the ballad "I Know Him So Well") into global consciousness. The show ultimately got a London production staged by Trevor Nunn in 1986, which ran for three years and recouped, which, as bookwriter/lyricist Rice points out, "is pretty impressive, bearing in mind how expensive it was."
Broadway, however, was a different story. The show, once again directed by Nunn and heavily revised (although still focusing on the rivalry between American and Russian chess champions and a romantic triangle that develops between them and the woman who is the American's second), lasted a mere 68 performances in 1988. And yet, after the show's abrupt closing, it's enjoyed two concert presentations in New York: One in 1989 at Carnegie Hall and a second in after return visit to New York City as a benefit for The Actors Fund in 2003, featuring Sutton Foster, Josh Groban, Julia Murney, Adam Pascal and Raúl Esparza. Further, Groban and Pascal reunited and were joined by Idina Menzel for a concert performance of the show in 2008 at London's Royal Albert Hall.
And now, the show's New York fans will get a third concert on Monday, July 30, once again benefiting The Actors Fund, and headlined by Robert Cuccioli (a Tony Award nominee for Jekyll and Hyde, Natascia Diaz (from such shows as Lennon and The Capeman) and Drew Sarich (seen on Broadway in Les Miz and starring in the Broadway-aimed Rocky the Musical). Christopher Martin, founding artistic director of Classic Stage Company, is helming the performance, which is being billed as the Chess "In Concept" Concert.
As the title indicates, the event will be a return to the show's origins as a concept album, one which Rice says, in retrospect, "was much more the 'finished version' than even we realized at the time." Martin concurs, saying "we're using the 1984 scenario that Tim outlined on the album. It's still the best and most focused. My feeling all along has been that they had it right in the first place with the recording. It only needed a bit of filling out. That's all we've done."
While returning to the basic outline of the concept recording, Martin has adopted some of the changes that have been made to the work for the stage. For instance, "The Story of Chess" has been shifted to the beginning of the show, although he adds, "It is reprised (in a shorter version) at the end to tie into the recording."
It's tough not to wonder if this performance and Martin's concept might be an indication that a new Broadway production is in the offing, and when asked this, Rice simply says "I would really like for the show to come back one day, but I don't want to bring it back when it's not ready," adding, teasingly, that that Groban and Pascal have both expressed an interest in doing the musical on Broadway and that Menzel, too, has indicated she would be interested. Ultimately, Rice feels that a new Broadway production will have "to happen under its own steam." Rice continues "I do feel that whatever happens to Chess it will be something that will always intrigue people and funnily enough, it's sort the fact that it's not been done definitively almost makes it more of a challenge for directors. Many of them think "Oh, I can do it the right way." But maybe there is no right way. Maybe it's one of those shows that you can do in different treatments."
Regardless of Chess' future, Rice is busily preparing his show, a musical version of From Here to Eternity, which has music by an emerging composer, Stuart Brazen. Rice touts it saying, "I'm very confident about it. It's the first musical I've done for about 10 years, a new one. We've got a great score, we've got a good book and a fine director. We're just literally trying to get the right theater."
Once that happens, Rice believes that the show will happen ""pretty pronto." As for a recording of this new one before it hits the stage, Rice had this to say:
You know if some artist said that they would like to record a song in advance, I'd be more than happy to, but the record business has changed so much, I think the days of doing an album up front are gone. I think our plan will be to get a great show out there and then, hope that the songs have a life outside of the production as well as within it.
Popular in the Community