Two exceptional actors, two compelling characters, two distinct narratives that eventually interlock: That's the essence of Joseph Dougherty's Chester Bailey, which delivers 90 minutes of absorbing drama in its world premiere in ACT's Strand Theater in San Francisco.
Most of the 90 minutes is spent in monologues that struggle with illusions, delusions and uncomfortable realities that bring together a catastrophically injured young man, Chester Bailey, and a relatively remote psychiatrist, Dr. Philip Cotton, who is assigned to treat him. Bailey's account is by far the darker, and the brighter.
Superbly played by Dan Clegg, Bailey tells of a horrific accident in which he lost his eyes and hands at the Brooklyn Navy Yard, where he was working during World War II. He took a job there, at the urging of his mother, to avoid the perils of military service.
Initially treated for the physical injuries, he is later transferred to a psychiatric hospital because of his inability to come to grips in any rational way with his infirmities. Rather than accept his disfigurement, Bailey insists that he can see and feel, and his memory of events past -- except for the accident -- seems perfectly lucid.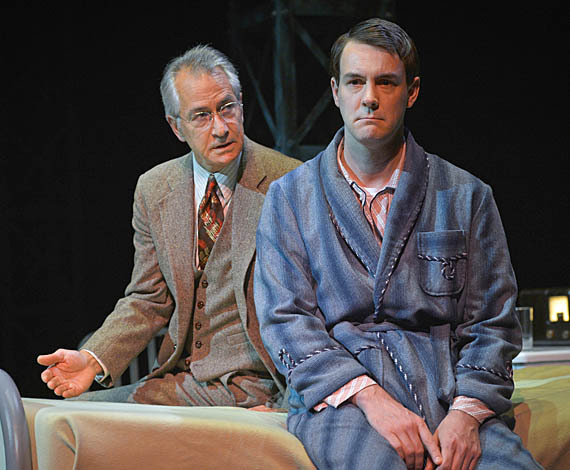 Conflicting realities under discussion by Strathairn and Clegg
ACT's staging, under Ron Lagomarsino's astute direction, lends credence to Bailey's belief. Nothing about his appearance, movement or speech patterns suggests physical impairment. Nothing about his attitudes suggests depression or any sense of victimhood. Clegg plays a well-groomed, bright-eyed, articulate personality who not only describes his world with clarity and frequent smiles but also moves with grace when he leaves his steel-framed hospital bed.
Dr. Cotton, in contrast, is a subdued personality who has endured struggles that pale in comparison to Bailey's. Among them were an affair with his boss's wife and his transfer from New York City to a Long Island hospital, where he meets and attempts to treat Bailey. Strathairn's performance is first-rate, projecting sincerity and intelligence along with undercurrents of discouragement.
The doctor's technique involves efforts to convince Bailey to understand and accept his condition. It's a conventional approach, perhaps even a duty for a psychiatrist who is trained to believe that connection with objective reality is necessary for a sane and functional life.
But is it? That's the question playwright Dougherty raises, but leaves viewers to resolve for themselves. Where does imagination end and hallucination begin? Must the answer be the same for all people, and does it matter? I think the playwright's belief is fairly obvious, but not delivered with didactic assurance.
The narratives unfold in a tall, dimly lighted setting that suggests the steel framework of New York's old Penn Station, the site of significant memories for both men. Variations in lighting, shifting between warm and cool hues, serve to define the boundaries of reality and fantasy. Nina Ball designed the set and Robert Hand did the lighting, in both cases contributing effectively to the play's shifting tones.
If there's anything regrettable about the production, it's the very short run. Even with an extra performance added, it closes Sunday evening.
Chester Bailey runs through Sunday, June 12 at A.C.T.'s Strand Theater, 1127 Market St, San Francisco. Tickets are $25-$80, from 415-749-2228 or act-sf.org.

REAL LIFE. REAL NEWS. REAL VOICES.
Help us tell more of the stories that matter from voices that too often remain unheard.