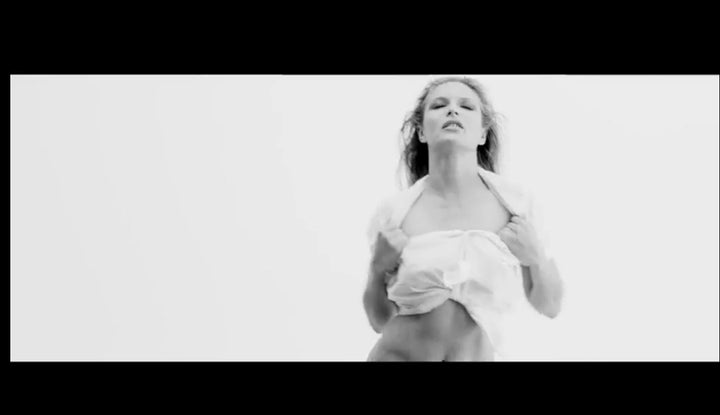 Chester French, the Harvard-groomed band comprised of vocalist D.A. Wallach and multi-instrumentalist Max Drummey, has released the racy video for "Black Girls." The NSFW video -- premiering exclusively on HuffPost Entertainment -- begins with a white woman dancing along to the pop rock track. She's then joined by a black woman. The two dance around each other a bit and then proceed to get quite intimate with one another.
While the video may seem somewhat narrow in its appeal, the man behind the visuals claims there's more to it than a simple fantasy. "The video's purpose is to celebrate female beauty, pointing the attention on same sex/interracial love," director Francesco Carrozzini said. "We approached it with simplicity, trying to make the images speak for themselves in the arch of the very simple story told."
Carrozzini is an Italian photographer whose work has appeared in Vanity Fair, Rolling Stone, W, New York, The New Yorker and L'Uomo Vogue. He was also tapped by The New York Times to film the screen tests for T magazine.
Wallach's lyrics also confront any immediate reaction to the song and video head on. "This ain't no fetish / Ain't objectifying no one / I reject your deconstruction of my taste," he croons.
Despite Wallach's protests, however, lines like "Well I've tried to taste the rainbow in my life, I've sampled many different flavors before," are certain to drum up some controversy.
"Black Girls" is the band's first single since their 2009 album Love the Future. The record was critically well-received and benefited from a major cosigner in the form of Star Trak label boss Pharrell Williams. "She Loves Everybody" was the lead single off the album and remains Chester French's most successful track to date . The band also put out a mixtape, Jacques Jams: Vol 1, in 2009.
WATCH: Chester French - "Black Girls" (MATURE CONTENT, Viewer Discretion Advised)
LISTEN: "She Loves Everybody" & Other Chester French Songs: