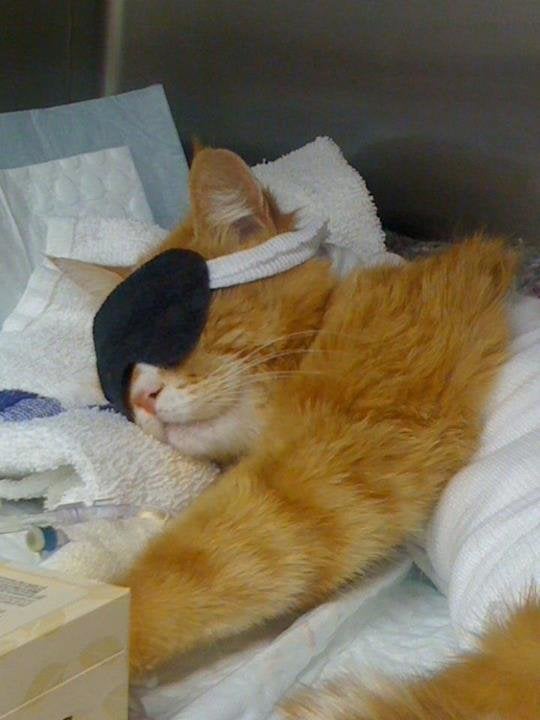 It's a story that will warm your heart: An orange tabby cat that needed several costly medical procedures was aided by strangers who graciously stepped up to help the furry feline.
After adopting Chester (or "Cheetoh," as he sometimes goes by) in Vancouver last year, Gyan Harwood and Roya Eshragh said they noticed problems with the cat and brought him to a vet, according to the couple's blog.
The vet gave them shocking news: About a year earlier, Chester had been in a car accident, which had left him with a fractured pelvis and a tear in his diaphragm that had caused many of his organs to be pushed into his chest, where they were weighing on his lungs.
Harwood and Eshragh say they were told Chester would need an "expensive and risky" surgery that would put his organs back in the right place.
Chester's surgery went all right, the couple said on their blog, but his blood pressure dropped "to near dead levels," and the cat had to stay in the intensive care unit for six days to be given blood transfusions and medicine. During that time, Harwood told HuffPost that he and his girlfriend slept in a tent because they couldn't afford the cost of a room at the Super 8.
After a couple days in the ICU, Harwood said he and his girlfriend were out of money. That's when a kind-hearted resident at the vet hospital came to the rescue, Harwood said, by petitioning successfully to get the couple a grant through the Good Samaritan Fund, which is designed to help pay for care for animals who don't have owners or whose owners are unable to pay "due to circumstances beyond their control," WSU's website explains.
But the saga didn't end there. After Harwood and Eshragh returned to Vancouver with Chester, they found that a lack of blood flow to one of the cat's paws had caused two of his toes to die. More surgery was required in order to amputate the toes.
Incredibly, after only one week, enough donations had poured in to pay for Chester's surgery. Harwood said many of the donations came from complete strangers who lived thousands of miles away.
"It was quite inspiring to see people that we've never met hearing our story and wanting to help out," Harwood said.
Now Chester has gained weight and can sleep comfortably. He's "absolutely great," Harwood told HuffPost.
This isn't the first time an animal has been saved through donations. In September, Channel 9 News, an NBC affiliate in Colorado, reported on a service dog that needed surgery for severe hip dysplasia. It's owner, a military veteran named Karl Hofle who used the Airedale Terrier to cope with post-traumatic stress disorder and anxiety issues from his time in the Middle East, said he couldn't pay for the surgery.
Click through the slideshow below to see photos of Chester's amazing recovery.
REAL LIFE. REAL NEWS. REAL VOICES.
Help us tell more of the stories that matter from voices that too often remain unheard.
BEFORE YOU GO
PHOTO GALLERY
Chester The Cat's Amazing Story