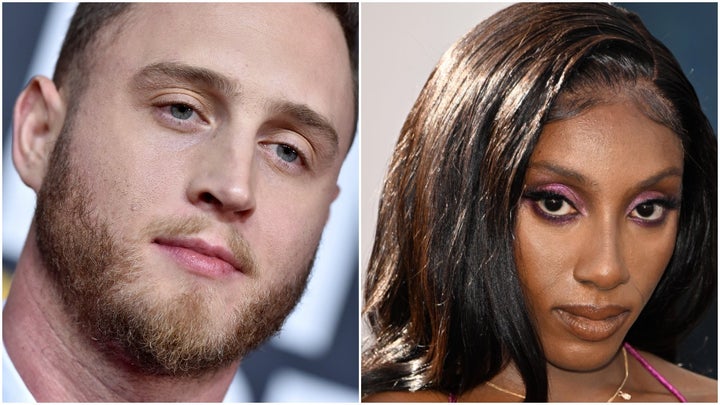 Chet Hanks, a rapper and the son of Tom Hanks and Rita Wilson, summoned his best imitation of the Joker during an interview with "Showtime" comedian Ziwe Fumudoh on her show.
A clip of the interview on the comedian's TikTok account shows Hanks reciting actor Heath Ledger's lines in "The Dark Knight" when Ledger portrayed the iconic character.
"Do I look like a guy with a plan?" Hanks says while sitting on a yoga ball.
He speedily jumps into other lines from the clownish villain.
"R.I.P. Heath," Hanks later adds.
Throughout the impression, Ziwe doesn't say a word and appears stunned.
"I did not ask [Hanks] to impersonate the [Joker] and yet," the clip's caption reads.
Hanks later musters up an impression of Denzel Washington in "American Gangster" and gives a shout-out to Washington's son John David Washington.
You can watch the clip, featured in Ziwe's self-titled "Showtime" series, below.
Hanks has faced criticism for using Patois on social media, like in a 2020 Instagram video shot from the Golden Globes red carpet.
"BIG UP FIMI WHOL FAMILY SOON COM AT DI AWARDS NA SEEN 🔥 🔥 🔥 CHUNE IN," Hanks' caption reads.
In his interview with Ziwe, Hanks said he didn't feel that he's "truly" done anything "offensive."
"You don't see it as cultural appropriation; you see it as a celebration of culture?" Ziwe asked.
"And then it's like social justice warriors can like, go kick rocks," Ziwe added.
"Yeah. Yeah. Yeah," Hanks replied.
Ziwe met Hanks' reply with a quick "no comment" and "got it" before he reaffirmed: "Social justice warriors can kick rocks."
Ziwe's interview with Hanks aired less than a month after his appearance on the FX comedy series "Atlanta."
In an apparent reference to his real-life accent controversy, Hanks appeared with a butchered, half-baked accent from Trinidad and Tobago in the episode "Trini 2 De Bone."
Popular in the Community