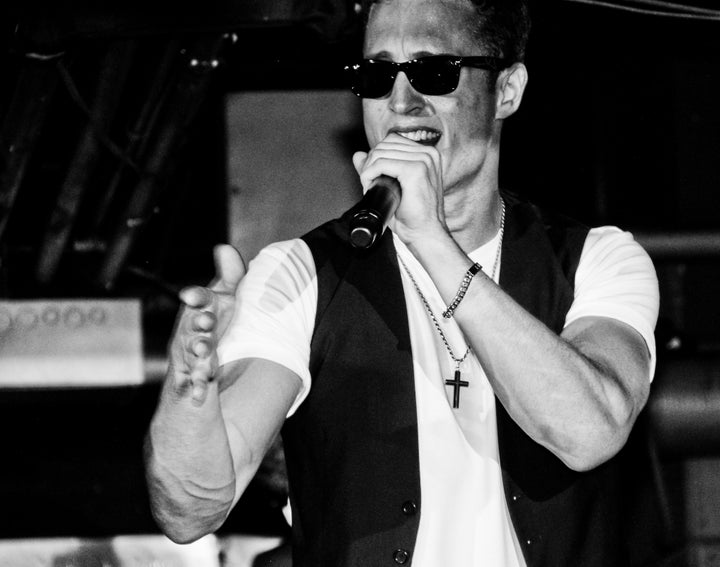 "What have you done today? I just met Tom Hanks and helped move his son into Allison. NBD."
The week before my junior year at Northwestern University, I was helping soon-to-be freshmen move in when my friend sent me a text message from Allison Hall, where the biggest celebrity to hit our campus without a tour bus had been ushered in with his son, Chester. Connected by one degree of separation--and fancying myself, as an upperclassman, sufficiently commodified--I slipped him, "Chet" Hanks, an unsolicited Facebook friend request that would remain ignored for the next three years.
It became clear just how much I misunderstood the social power-balance at play in our relationship when I read about his NU-themed rap song on Gawker two years later.
Fast forward less than a year. Chet, the 20-year-old son of Oscar-winning actor Tom Hanks, currently a junior theater major at NU, has several singles, a music video, a management group and even a career change under his belt. He's opening for LMFAO at Central Michigan University this week. I'm sitting in my old student union, sans a valid ID or wi-fi connection, when he peeks out at me from behind his manager, Briggs Goldberg, who shoulders in front of him to shake my hand and suggests we step outside.
This is the first of many times I will be reminded how different Chet's experience at Northwestern will be from mine, and from most college students. He does not have a monopoly on uploading videos of himself to YouTube, which is how he shared his earliest projects. But mine were never lifted from obscurity and splattered on national news sites because my last name isn't Hanks.
That's one of my first misconceptions that Chet dispels: the origin of his stage name, Chet Haze. I assumed a particular connotation from the guy who wrote the line "white kicks, purple kush/this is college, hittin' blunts after hittin' books."
"I took the name back as a kid. When people didn't know who I was in terms of who my dad was, I wouldn't tell them," Chet said. "I would tell people my name is Chet Haze, because it sounds like Hanks, so if I slipped up--If you say Haze, it almost sounds like Hanks. So when I started [my music career], that's what came to mind. Like, what is the name I go by when I'm just doin' me, you know what I'm saying?"
I kind of knew what he was saying. I've never had to go to great lengths to make myself less famous. He clarified.
"I'm the same person anywhere I go. Whether I walk up to someone and they have no idea who I am, or I walk up to someone and they already know who I am, so they already have judgments about me--I'm always the same person."
I ask him why he would leave L.A. to start a music career in Chicago, and he tells me I have the chronology wrong. He came to Northwestern to study what he calls "the family business," and realized music was his passion. His dad is supportive, and so is this city. "Chicago's in the middle of everything, figuratively and literally," he says. He thinks he wants to stay after graduation, and has some producers and collaborators here that he'd like to keep working with.
Chet needs a cigarette. (He also calls them "smokes" and "stogies.") Briggs, who is also a junior at NU, passes them out to each of us like a blackjack dealer before we realize that, between the three of us, no one has a lighter. Briggs runs inside to "ask the Starbucks people" and comes back empty-handed.
Three more times, when Chet sighs and hints subtly "man, I really need a smoke," Briggs will leave to chase down passersby, nervously eyeing us. He seems anxious about leaving Chet to talk to me unsupervised. Later, he'll tell me he sometimes has to edit Chet's Twitter account. ("I'm kind of a bold Tweeter. He knows better," Chet says.)
To be fair, this episode, and several others like it during the hour I spent with the pair, is more indicative of Briggs' attentiveness than the urgency of Chet's demands. It takes about 20 minutes of conversation for Chet to take off his sunglasses, uncross his arms and give me answers that are more than Tweet-length. But until that happens, his interactions with Briggs are the only indication that Chet is not an aloof douchebag.
"This is my boy. I'm confident in him. He's like my partner in crime," he says, clapping the junior organizational behavior major on the back. They are in the same fraternity, Pi Kappa Alpha. "We were friends long before he was in a business relationship to me, and I chose him to be my manager because I felt he had good qualities for that position."
I see those qualities in action when I ask them what their plans are for tonight. Chet says he's not sure. Briggs is--"you're going on NU radio tonight."
"This is why I keep him around," Chet laughs. Briggs jokes that waking Chet up for engagements is one of his primary duties. "I'll be like, man, you had a phone call scheduled between 3 and 4 p.m. today. It's 7."
Their company has a staff of current students, including a general manager, someone who runs their social media, even a security guard. ("Big guy," Chet says, of his qualifications.)
They have never turned in any of their promotional efforts as homework, but they are working on it. "There's got to be some way to get school credit for all of this extra-curricular stuff," Chet says.
Their management and entertainment company, Kinetik Group, looks a lot like most projects that come out of college campuses, where groups of kids energized about their fields have a tendency to dive right in as they're learning. (See: Facebook, Apple.) Entering the big leagues before they're old enough to share a drink with their colleagues has its risks, and I have to ask Chet about the media backlash that came with his first public release, "White and Purple," which was welcomed into the public sphere with the Gawker headline: "Tom Hanks' Son Is A Frat Boy Rapper."
"The first time ever, when there are all these people talking shit about you on the internet, you take it really personally," he says. "You read every comment. You doubt yourself and ask yourself questions. But it got to a certain point where it's like, what good is this? It does not hold any weight emotionally in my heart anymore."
Since that first release, he's changed directions, shifting from rap to singing with his newest release, "Hollywood." The move came with some changes to his image, vocal lessons, and a promotional focus on expanding Chet's presence on the radio. He's drawing from a new set of influences--Frank Sinatra, he says, and Beethoven. Led Zeppelin, Jimi Hendrix. Pink Floyd? One of my eyebrows raises at this point, which I think he notices. I ask him to describe his genre.
"I wouldn't classify it as pop, I wouldn't classify it as rap," he says. "It's pretty much pop-rap. What I'm trying to do right now is have music that you can hear on the radio, because I'm in a stage where I want to have a good product, a product that will sell, and I want to just push it and push it and push it. So far it's been working."
He flew out to New York recently for an appearance on Shade 45 radio, so I guess it's working. I'm out of questions and I'm stuck on the one I've been dreading. I say I have to ask them something awkward and Briggs recommends we move inside. "My toes are freezing," he says.
"So, um, when you were a freshman, my friend moved you into your dorm, and I uh, well, I sent you a friend request on Facebook..." I had a vague plan to make this a larger question about how his fame affects his ability to have a normal social life, but I am so far off-book and he and Briggs are staring at me. I keep stumbling until, mercifully, he starts talking.
"I'm bad about Facebook. I have close friends who I've known for years and years who are waiting for me to accept their friend request, and I don't get to it because it's like, it's full," he says. "There's so many randoms, it's crazy to check out my Facebook. I get messages in broken English from Korea, Germany, which is cool. It's just a trip."
Apparently, Chet's big overseas. Briggs tells me that after "White and Purple," they turned down several offers to do reality shows for networks in Germany, because they wanted to have a semi-normal college experience. They also rejected a pitch to make Chet Haze-brand energy drinks in Norway. I recommend they revisit that after graduation.
Chet thanks me for asking questions that take him seriously, and he and Briggs offer me a ride to my train. We were technically classmates, they have no obvious motives to harm me, and Briggs promises he has a lighter in the car, so I accept.
During the course of our short car ride we talk about scary movies--I'm going to a horror marathon tonight, and he asks me if I think he could handle "The Exorcist." He's afraid of scary movies. I tell him the outdated effects make it more comical, "like 'Scream 4.'"
"'Scream 4!'" he said excitedly, making me think he's seen it, that we have something in common.
"Yeah, I auditioned for that. But they wanted a black guy."
Related
Popular in the Community