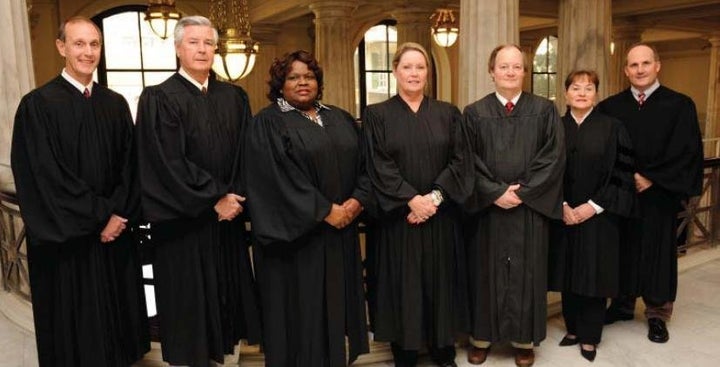 When we last left the Louisiana Senate race, incumbent Senator David Vitter (R-Louis.) was waging a two-front battle for survival. On one side was Democratic challenger, Representative Charlie Melancon (D-Louis.), who recently unleashed a series of devastating ads hitting Vitter for keeping Brent Furer in his employ long after he knew that Furer had assaulted a female acquaintance.
State Rep. Noble Ellington, D-Winnsboro, said that Traylor was "significantly involved" in the cause of his divorce from Peggy McDowell, who later married Chet Traylor and became Peggy McDowell Traylor.

Noble Ellington said in an interview Monday that Traylor was "certainly part of the reason" for his divorce from his then wife.

Traylor denies the accusation and said Ellington and the former Peggy McDowell, who died last year, were separated before his relationship with McDowell began.

"That's absolutely untrue," Traylor replied when asked if he played a part in Ellington's divorce.
Okay, well, Traylor's been coyly accused of having an affair with another man's wife, and he's denied it. That's all fairly tawdry, but I think that as long as this story doesn't get any weirder --
Traylor is also currently involved in a romantic relationship with Denise Lively, the estranged wife of his stepson, Ryan Ellington, the son of Noble Ellington.

Lively and Ryan Ellington remain legally married, but both he and Traylor said the Lively-Traylor relationship began while Lively and Ryan Ellington were separated.

A few months after the death of Peggy McDowell Traylor, Chet Traylor began the relationship with Lively.

Ryan Ellington said a divorce with Denise Lively is pending.
Well that's just great: Traylor is using the spouses of the Ellington family as his exclusive dating pool. Is this Senate seat actually located in international waters or something?
[Hat Tip: Jeremy Binckes]
Calling all HuffPost superfans!
Sign up for membership to become a founding member and help shape HuffPost's next chapter