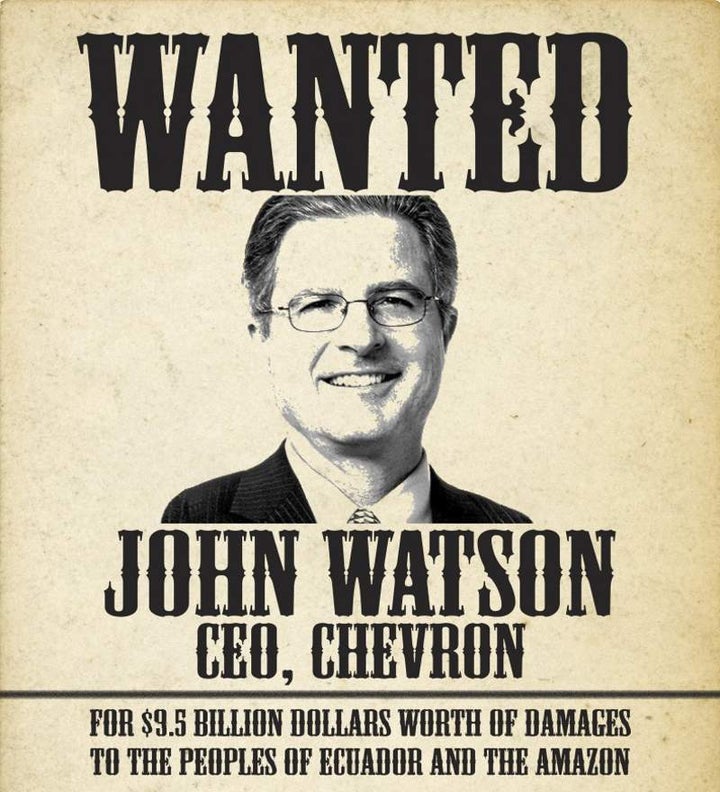 After seven dreadful years, Chevron CEO John Watson recently made a surprise announcement that he is finally slinking off with his tail between his legs. Yet the world will continue to suffer from the disastrous effects of his terrible decisions for many years to come. Amazon Watch's history with Watson dates back to Chevron's merger with Texaco. John Watson was a principal architect of that merger, and at a Chevron shareholder meeting we presented him with a great deal of information about Texaco's environmental disaster in Ecuador and warned that if the merger went through then Chevron would necessarily assume all liability to clean up the worst oil-related disaster in history. Watson ignored us.
In 2010, Watson became CEO on the eve of the largest environmental judgment ever won against an oil company, in which Chevron was ordered to pay $9.5 billion to clean up Texaco's toxic mess. Chevron lost that trial after years of efforts to delay and derail it, and after thousands of pages of scientific evidence – much of which provided by Chevron's own experts – demonstrated the damage caused by Texaco's deliberate dumping and shoddy operations. At the time of that judgement, Watson had another chance to listen to the appeals of the people of Ecuador and finally do the right thing.
Not only did Watson refuse to take responsibility and clean up the toxic waste still poisoning these communities, but he focused the full weight of Chevron's legal and public relations might on demonizing the Ecuadorians and their lawyers, and he even countersued them, alleging extortion. The company is even seeking $32 million in legal fees in an attempt to personally bankrupt Steven Donziger, a key member of the legal team that achieved the historic judgment in Ecuador. We at Amazon Watch were pulled into Chevron's sham suit as an alleged "co-conspirator" for standing with the communities who sued to clean up their homes. It's estimated that, to date, Chevron has spent as much as $2 billion just to avoid cleaning up the toxic waste that Texaco admitted dumping in Ecuador.
Under Watson's misleadership, Chevron has distinguished itself as the worst U.S. oil company by eliminating its renewable energy program, closing its corporate social responsibility department, and attempting to influence politics by spending more on super-PACs than any other corporation immediately after the Citizens United decision.
In short, it would be hard for Chevron to do worse than Watson and we are thrilled to see him go. The company is still facing a collection action in Canada for its $9.5 billion debt to the people of Ecuador. A new CEO will have an opportunity to finally break with Chevron's abusive past and respect the rule of law and the environment.
Watson spent his time as CEO trying to make it harder for the environmental and human rights community to challenge corporate power, but we stand united and will continue to hold Chevron to account, no matter who is at the helm.
Popular in the Community