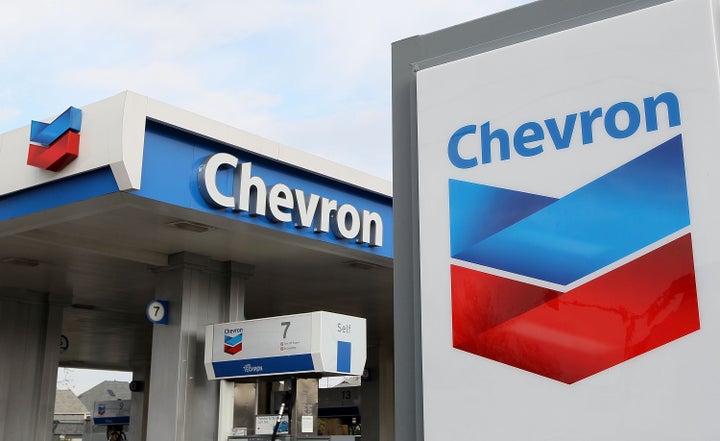 In Christmas 2010, I took my three daughters -- Cara, Mariah and Michaela -- to Ecuador's Amazon to take part in a "Toxi-tour" and stand witness to what could be the worst environmental disaster on the planet. This is the awful mess that Chevron left behind at the headwaters of the Amazon after drilling for oil for almost three decades on the ancestral lands of five indigenous groups. Chevron, via the Texaco brand, dumped billions of gallons of toxic waste into the Amazon waterways that local inhabitants used for drinking water. Several independent health evaluations show that cancer rates in the area have skyrocketed. The magnitude of the damage -- recently confirmed by a three-judge appellate panel in Ecuador that relied on extensive scientific evidence -- makes the impact of BP's recent spill in the Gulf of Mexico seem small by comparison.
We looked at pools of oily muck abandoned in the early 1970s that still drain toxic soup into nearby streams used for drinking water, fishing, and washing. We visited the home of an elderly woman who told us about the skin lesions that covered the bodies of her son, daughter, and grandson. She had built the family home on a field Texaco claimed to have cleaned. In fact, the oil giant had merely covered up the poisonous pond with four feet of dirt and a thin layer of grass. We smelled the fumes emanating from water Chevron claims is now clean. All this is part of the massive environmental damage and accompanying cancer clusters, lung disease, skin lesions and other injuries left behind by a U.S. multinational corporation.
Chevron's irresponsible operational practices are now responsible for a catastrophe that has cost untold lives and destroyed an area of pristine rainforest the size of Rhode Island. Chevron lost the legal case in Ecuador, and a U.S. appellate court recently blocked efforts by the company to prevent enforcement of the judgment. The company is on its last legs after battling to deny the claims of indigenous groups for almost two decades since the was filed in 1993.
This helps explain why Chevron is now turning to personal attacks. In the company's latest salvo, it seeks to intimidate anybody who wants to help the rainforest communities or advocate on their behalf. This is the classic Chevron template: blame the victim, change the subject, and distract from the evidence. Chevron attacks those working to hold the company accountable for the damage it caused. It feigns moral outrage that I, an advocate for human rights, should actually be compensated. While I was paid a modest fee for the time I spent on the case, I have never and will never have a financial interest in the outcome of the litigation. Chevron's notion that I was to receive a huge success fee if the rainforest communities recover the funds to which they are entitled is utter fiction. What is true is that Chevron's management is using this lie in a desperate attempt to try to change the subject from its awful environmental disaster and devastating legal setbacks.
Over the years, Chevron has behaved in a way that reinforces the worst stereotypes about large corporations: it has cynically avoided responsibility for its past and watched in indifference as more people become sick and die because of its failure to deal with its legacy environmental issues. Today's public distrust of large corporations obviously can go too far, but it is often rooted in real abuses of the type Chevron engages in to cover up its obvious misconduct in Ecuador. Chevron's failure to adhere to basic standards of decency undermines the credibility of our capitalist model and diminishes confidence that our judicial system can serve the poor as well as the rich. Chevron's conduct in Ecuador has been so reprehensible and profoundly cynical that it reflects poorly on our country and its values. I would call that kind of behavior unpatriotic. Chevron must mend its ways in Ecuador or risk being viewed by peoples worldwide as a rogue oil company unworthy of a license to operate in oil-producing nations.