 RICHLAND, Calif., Aug 4 (Reuters) - Police arrested more than 200 demonstrators for trespassing at Chevron Corp in the California city of Richmond on Saturday to mark the one-year anniversary of a massive refinery fire and to protest a proposed Keystone XL tar sands pipeline.
The arrests came as a throng of sunflower-carrying picketers chanted, "Hey hey, ho ho, fossil fuels have got to go," as people of all ages walked onto Chevron's property to draw attention to a growing movement against fossil fuel.
Police Captain Mark Gagan said the arrests, all peaceful, included three people in wheelchairs and demonstrators as young as 18 years old. Media reports said most of those arrested were cited and released.
Environmentalist Bill McKibben, who is leading a call for using only renewable energy, was one of the first to be handcuffed. He had earlier joined Richmond Mayor Gayle McLaughlin in a rally, one in a series across the nation over the environmental consequences of continuing to burn oil and to protest TransCanada Corp's proposed Keystone XL pipeline.
The protest came a day after the city of Richmond filed suit against Chevron over a pipeline rupture and fire that sent a cloud of smoke over the northern California city and neighboring Bay Area communities last August.
The lawsuit seeks damages for the city and its residents and alleges the company ignored repeated warnings, delayed repairs and could have avoided the fire. It followed a dozen similar incidents at Chevron over two decades, the suit says.
"Our community is at risk every day for another fire and explosion," the mayor told the crowd. She said the state Division of Occupational Safety and Health had issued 11 citations of willful neglect to Chevron's Richmond refinery.
A representative for Chevron did not immediately return a call or email seeking comment on the protest and lawsuit on Sunday.
At least 15,000 people went to hospitals with respiratory complaints in the hours and days after the fire.
The Keystone XL pipeline would carry 830,000 barrels a day of crude from Canada's oil sands and the Bakken shale in North Dakota and Montana to refineries on the U.S. Gulf Coast.
President Barack Obama's administration is expected to decide whether to approve the pipeline by early 2014.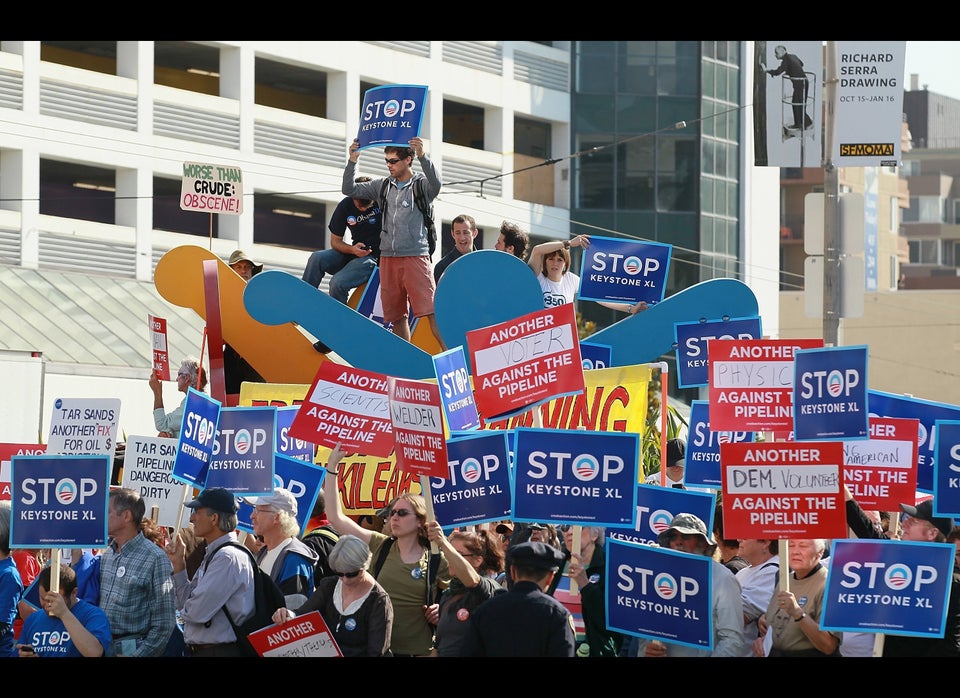 Keystone XL Protests
Popular in the Community