 WASHINGTON -- A collection of good government and environmental groups filed a complaint with the Federal Election Commission (FEC) on Tuesday against Chevron, a federal government contractor, for donating $2.5 million to a Republican super PAC during the 2012 campaign and against the Congressional Leadership Fund for accepting the contribution.
The complaint was filed by Public Citizen, Friends of the Earth-US, Greenpeace and Oil Change International, alleging violations of the 1940 Hatch Act ban on political contributions by federal contractors. Since 2010, Chevron has received nearly $1.2 billion in federal contracts, nearly all coming from the Department of Defense.
The oil and gas giant denies the charge and says that a central assertion of the complaint is "completely inaccurate." The assertion in question is that the problematic contribution was made by Chevron Products Company, a division of Chevron U.S.A. The FEC report filed by the Congressional Leadership Fund simply lists Chevron as the donor, and a spokesman for Chevron insisted to The Huffington Post that the contribution actually came from Chevron Corporation, the parent company of Chevron U.S.A.
This distinction is important because campaign finance laws distinguish between a subsidiary and its parent company holding contracts. In this case, Chevron U.S.A. clearly holds federal contracts. As its subsidiary, Chevron Products would be subject to the contractor contribution ban. But as its parent company, Chevron Corporation would not be covered.
"Chevron does not believe that the federal government contractor ban applies to this contribution," Chevron spokesman Lloyd Avram said in an email. "The contribution was made by Chevron Corporation. The Corporation does not conduct business with the federal government. Any such federal contracts are held by Chevron subsidiaries."
Dan Conston, spokesman for the Congressional Leadership Fund, also disparaged the complaint. "This is an obvious coordinated intimidation tactic from the left masquerading as just one more utterly baseless complaint," he said via email.
Asked about Chevron's criticism, Public Citizen responded that the company isn't off the hook if Chevron Corporation made the contribution. "USASpending.gov indicates that Chevron Corporation itself had a number of government contracts in 2012," Public Citizen said in a statement. Moreover, it said that the law covers both current contractors and those negotiating a contract at the time the contribution is made.
As for why it concluded that the contribution was made by Chevron Products, Public Citizen said, "Based on the address indicated in the FEC's database, it appeared that Chevron Products Company, which is at that address, was the donor."
The address is P.O. Box 9034, Concord, Calif. It is an address used in numerous filings across the country for Chevron U.S.A. and Chevron Products. But it is also used by Chevron Corporation, Chevron-Texaco Corporation and even Chevron Policy, Government & Public Affairs in state-level campaign finance filings in Idaho, Nevada, Oregon and Utah.
It's not as though there is a lack of controversy surrounding the contractor ban. Meant to prevent "pay to play" politics wherein financial support of electoral efforts yields federal money in the form of contracts, the ban has been tested under the new campaign finance regime spurred by the Supreme Court's 2010 Citizens United ruling. In the 2012 election, at least five corporations holding federal contracts made donations to super PACs, ranging in size from $5,000 to more than $3 million. The largest contribution from a federal contractor was the $3.3 million that Oxbow Carbon gave to Restore Our Future, a pro-Mitt Romney super PAC.
A spokesman for Oxbow Carbon -- which is owned by William Koch, the twin brother of Koch Industries' David Koch -- told the Los Angeles Times, "Oxbow believes it has a 1st Amendment right under the U.S. Constitution to make political contributions to independently support candidates who will best address the deep economic issues facing this country."
According to that LA Times story, one company, M.C. Dean, rescinded its $5,000 contribution to Restore Our Future after being alerted that it was against the law for federal contractors to make political contributions. Other contractors who made super PAC contributions, including B/E Aerospace, Clinical Medical Services and Suffolk Construction, have not asked that they be returned.
The FEC has not taken any action against those companies that donated to super PACs in the last election while holding federal contracts.
At a 2011 House committee hearing, then-FEC Chairman Cynthia Bauerly testified that the contractor ban was still in place despite some question as to whether it had been partially invalidated by the Citizens United decision. The issue is whether the ban applies to contributions made to supposedly independent groups like super PACs if, according to the Citizens United ruling, independent spending cannot lead to corruption or the appearance of corruption.
A separate Public Citizen report released Tuesday, however, casts doubt upon super PACs' claims of independence. The report shows that 52 percent of all super PACs supported just one candidate, and at least six had close ties to congressional leadership.
While a court case challenging the contractor contribution ban, Wagner v. FEC, is winding its way through the courts now, it does not directly address whether contractors can donate to super PACs or other supposedly independent political groups.
Before You Go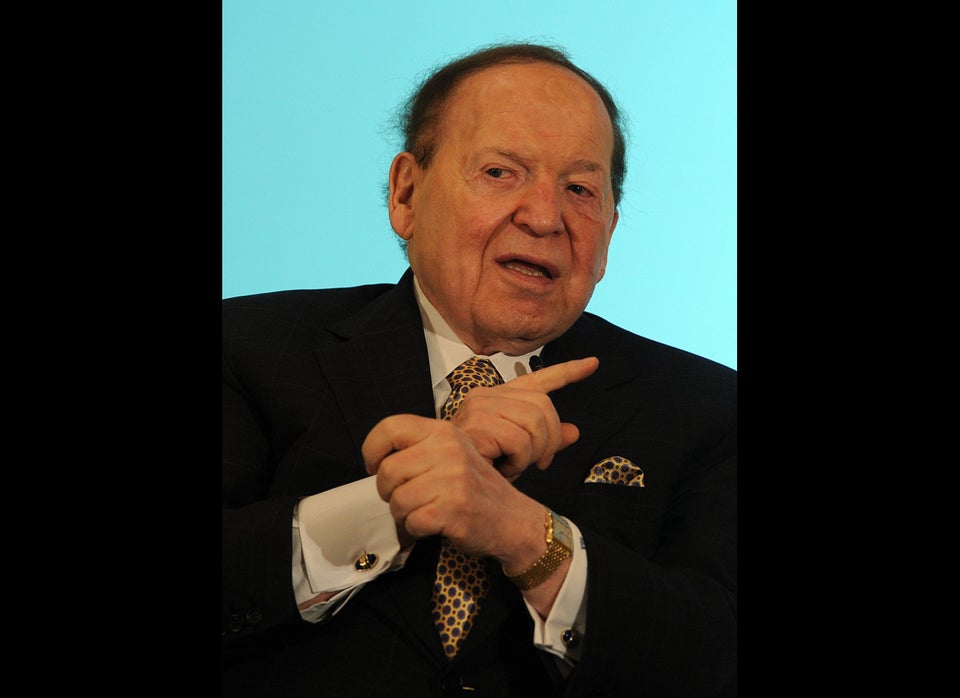 Donors Giving $500,000-Plus To Super PACs
Popular in the Community