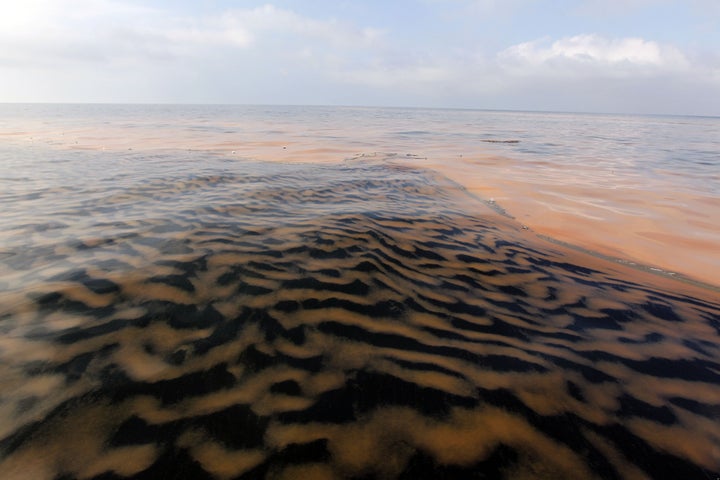 Even as headlines and broadcast news are dominated by BP's fire-ravaged, sunken offshore rig and the ruptured well gushing a reported 210,000 gallons of oil per day into the Gulf of Mexico, there's another important story involving Big Oil and pollution -- one that shatters not only the environment but the essential First Amendment right of journalists to tell truth and shame the devil.
(Have you read, by the way, that after the surviving, dazed and frightened workers were evacuated from that burning platform, they were met by lawyers from the drilling giant Transocean with forms to sign stating they had not been injured and had no first-hand knowledge of what had happened?! So much for the corporate soul.)
But our story is about another petrochemical giant -- Chevron -- and a major threat to independent journalism. In New York last Thursday, Federal Judge Lewis A. Kaplan ordered documentary producer and director Joe Berlinger to turn over to Chevron more than 600 hours of raw footage used to create a film titled Crude: The Real Price of Oil.
Released last year, it's the story of how 30,000 Ecuadorians rose up to challenge the pollution of their bodies, livestock, rivers and wells from Texaco's drilling for oil there, a rainforest disaster that has been described as the Amazon's Chernobyl. When Chevron acquired Texaco in 2001 and attempted to dismiss claims that it was now responsible, the indigenous people and their lawyers fought back in court.
Some of the issues and nuances of Berlinger's case are admittedly complex, but they all boil down to this: Chevron is trying to avoid responsibility and hopes to find in the unused footage -- material the filmmaker did not utilize in the final version of his documentary -- evidence helpful to the company in fending off potential damages of $27.3 billion.
This is a serious matter for reporters, filmmakers and frankly, everyone else. Tough, investigative reporting without fear or favor -- already under siege by severe cutbacks and the shutdown of newspapers and other media outlets -- is vital to the public awareness and understanding essential to a democracy. As Michael Moore put it, "The chilling effect of this is, [to] someone like me, if something like this is upheld, the next whistleblower at the next corporation is going to think twice about showing me some documents if that information has to be turned over to the corporation that they're working for."
In an open letter on Joe Berlinger's behalf, signed by many in the non-fiction film business (including the two of us), the Independent Documentary Association described Chevron's case as a "fishing expedition" and wrote that, "At the heart of journalism lies the trust between the interviewer and his or her subject. Individuals who agree to be interviewed by the news media are often putting themselves at great risk, especially in the case of television news and documentary film where the subject's identity and voice are presented in the final report.
"If witnesses sense that their entire interviews will be scrutinized by attorneys and examined in courtrooms they will undoubtedly speak less freely. This ruling surely will have a crippling effect on the work of investigative journalists everywhere, should it stand."
Just so. With certain exceptions, the courts have considered outtakes of a film to be the equivalent of a reporter's notebook, to be shielded from the scrutiny of others. If we -- reporters, journalists, filmmakers -- are required to turn research, transcripts and outtakes over to a government or a corporation -- or to one party in a lawsuit -- the whole integrity of the process of journalism is in jeopardy; no one will talk to us.
In his decision, Judge Kaplan wrote that, "Review of Berlinger's outtakes will contribute to the goal of seeing not only that justice is done, but that it appears to be done." He also quoted former Supreme Court Justice Louis D. Brandeis' famous maxim that "sunlight is said to be the best of disinfectants."
There is an irony to this, noted by Frank Smyth of the Committee to Protect Journalists.Brandeis "made his famous sunlight statement about the need to expose bankers and investors who controlled 'money trusts' to stifle competition, and he later railed against not only powerful corporations but the lawyers and other members of the bar who worked to perpetuate their power"
In a 1905 speech before the Harvard Ethical Society, Brandeis said, "Instead of holding a position of independence, between the wealthy and the people, prepared to curb the excesses of either, able lawyers have, to a large extent, allowed themselves to become adjuncts of great corporations and have neglected the obligation to use their powers for the protection of the people."
Now, more than a century later, Chevron, the third largest corporation in America, according to Forbes Magazine, has hauled out their lawyers in a case that would undermine the right of journalists to protect the people by telling them the truth. Joe Berlinger and his legal team have asked Judge Kaplan to suspend his order pending an appeal to the United States Court of Appeals for the Second Circuit.
As the Independent Documentary Association asserts, "This case offers a clear and compelling argument for more vigorous federal shield laws to protect journalists and their work, better federal laws to protect confidential sources, and stronger standards to prevent entities from piercing the journalists' privilege. We urge the higher courts to overturn this ruling to help ensure the safety and protection of journalists and their subjects, and to promote a free and vital press in our nation and around the world."
Bill Moyers is president of the Schumann Center for Media and Democracy. Michael Winship is president of the Writers Guild of America, East. Rebecca Wharton conducted original research for this article.
Related
Popular in the Community