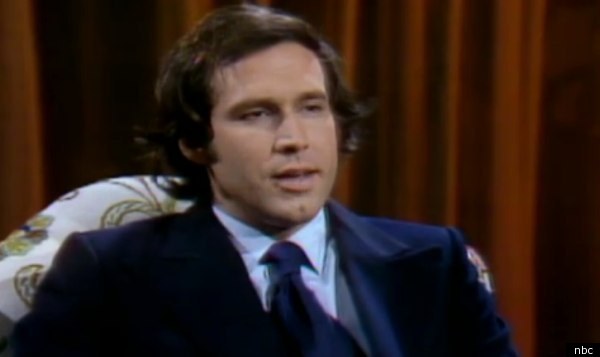 I want to like Chevy Chase. I find myself very nostalgic toward his movies -- from the original National Lampoon's Vacation to even less successful films like Seems Like Old Times -- but, boy, does he make it hard. The problem is, Chevy Chase is known to be "difficult." Would it have been nice if Chase approached his role on Community with some contrition about past behavior and a little self-realization? Yes, of course. Alas, that wasn't meant to be.
The word "difficult" has been thrown around so often in the last couple of days as a way to describe Chase, that it may be time for a refresher course on what exactly that means. Now, this isn't to say that Harmon doesn't get his fair share of the blame -- scolding Chase in public, with Chase's family present, seems like a low blow -- but, well, Chase does have a history. Especially when it comes to another NBC series, Saturday Night Live.
Live From New York, the still excellent oral history of Saturday Night Live by Tom Shales and James Miller, paints an ugly picture of the beleaguered star over the course of 37 years. Using that book as a source, here's a brief history of Chevy Chase being a jerk on SNL.
· Chevy Chase was the breakout star of the first season of Saturday Night Live. After Chase's first full season, he left and was replaced by Bill Murray. When Chase returned to host in the show's third season, it wasn't exactly what one would call a welcomed return. John Belushi goaded Murray into confronting Chase before the show started, resulting in what may or may not have been a full-blown fistfight (depending who's recounting the story).
· Director John Landis, who was there that night, recalled one of the greatest putdowns ever spoken , "I don't know Bill Murray, but he's screaming, you know, foaming at the mouth, 'Fucking Chevy,' and in anger he says, 'Medium talent!'"
· Jane Curtin had taken over "Weekend Update" after Chase left the show. When Chase returned to host, he also felt like he should have his role on "Update" back. Curtin recalled, "Chevy proceeded to say that he should be doing 'Update' that week, and I said okay, and then he went through this whole thing about how his fans wanted to see him." Chase also told Curtin that he found women unfunny.
· Chase was at his worst when he hosted the show on November 16, 1985 -- which happened to only be Lorne Michaels' second back as producer after a five year hiatus.
Terry Sweeney, who was the first openly gay cast member in the show's history, called Chase a "monster."
According to Sweeney, Chase pitched a sketch where Sweeney would have AIDS and get weighed every week. (Yeesh!) Later, Chase apologized, but Sweeney remembered, "He was really furious that he had to apologize to me. He was just beside himself. And it was just awful. He acted horribly to me. He acted horribly to everyone."
· Jon Lovitz backed up Sweeney's claim, "So Chevy looks at Terry Sweeney and goes, 'You're gay, right?' Terry goes, 'Yes, what would you like me to do for you?' Chevy goes, 'Well, you can start by licking my balls.'" Chase was on such bad behavior that week, the cast resorted to hiding from him.
· Chase hosted again on October 7, 1995. Tim Meadows, a level-headed and long-time cast member, recalled that Chase was a "smart ass" and his interactions with people were akin to witnessing a "car accident"
"He didn't care about what he said," Meadows said. "He had no qualm about telling you you're an idiot."
· Chase hosted one last time on February 15, 1997. He did not impress a young cast member on the show at the time by the name of Will Ferrell. "The worst host was Chevy Chase," Ferrell admitted in Live From New York. "I don't know if he was on something, but he was just kind of going around the room and systematically riffing. First it was on the guys, playfully making fun, until, when he got to one of our female writers, he made some reference like, 'Maybe you can give me a hand job later.' In hindsight, I wish we'd all gotten up and walked out of the room."
Concluded Ferrell: "I think you'll find a consensus on the Chevy Chase thing."
Mike Ryan is senior entertainment writer for The Huffington Post. He has written for Wired Magazine, VanityFair.com and GQ.com. He likes Star Wars a lot. You can contact Mike Ryan directly on Twitter
Popular in the Community